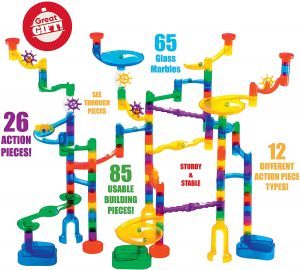 The Marble Genius Marble Run super set allows parents and children to spend quality time together. The translucent design can clearly track the trajectory of the ball, which greatly enhances the fun of playing time. Cultivate children's cognition of graphics, structure, space and color; it can also stimulate children's creativity. A variety of models for creative assembly. Give children unlimited imagination, let them play freely and realize their imagination. Children and parents can team up for fun games. It helps to cultivate children's logical thinking, cultivate their concentration and patience.
About this item
85 complete transparent Marble Run pieces.

Solid plastic pieces that stick together and are easy for kids to play with.

8 8 solid bases, including 3 large bases to ensure maximum stability.

The Marble Genius teaching app includes 9 step-by-step guides, interesting challenges and regularly updated content (iOS or Android).
Compatible with Marbulous Marble Run Toys.