Heading out for an office party? Or, is it a get together with your friends? We know you want to look the best. But you're wondering what make-up to do especially for your dark brown eyes? If you want to do a statement look like that of Natalie Portman and Olivia Palermo, then you must try doing the smokey eyes. It will truly ensure that your brown eyes look brighter and more sultry.
Moreover, a smokey eye is an evergreen eye make-up trend, and to get it all you need is a right tinge of colors and products.  Warm hue, neutrals, or bold, the eyeshadow is the one to do the magic.
We've listed 5 best smokey eye products for dark brown eyes and those who don't know how to do them, we've also suggested some tips.
1. Urban Decay Naked Cherry Eyeshadow Palette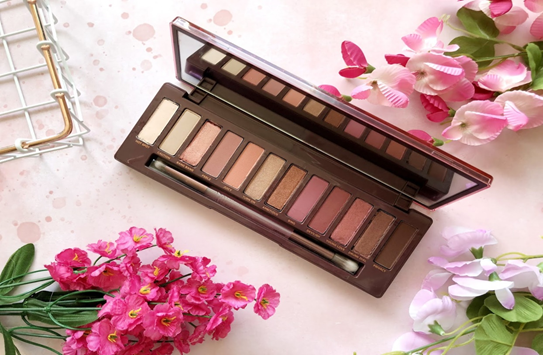 Urban Decay Naked Cherry Eyeshadow Palette at $24.50
Have a party coming up and want to glam up your look? But wondering how? Relax moms; your party look will be on point, just try the latest makeup trend of shimmery and metallic smokey eyes. With Urban Decay Naked Cherry Eyeshadow Palette, you can get the most tempting eye makeup look.
Naked Cherry Palette has 12 cherry neutral shades from ivory to rose gold to black cherry including a mix of matte, metallic, and shimmer colors. Also, it is made with Urban Decay's Pigment Infusion System to deliver a velvety texture, richly pigmented color, serious staying power, and optimal blend-ability with every shade. Moms, for your brown eyes just add a red undertone to bring out the smokey highlights. You can also get this at Macys' at a discounted price of $24.50, which is a limited time offer. So hurry and get your palette now.
2. Bobbi Brown Smoke & Metals Eye Shadow Palette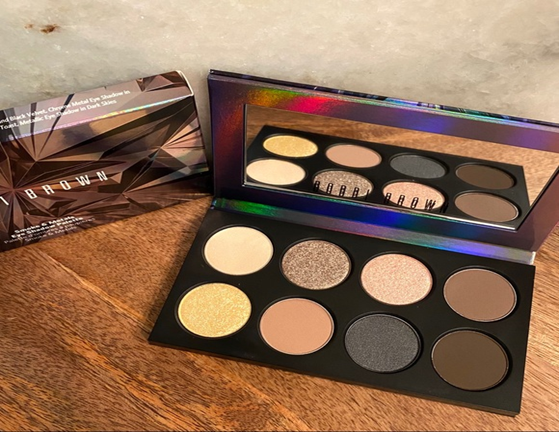 Bobbi Brown Smoke & Metals Eye Shadow Palette at $141
Worried about your presentation at work? Also, want to look the best! Relax moms, we have a solution. Whether it's a special day at work or your important presentation, appearance does matter a lot. But going too bold with make-up at the workplace is not a good idea. How about trying something more warm and neutral in tone? Yes, for a perfect day-time look, you can try neutral-toned smokey eyes. And with Smoke & Metal Eye Shadow Palette by Bobbi Brown, we're sure you will get this look perfectly.
Inspired by the rich neutral tones of the concrete jungle, this limited-edition eye shadow palette is in a festive mirrored case. It features eight eye shadows in matte, chrome metal, and metallic finishes for endless smokey, shimmering looks.
You can start with a lighter color for the base and blend with dark brown or the shimmery black. Just add layers, blend different shades, and finish off for a multidimensional look. And don't forget to define your brown eyes with Long-Wear Gel Eyeliner and finish off the look with 2-3 coats of Smokey Eye Mascara.  If you want to get this eyeshadow at a discounted price of $29.25, check it out on Macy's also.
3. Huda Beauty Obsessions Eyeshadow Palette in Amethyst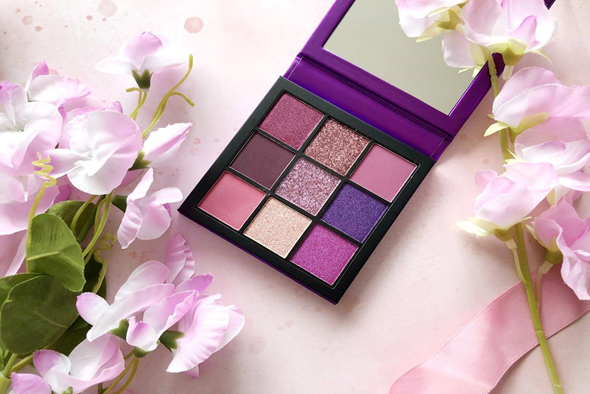 Huda Beauty Obsessions Eyeshadow Palette in Amethyst at $34.99
If you're heading for a night out with your friends, then moms you should definitely try some purple eyeshadow. A range of purples is the best complementary colors for dark brown eyes. A strong shade of purple creates a stark contrast to your eyes and allows it to really pop.
Try these smokey eyes look with the Hudy Beauty Obsessions Eyeshadow Palette in Amethyst. With a selection of nine highly pigmented mattes and striking shimmers of purple colors, it comes with a smooth and blendable texture.
Purple Smokey eyes as a look is quite popular. Well, not all of you are a pro in doing a smokey eye, so we've picked out an easy purple smokey eye tutorial that you can check out.
Here's some tip for you moms to get that perfect purplish smokey eye. Just blend the shadows seamlessly together. Start with warm pink and purple on lid and then use darker purple shades in the crease. Then go for lighter hues along the brow bone and inner corners of the eye. Further, using a smudge or liner brush, apply one of the darker shades along the top and bottom lash line. Finish the look by applying the shimmer shade to the center of your eyelid and draw a perfect winged liner to amp up the glamour.
Also, you can grab this palette at just $27.00 on Sephora.
4. Maybelline Soda Pop Eyeshadow Palette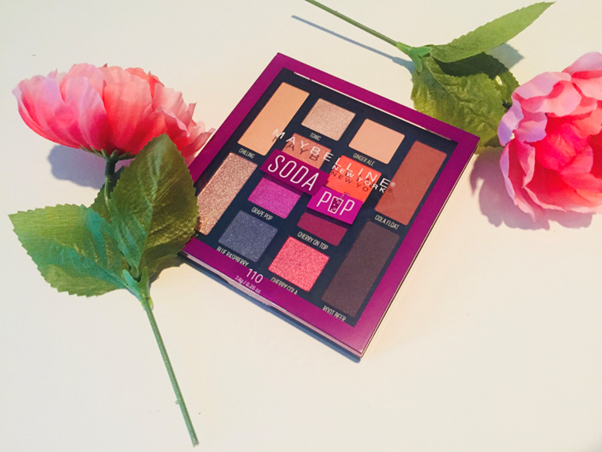 Maybelline Soda Pop Eyeshadow Palette at $10.99
Whether you want to do a soft pink and purple smokey eye or a dark brown one with a touch of metallic shimmer, this Maybelline Soda Pop is the palette for you. Heading to a dinner date with your partner, this palette has the right hues to recreate both soft and a bold smokey eye, thus ensuring you look ravishing for the evening.
This palette has 12 bold, pigmented colors in a mix of matte and shimmer eyeshadows. Moreover, this brings a fresh take on the classic eyeshadow palette and these pigmented shades offer endless looks. So moms, whatever the occasion, the Soda Pop Palette will ensure your make-up is bang on.
For a softer touch, you can use shades like Sugar High or Ginger Ale or Cherry Cola. And to add that shimmery touch, you can use Cherry Cola. If you go a bit bold try the darker shades like Soda Fizz Crush with Grape Pop Gaze or Cola Float with Root Beer with a touch of Soda Fizz. Well moms, don't forget to highlight the inner corner of the eye.
Also, Amazon is offering this palette a 25% discount. You can now buy it at just $8.29. So moms, why wait? Hurry to get yours!
5. Smashbox Full Exposure Eye Palette with Primer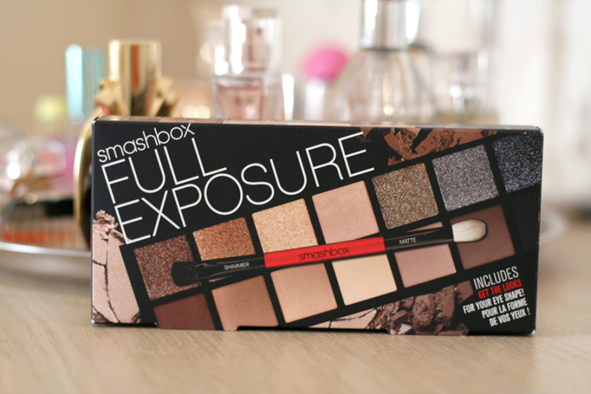 Smashbox Full Exposure Eye Palette with Primer at $52.00
There are days when you don't want to do heavy make-up. Subtly defined and intense eyes and nude lips with bushy eyebrows is good to go. Isn't it moms? And for such a subtle look, neutral brown smokey eyes are the best. Just like that of Gigi Hadid. And to get it, you can try shades like Chocolate brown, deep golden brown, Rich Grey, and Suede Black. Whether its day or night these shades never go out of trend if you want to do smokey eyes.
To achieve this intense smokey eyes, you must try the Smashbox Full Exposure Eye Palette with Primer. A neutral eyeshadow palette with a versatile range of velvety smooth mattes and long-wearing shimmers, it has 14 blendable shades.
Whether it is warm-to-cool matte or shimmer shades, these allow you to create a neutral to megawatt eyes that stun brown eyes. The palette comes with a double-ended shadow brush for matte or shimmer application and a deluxe-sized sample of 24 Photo Finish Hour Shadow Primer to lock on color. Create an easy brown smokey eye by using a nude color on the lid and a bit darker one on the crease. Blend the darker color with a lighter nude shade. Now use dark brown and suede black from the crease to create that smokey effect.   
Also, Amazon is offering a 23% discount on this palette. You can now buy it at just $39.96. Wait no more moms, grab this offer now!
Techniques to Get that Perfect Smokey Eyes:
We're sure after reviewing the 5 best smokey eye products for brown eyes, you must have decided on your favorite one already. If you're wondering about the ways to ace a smokey eye look, then moms, nothing to worry! We've curated few easy and quick techniques to create a soft and bold smokey eye look.
Mid-tone Shadow

Whether you want a bold look or a subtle, nude one, smokey eyes is incomplete without mid-tone shadow. You must begin by prepping the eyelid with mid-tone colors. You can try greys, browns, or heathers to create a subtle smokey base.
Darker Shades

To create that smokey effect, darker tones are really important. You can try shadows like espresso, charcoal, or smoke. Blend these halfway up the lid and into the lid shadow. Then apply along the lower lash line by softly pressing the brush on to the root of the lower lashes. For a smokier finish, smudge it out with fingers.
Fuller Eye Look

A smokey eye look is incomplete without the full eye make-up, which includes eyeliner and mascara. Add those all-important final touches with mascara. You can try the Bobbi Brown's Smokey Eye Mascara and layer with 3-4 coats for a full lash effect.
Adding a Touch of Glam

With a little shimmer on the lids, your eyes pop and look even more alluring and glamorous. You can add a sparkle shadow with your finger to give it that real luxe finish. It's great for smoothing out the lid and giving that blend through the crease of the eye. For this, you can try Shimmer & Glow Liquid Eye Shadow by Stila from Sephora.
We hope that our tips and product suggestions will help you redefine your eye makeup and make it more intense and sultry. So moms, grab some of these products from Macy's or Maybelline and ace up make-up game. Make everyone fall in love with your eyes!