Spending wee hours in the kitchen, preparing elaborate meals is kind of exhausting; plus, often it turns out unhealthy. Keeping nutrition and time in mind, you can cook using kitchen appliances like a hand blender, which makes your job much easier. As the most useful appliance in the kitchen, the hand blender turns out quite an ideal tool for quick recipes like smoothies, soups, etc., which can keep you full for quite some time. 
That's not all it can do! You can use hand blenders to prepare salad dressings, for whisking, and so on. Just make sure, the hand blender you opt for is a quality one with powerful blades. You can try out the Acekool Blender BH1, it's pocket-friendly and comes with all the functionalities you look for in a hand blender.  
So, save your time and energy and try these 5 hand blender recipes for a quick meal. Whether you're running late for the office or have returned from work too exhausted, you can easily satisfy your hunger pangs with these recipes prepared using just a hand blender. 
Take a look at these hand blender recipes and do try them out!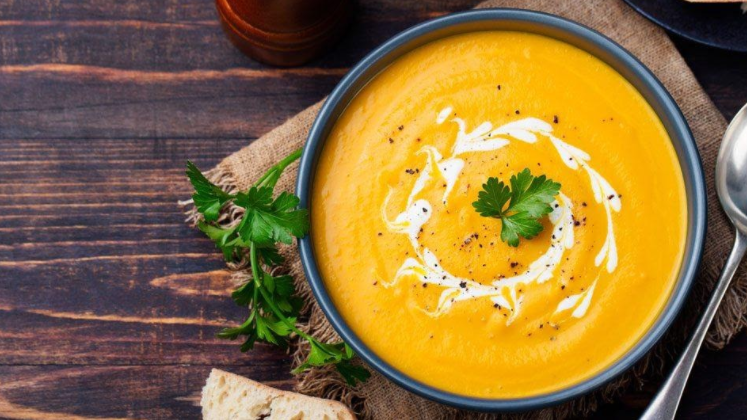 1. Roasted Acorn Squash Soup
Nothing is more delicious and healthy than a bowl of soup! However, using a hand blender for it makes your job easier in preparing a bowl of soup. Well, you can always have tomato soup but here's another soup recipe – Roasted Acorn Squash Soup – that is vegetarian/vegan, tasty, and extremely nutritious that you must try your hand in making. 
Ingredients and Method:
To make this soup, you need to first roast acorn at 4500 F with a little seasoning of salt and pepper. Make sure you remove the seeds and other membranes. Once baked, remove it and let it cool! Now, scoop out its flesh, and on the other hand, heat a large pot with olive oil over medium flame. 
To the heated oil, add carrots, apple, shallot, and onions, sauté it until tender. Once all the pot ingredients turn tender, add ginger, sage, cayenne, allspice, squash flesh, and vegetable stock. Give a good stir, and bring it to boil for 15-20 minutes. Once this is done, it's time for the hand blender to do the magic. At medium speed, blend it well to get a thick puree and serve it hot. 
Just don't forget to garnish it sliced red onions or apples! 

2. Easy Creamy Broccoli Soup
Sudden hunger pangs? Need a healthy alternative to chips and fritters? Well, then you must try this easy Cream Broccoli soup. Loaded with healthy veggies, this soup can literally be ready in 25 minutes. You can also make it once, refrigerate it for up to 4-5 days, and reheat it before consuming it! So, check out this recipe!
Ingredient and Method:
Begin with heating olive oil in a deep stockpot over medium heat, and then add carrots and onions. Sauté it until tender and then add chopped broccoli, vegetable broth, salt, pepper, and loads of parmesan cheese. Cook for 15-20 minutes before you start pureeing it with the Hand Blender. After pureeing, just add Greek yogurt to make it creamier and serve hot. 
Simple, healthy, and enriched with nutrients, this easy Creamy Broccoli Soup is undoubtedly a mouth-watering recipe!

3. Healthy Pumpkin Spice Latte
Summer is here and so is the time of chilled and delicious drinks and what could be better than a chilled latte, right? A chilled latte is a beverage most of you love but here we'll share a different type of latte recipe called the Pumpkin Spice Latte. Easy, homemade, and obviously healthy, Pumpkin Spice Latte is a completely different take on lattes as well as several other summer beverages. 
Ingredient and Method:
Gather all ingredients first, including strong coffee, pumpkin puree, maple syrup, vanilla extract, ground cinnamon, ground nutmeg, cloves, allspice, ginger, vanilla protein powder, and unsweetened almond milk. Begin with mixing pumpkin puree, coffee, maple syrup, vanilla extract, nutmeg, cinnamon, cloves, allspice, ginger, and protein powder. Mix well! 
Now using an immersion blender, blend the almond milk for a few seconds until it bubbles up and then microwave it for a few seconds. Repeat this step twice, followed by adding the coffee-pumpkin spice in a cup. After this, pour the steamed almond milk into a vessel, gentle blend a little, and then add foam on the top. 
Just don't forget to sprinkle some grounded nutmeg for that extra tang of flavor!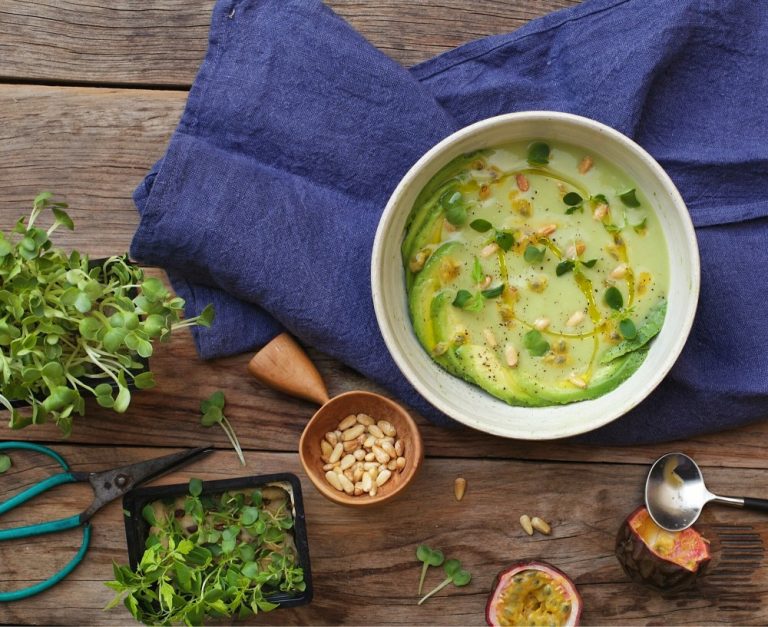 4. Zucchini Basil Summer Soup
It is essential to hydrate yourself during the summers. Besides water, you can also keep yourself full and hydrated with this amazing yet healthy Zucchini Basil Summer Soup recipe. With a fine blending of zucchini and basil with celery and garlic, this soup is undoubtedly loaded with nutrients, especially to rejuvenate you this summer. 
Ingredient and Method:
To make the Zucchini Basil Summer Soup, you don't need an array of ingredients but just largely diced leek, a little celery, 1.5 pounds of zucchini, kosher salt, 2 cloves of garlic, a handful of basil leaves, and a pinch of black pepper. 
Begin with cooking the leek and celery in an olive oil greased heated pan for 5 minutes. Now add garlic, sauté it for 30 seconds then add zucchini. Cook it for a minute followed by adding a handful of basil leaves with a cup of water. Let this cook on simmer for some time more before you resort to the hand/immersion blender for pureeing. Add salt, pepper, and lemon juice to season it. Serve it with a drizzle of olive oil on the top!
Refreshing, healthy, and mouth-watering, Zucchini Basil Summer Soup is truly the best soup you can make with an immersion blender!
5. Frijoles Refritos
Need a perfect side dish for your tacos or the bowl of rice? If yes, then Frijoles Refritos, a Spanish delicacy, is the perfect recipe that goes as a side dish. Plus, you can make it any way you want- chunky or smooth. 
 Ingredient and Method:
Well, you need ½ pound of dried pinto or black beans, 2 sprigs of oregano, a white onion, 2 cloves of garlic, kosher salt, 6 tbsp lard, bacon drippings, and vegetable oil, or butter. Start preparing Frijoles Refritos by covering beans with cold water in a large pot, followed by adding garlic, sprig herbs, onion and allow these to boil. Cook it until beans become tender and season it with salt. Once a bean softens, drain the water; remove the herbs, onions, and sprigs. 
In another skillet, heat lard, bacon until the oil releases. Then add minced onions and cook until golden brown. Now add the beans and allow it to cook for another 2 minutes, then add ¼ cup of bean liquid. Once this is done, bring on the hand blender to puree it for a smoother consistency and season it with a pinch of salt before serving. 
Truly, an easy-peasy recipe where the immersion blender turns into your kitchen aid in every sense!
With these 5 hand blender recipes for a quick meal, we are sure that you can ace cooking as well as utilize your immersion blender in distinctive ways. Not just that! These recipes will also keep your health in check, enriching you with nutrients while satisfying your taste buds. 
So, bring home a quality hand blender and enjoy your summer with these quick recipes!
More to read:
7 Easy Cocktail Recipes with a Blender for Your House Party 2021.
Best Stand Mixers in the U.S. That Are Selling Like Hot Cakes 2021         Acekool  Stand Mixer MC1