Airtight Food Storage Containers with Lids for Kitchen Organization 14 PC – Plastic Kitchen Storage Containers for Pantry Organization and Storage – Cereal, Rice, Pasta, Flour an Sugar Containers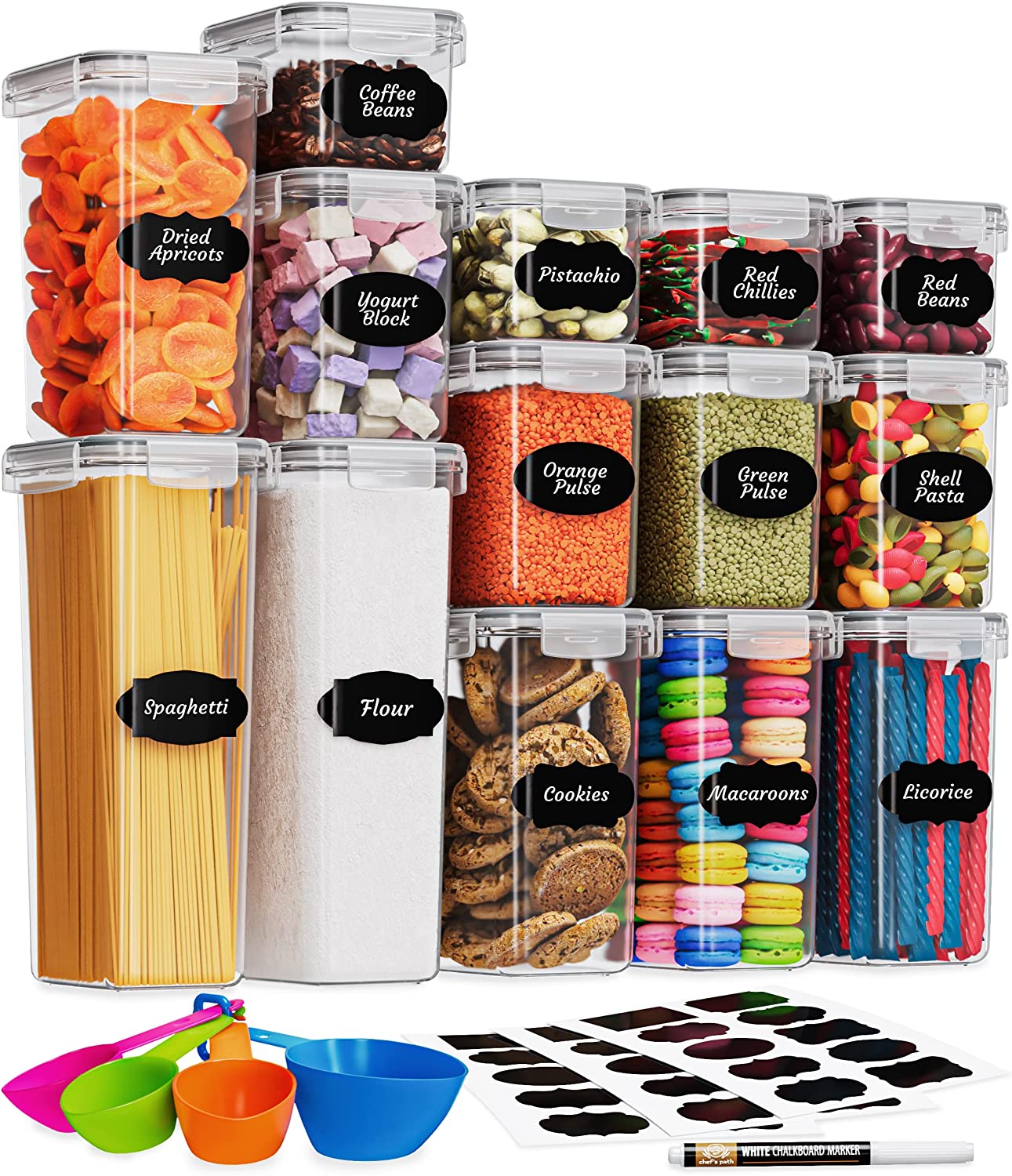 The Most Value-Packed Container Set
Our goal here at Chef's Path is to make your life in the kitchen more enjoyable than yesterday.
To further help with that, we include reusable chalkboard labels and a chalkboard marker for that extra organizational touch.
Chef's Path – A Fresh Perspective
Save Space & Time – No more pasta in the cupboard, sugar in paper bags, or scattered food supplies all over the kitchen. Enjoy a cleverly engineered design that stacks up, saves you space, and allows you to minimize time spent looking for the right ingredient.
No More Food Waste – All our canister sets for kitchen counter come with airtight, 4-sided locking lids with a silicone seal that ensures a longer shelf-life and keeps water & air out to give you the best kitchen organization and storage experience
Safe for Long-Term Storage – When it comes to home organization, all our bulk food storage containers are 100% made with high-end, BPA-Free plastic that is both safe and mighty durable; a perfect choice as flour and sugar containers or snack containers
Item Features:
Airtight Food Storage Containers with Lids for Kitchen Organization 14 PC
Unparalleled Kitchen Organization – Keep your pantry organized with these BPA-free plastic food containers. This pantry organizer set will save you time and space in the kitchen while simultaneously adding to its decor. Our containers are stackable, allowing you to get rid of messy cabinets and kitchen counters.
All Possible Sizes – 2 extra tall kitchen containers (2.5qtz /2.8L), 4 large tall pantry storage containers (1.8qtz /2.0L), 4 medium food containers (1.2qtz/1.4L), 4 small containers (0.7qtz /0.8L). These air tight containers come in a wide assortments for pantry organization and storage.
Freshness Preserved – The 4-hinge locking system of these pantry containers form an airtight seal between container and snap lids to ensure nothing goes stale and stays leak proof. These containers are user friendly, possess easy-to clean surfaces and are easy to carry.
Versatile Utility – Not only limited to kitchen and pantry storage but also compatible with microwave and refrigerator. These kitchen canisters are ideal for dry food storage like cereal, sugar, pasta, flour, rice, snacks, coffee, oats and even other items for the sake of healthy home organization.
Superior Bundle – These food storage containers can be a perfect gift for anyone. Comes in a beautiful box with chalkboard marker, labels and measuring spoon set to equip you with everything. We take great pride in giving more value than others in the market.
More to read:
Fox Run Astronomy Cookie Cutter Set of 7 Save 15% Now At $9.00
Ceramic Butter Warmer Home Fondue Set with Stands Save 15% Now At $12.60