The home is a comfortable haven where families spend most of their time. Aesthetically speaking, the aura of a home also resonates with the personalities of the people living in them. So if you're looking to amp up the ambience of your home to match your style, Bed Bath & Beyond is the ultimate destination for you. Right from indoor accessories to table covers, you'll get access to a wide range of products that will breathe new life into your home.
What Is Bed Bath & Beyond? 
Bed Bath & Beyond, Inc. is a chain of retail stores, which engages in the sale of a wide assortment of domestic merchandise. The company and its subsidiaries operate under the names Bed Bath & Beyond, Christmas Tree Shops, Christmas Tree Shops, Harmon or Harmon Face Values, Buybuy BABY, and World Market, Cost Plus World Market or Cost Plus.
It sells a wide range of household products and home furnishings. Domestic products include categories such as bed linen and related items, bath products and kitchen textiles. Home furnishings include categories such as kitchen and tableware, fine tableware, simple household goods, general home furnishings, consumables, and other juvenile items. The business was founded in 1971 by Warren Eisenberg and Leonard Feinstein and is headquartered in Union, NJ.
What Are Bed Bath & Beyond Credit Cards?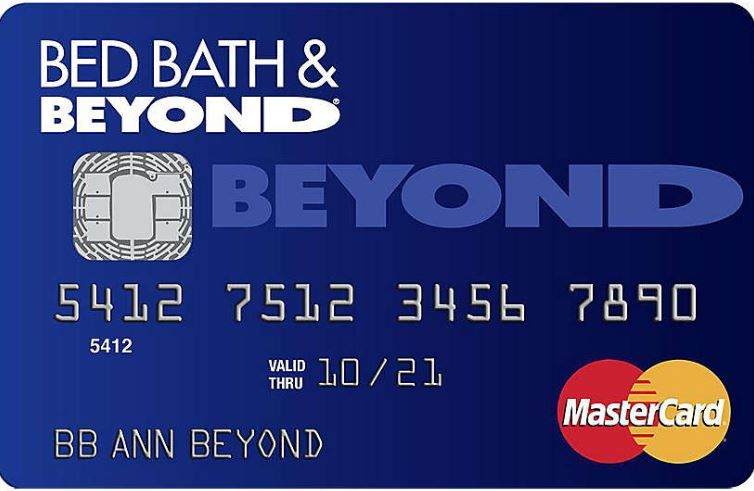 Bed Bath & Beyond Mastercard stands out in the retail card category with its high rewards, various sign-up deals and a good APR. The streamlined incentive structure of the credit card and ample sign-up bonuses, along with the opportunity to combine rewards with the coupons and other discounts aims at huge savings. The offers ensure that loyal customers are able to save a substantial amount of money from one of the nation's wedding registry retailers. The percentage of savings is mentioned below:
5% Bed Bath & Beyond, buybuy BABY, Christmas Tree Shops, Cost Plus World Market and Harmon Face Values
2% gas and groceries
1% other purchases
What Are Bed Bath & Beyond Rewards?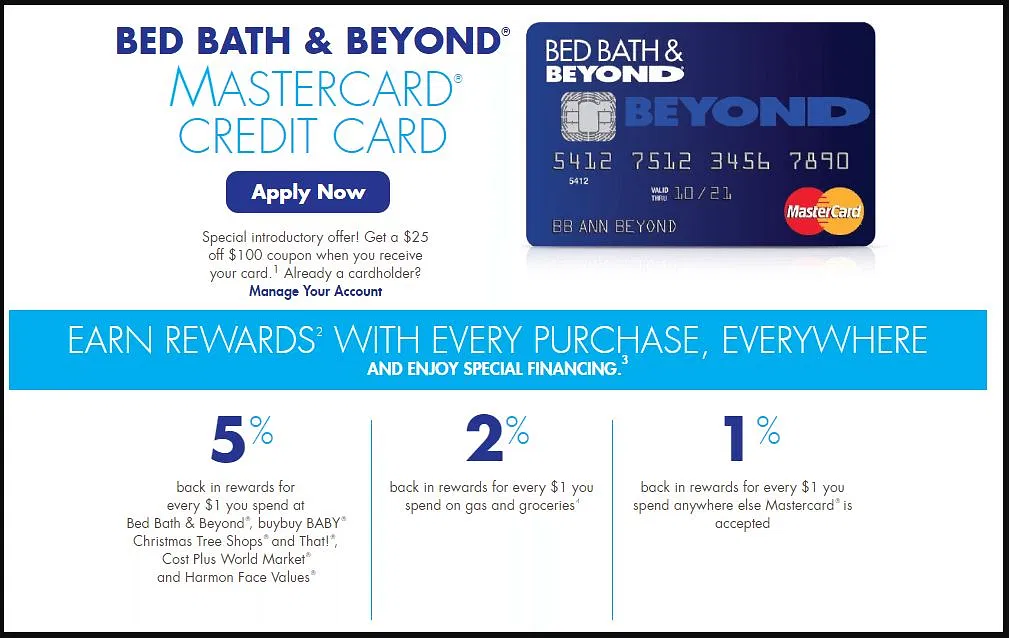 The Bed Bath & Beyond Mastercard reward rate comfortably matches — and in some cases exceeds — the highest rewards provided by comparable cards in the retail sector. This gives 5 percent back on purchases made at Bed Bath & Beyond and associated brands (Buybuy BABY, Christmas Tree Shops, Cost Plus World Market and Harmon Face Values). Like many other credit cards, it also provides 2% back on purchases of gas and supermarket products, and 1% anywhere else Mastercard is approved.
In addition, the benefits can be paired with one another as well as with certain deals, such as free shipping on orders over $29, free truck delivery for other products, and paper, email and smartphone coupons.
How Much Is The Sign-Up Bonus?
$25 off $100 coupon when you receive your card.
$25 gift certificate if you spend $1,000 in first 3 months on outside brands.
$75 gift certificate if you spend $6,000 in first 6 months on outside brands.
No interest on purchases between $250-$500, if paid in full in 6 months.
No interest on purchases $500+ if paid in full in 12 months.
What Are The Pros Of Mastercard Rewards?
$10 reward certificates issued automatically for 1,000 points each.
Multiple certificates and certificates can be paired with other offers.
Rewards Certificates will never expire
What Are The Cons Of Mastercard Rewards?
Points die after five years
Only certificates can be used in Bed Bath and Beyond brand shops, in-store and online.
Total of 20 certificates ($200) per purchase
What Are The Advantages and Disadvantages Of Special Financing Provided By The Mastercard?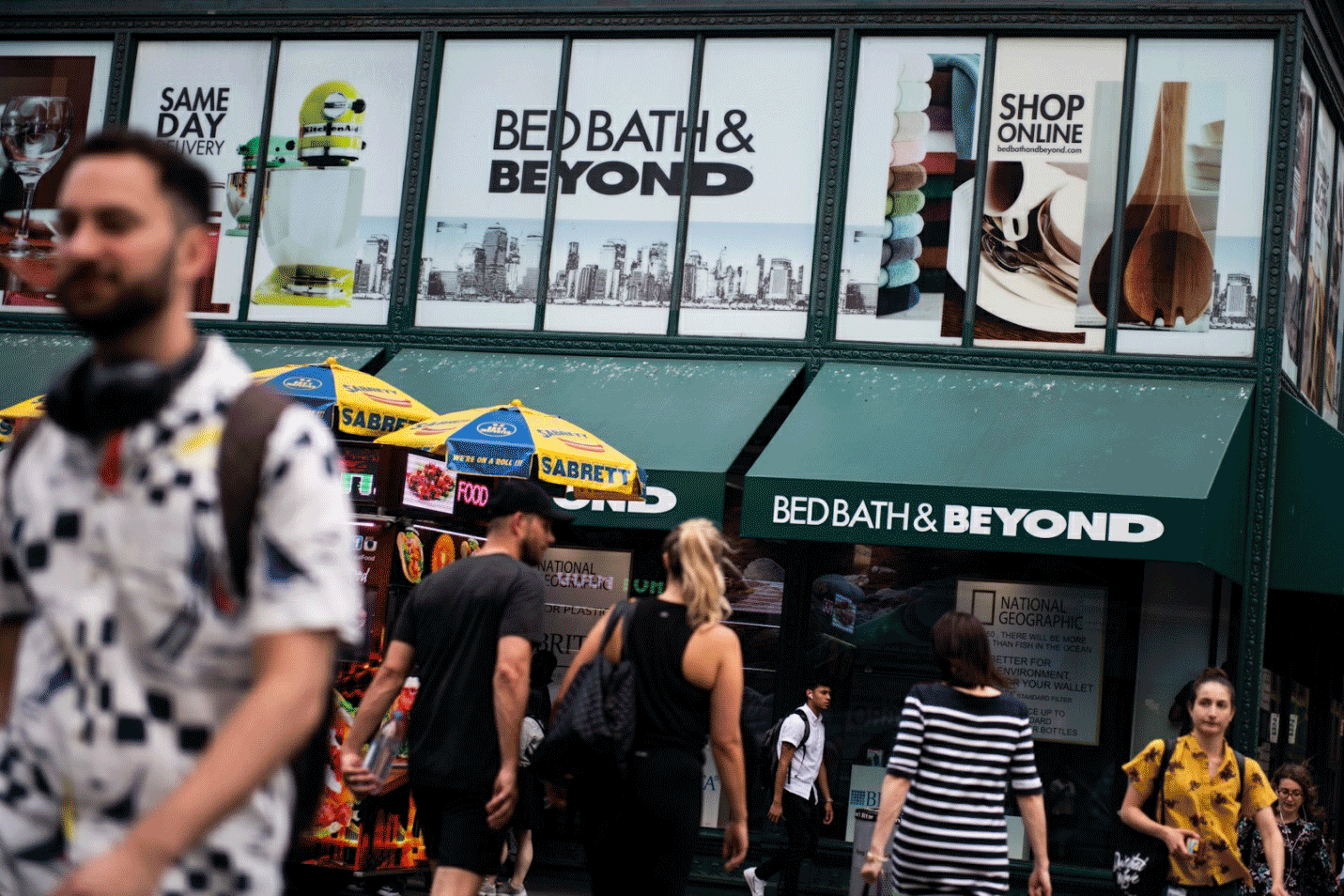 Bed Bath & Beyond Mastercard provides special financing for transactions in excess of a certain number. If you spend between $250 and $500, you will have no interest until the balance is paid in full within six months. The discount period extends to 12 months for sales of more than $500.
Bear in mind, however, that these are deferred-interest lending schemes, which vary from true 0 per cent of funding in that interest accrues from the date of payment. It is added to the overall balance if it is not charged in full by the end of the promotional period.
Don't let the "0 percent" jargon confuse you: purchasing a big ticket item and failing to pay your balance on time could add hundreds of dollars to what you owe. Keep an eye on your billing statement to make sure your monthly payments are made on time — missing a payment might also cause you to forfeit the accrued interest period, not to mention the risk of late fees.
Conclusion
We hope our article helped you gain insight into the guidelines, pros and cons associated with Bed, Bath & Beyond credit cards. It's time to get one for yourself so you can shop for your entire family and even buy some amazing gifting items.