Amazon Basics 10 Liter Trash Can with Foot Pedal for Narrow Spaces, 2.6 Gallon Soft-Close, Smudge Resistant, Brushed Stainless Steel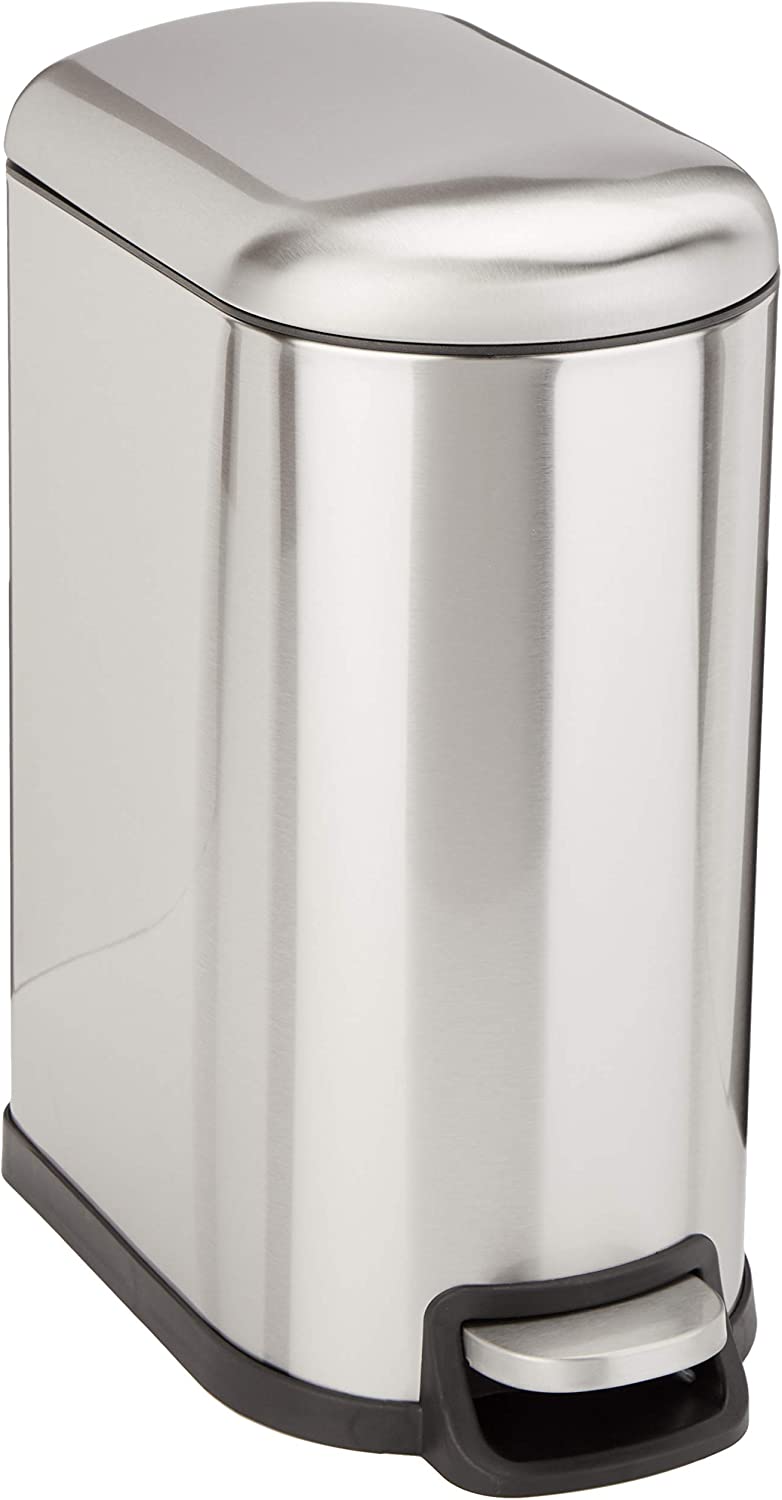 Amazon Basics Soft-Close Trash Can with Foot Pedal
Modern Design – This stainless steel trash container has a compact design that complements home decor with a clean, minimal look. Multiple sizes available
Soft-Close Lid & Foot Pedal – Featuring a soft-close lid with a foot pedal opening mechanism, you'll enjoy hands-free convenience and ease-of-use every day of the week.
Clean, Sturdy Construction – Featuring a smudge-resistant stainless steel exterior, removable plastic interior bucket, steel foot pedal, and non-slip rubber pads on the bottom.
Stay-Open Mode – Ultra-quiet with a stay-open mode for easily replacing liners from the interior bin, the trash can offers functional reliability you can trust.
Item Features:
Amazon Basics 10 Liter Trash Can
10 liter / 2.6 gallon rectangular stainless steel trash can with manual foot lever; designed to fit in narrow spaces.
Soft-close lid reduces noise from opening/closing and extends product life span.
Fingerprint-proof, smudge resistant, and durable stainless steel exterior.
Heavy-duty plastic interior bucket can be easily removed for convenient garbage bag disposal and replacement.
Space-saving design fits into small areas such as narrow hallways, tight corners, or between appliances.
Dimensions: 15.4 x 12.4 x 7.3 Inches (H x D x W)
More to read:
Lefant Robot Vacuum Cleaner Save 61% Now At $88.88
MacSports Collapsible Garden Carts Outdoor Utility Wagon Save 13% Now At $80.00