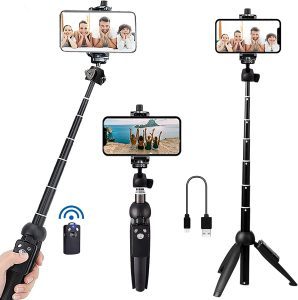 Bluehorn Selfie Stick Free your hands and enjoy life! The built-in wireless remote control is very suitable for single or multi-person selfies. The compact design allows this selfie stick to be carried anywhere. It will not be heavy even if it is put in the pocket. Very suitable for travel, sports activities, camping, family gatherings, etc. Simple to set up and easy to use. It is widely compatible and can be adapted to most mobile phones. The selfie stick and stand are made of high-quality materials, which are sturdy and durable.
About this item
Bluehorn YUN TENG joint model.
The selfie stick body is made of aluminum alloy, and the bracket is made of very strong ABS, which will make the tripod very strong and sturdy.
Expandable and foldable.
Wireless remote shutter, fast connection speed, low energy cost, long time use.
The wireless connection range is up to 10 meters, which is widely compatible with most Android smartphones.