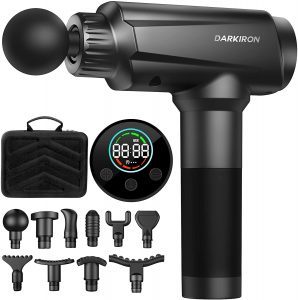 DARKIRON muscle massage gun is equipped with 10 different massage heads. Through deep and powerful high-frequency vibration stimulation, it relaxes the fascia and stiff muscles, relaxes the soft tissues, relieves fatigue, and restores good physical condition. Its ergonomic design and non-slip silicone handle make your massage easier. This muscle massage gun has excellent heat dissipation, which can effectively reduce the damage to the machine and extend the use time.
About this item
Percussion Massage Gun helps relieve fatigue, pain, muscle aches and stiffness.
It is very suitable for relieving shoulder, neck, waist and back pain.
4 adjustable speeds.

The battery has a long life and can run continuously for up to 4 hours.

low noise.
The set has 10 massage heads and storage box.