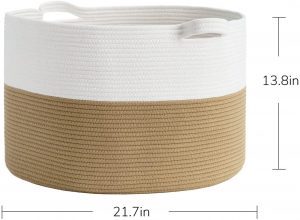 INDRESSME XXXLarge jute rope basket combines functionality with a neutral and clean design, bringing warmth and fashion to any space. They can be seamlessly matched with any type of home decoration. A wise choice for clothes storage, with excellent storage capacity. It can be perfectly applied to bedside tables, kitchens, bedrooms, bathrooms, living rooms, etc. The lightweight design has a durable handle for easy access to clothes. The use of soft materials will not cause collisions and scratches on your furniture and wooden floors.
About this item
Soft Cotton Woven Thread Rope.

XXXLarge size: 21.7″ x 21.7″ x 13.8″.

Ideal for placing pillows, blankets, quilts or cushions.
Handle design, foldable, easy to move and take away.
The farm basket design will become a unique home decoration in your home.
Washable: Machine wash is recommended.