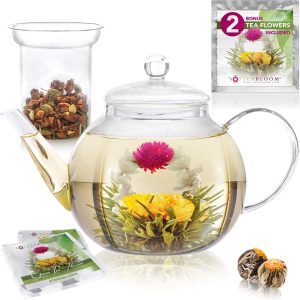 This Teabloom Glass Teapot is handmade, and the spout is designed for easy pouring and precise control, so you can drop every drop into the cup without dripping. This teapot is suitable for many types of tea or coffee. You can put tea, herbs, flowers, tea bags or coffee into the infuser or directly into the teapot. With Teabloom Glass Teapot, you can not only drink tea, but also enjoy a moment. The glass material provides you with a feast for the senses. Watching the green tea blossoms full of jasmine flowers, making delicious and healthy drinks is right in front of you.
About this item
Pleasant your senses with classic design.
Hand-made high-quality glass.
The crystal clear glass teapot and infuser are sturdy and lightweight, making them perfect for use with blooming tea.
The Celebration Teapot comes with two Teabloom jasmine flowers in full bloom-also very suitable for loose tea, teabags and fruit infusions.