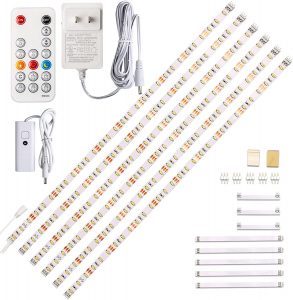 The LED strips of WOBANE LED Lighting kit are easy to install, you can adjust the brightness according to your preferences! They are very bright and bring a modern feel to your kitchen! A variety of connection methods are very suitable for cabinets, counters, wardrobes, TV backlights, bedrooms, etc. Equipped with RF wireless remote control, which can be controlled remotely. With timing shutdown, dimming, hot key, reconfiguration and dynamic functions. Easy installation.
About this item
The DIY LED strip includes 6 pre-cut strips with a total length of 9.8 feet.
Super bright LED cabinet light provides a total of 1500 lumens, equipped with RF dimmer to adjust brightness.
With an RF remote control with timing shutdown, dimming, hotkeys, reconfiguration and dynamic functions.
High-quality adapter and light strip, the working voltage of LED light strip is DC12V.
Includes all installation accessories. No tools required and easy to install.