Baby Carrier, BABYMUST Hip Carrier for Baby Toddler Carrier for Child Infant with Adjustable Long Waistbands, Various Pockets, Ergonomic No-Slipped Seat Perfect for 8-66lbs All-Seasons Olive Green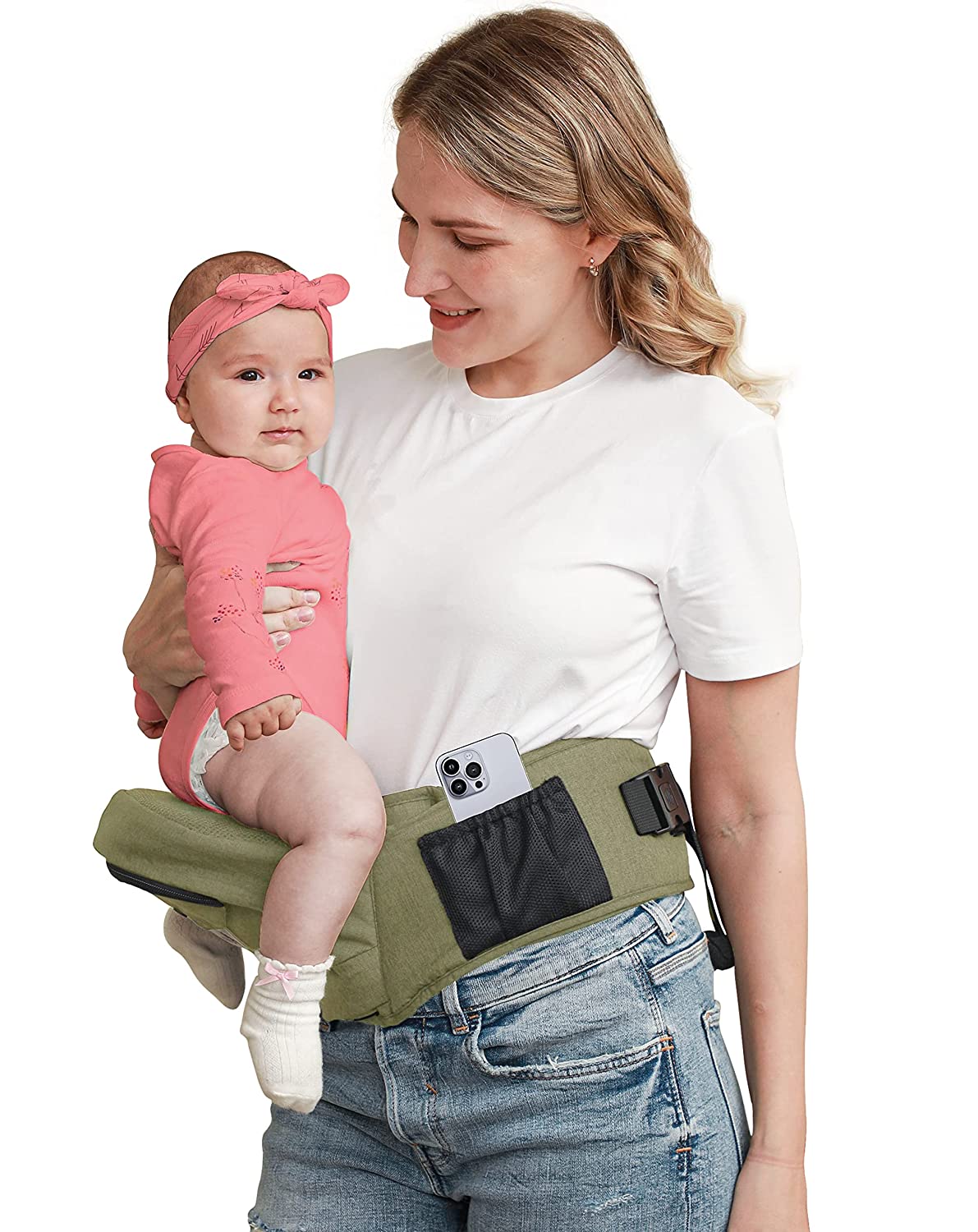 Every parent wants to provide everything their little one needs for their baby. BABYMUST started out with the idea of providing your baby with all the essentials and accompany your baby from morning to evening of the day happily and comfortably. We operate with the most demanding specifications to produce baby necessities to meet baby's demands. BABYMUST wishes to be real babymust for every parent and baby.
Holding a Baby Has Never Been This Easy
Real Artists Simplify. When it comes to designing products, the real difficulty is not creating something that's beautiful but building something that's simple.
Take the Place of a Mommy Bag to Store Everything You Need
BABYMUST baby carrier provides multiple storage bags.
Throw diapers and wipes in the storage beneath the seat; Put the milk/water bottle into the breathable mesh bags; Access your keys, phone, and cash/cards in the Side zipper pockets; Attach toys & pacifiers to the loop.
Our baby carrier with hip seat is made of High strength Fabric-100% polyester. Squishy Memory Foam, Non-slip Hip Seat, gives baby the best safety and comfort, relieving parents' pressure.
Item Features:
【Break Boundary】 Effortless Ups and Downs. Ditch the complicated old style wraps/carriers which limit both you and your kid's freedom. Get a BABYMUST and lead the new trend. Pick baby up when they want to be up in your arms and let baby down when they want to crawl, toddle, or walk around.

【Stash Your Stuff】 Save extra spending on a Diaper bag. BABYMUST has enough storage. It has 5 pockets & 1 loop. You can put diapers/wipes in the large storage bag, keys/phone/cards in the two side zipper pockets, milk bottle/water bottle into 2 breathable mesh pockets; Plus, a loop for toy/pacifiers.

【We've Got Your Back! And Your Hip】As baby gets heavier, holding baby in your arms can be tiring and straining on your arms and back. Sitting baby on the non-slip padded hip seat, instead on your hip, prevents you from curving your back while keeping baby close, supported, and happy. Additionally, the wide waistband provides comfort for parent's waist and back. Padded Abdominal Pad Design is a plus to release pressure for long walking.

【Inspire Exploration, Encourage Curiosity】BABYMUST is designed especially to enhance the freedom of toddlers, encourage toddler who's beginning to explore. BAYMUST is changing the way parents carry their kids with a simple hip seat that allows for both flexibility and support.

【It's All About Detail】BABYMUST goes far beyond other competitors. It has Squishy Memory Foam Non-slip Hip Seat, which supports baby in an ergonomic natural "M" position; 25-51 inches waist fits for most size parents. Two-way zipper for every pocket for ultimate convenience at any time. Wider smooth hook&loop, longer waistband, padded abdominal pad design provide extra safety for the baby and most comfort for parents. Choose BABYMUST, you will never regret it.
More to read:
FANCIME Sterling Silver White Opal Necklace 32% Off Now At $33.99
Kate Lynn "Rise From the Ashes Phoenix Bracelet Astral Orange 60% Off Now At $27.99
Amazon Collection Sterling Silver Celtic Knot Lever Rose Gold 15% Off Now At $25.50