A slice of toast and a cup of coffee is a perfect start to the day, not to mention, it surely uplifts your mood and prepares you for a long day. We are sure you won't disagree with this. But, making those perfect slices often takes too much time if you are hurrying off to work. Moreover, sometimes you also don't get that hint of crispiness too, right? This is when  toasters come to your rescue. A kitchen appliance that is not just ideal for toasting slices of bread but also bagels, waffles, and much more.
Today, toasters can make your favorite breakfast in no time and comes with a lot of different features. The market has a variety to offer – from a 2-slice toaster to a 4-slice toaster, and even a 6-slice toaster, you'll find it all.
However, choosing from a wide variety of options can turn out to be quite baffling at times, so, we've come up with this list of the best toasters in the U.S. in 2021. Now, you can choose from any one of these and need not worry about what's best for you.
Best Toasters in the U.S. – Reviews and Comparison
1. Acekool Toaster TA1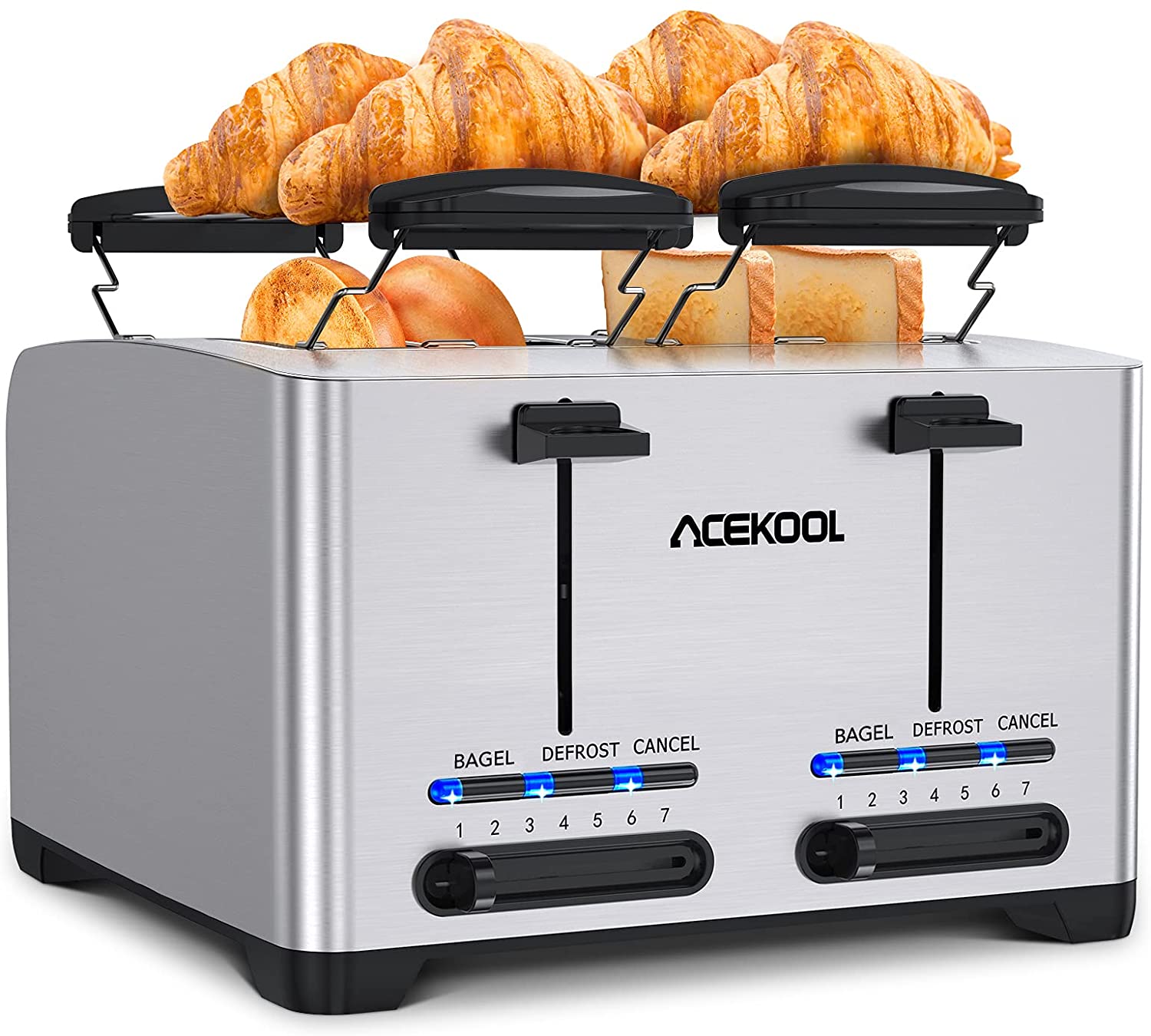 Product Highlights
The Acekool Toster TA1 stainless steel 4-slice toaster stands out for it its multi-functions and anti-heating/scalding specifications.
Features
This stainless steel, sleek 4-slice toaster is the perfect match for your kitchen helping you to make your breakfast easier than before. Built with multiple specifications, the Acekool toaster comes with 3 basic settings – Defrost, Bagel, and Cancel. With the Defrost functions, you can thaw the frozen bagel or bread. On the other hand, the bagel function is solely to heat/toast bagels in no time and the Cancel function is to stop the toaster when it's in use.
Apart from this, the Acekool toaster offers 7 different shades setting to choose the color of toast you want, from light to dark brown. Besides, it has 1.6 inches wide slots to fit in all types of bread, bagels, waffles, and so on.
Moreover, its additional yet outstanding features include a removable crumb tray to avoid the mess, a high lift lever, and two grill stands to warm up other foods like croissants.
        Pros
        Cons
Defrost, Bagel, and Cancel settings
Removable crumb tray
Anti-heating design
7 different shades setting
None (as per our personal experience)
2.Cuisinart CPT-180P1 Metal Classic 4-Slice toaster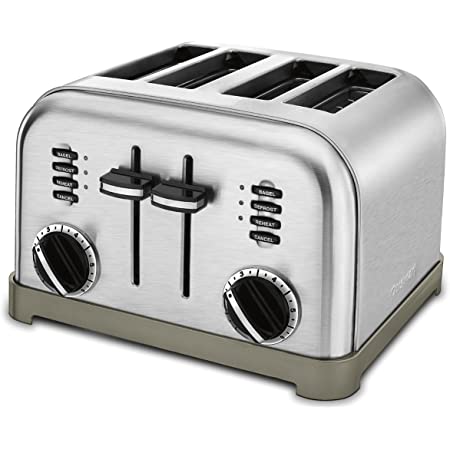 Product Highlights
Bring home Cuisinart CPT-180P1 Metal Classic 4-Slice Toaster, which is a unique combination of classic beauty and solid performance.
Features
Cuisinart is a brand, which is known to make its toasters such that it can turn a regular piece of bread into a toasted savory treat. This stainless steel 4-slice toaster is designed with a toasting technology to excite taste buds and includes multiple toasting functions – toast, bagel, defrost, reheat and cancel.
Besides, you even get a shade control setting so you get to choose the browning options for your toast. Apart from these, it also has the Defrost function that can thaw your refrigerated foods like pancakes, pastries, waffles, French toast, and so on. Plus with the high lift lever, you can remove your toast easily.
Overall, this is a great toaster with 4 wide slots, dual control panel, and an ultra-modern, sleek design.
        Pros
        Cons
Modern design
Multiple toasting functions
4 wide slots
Dual control panel
Some users wished for a longer power cable
 3. Breville BTA820XL Die-Cast 2-Slice Smart Toaster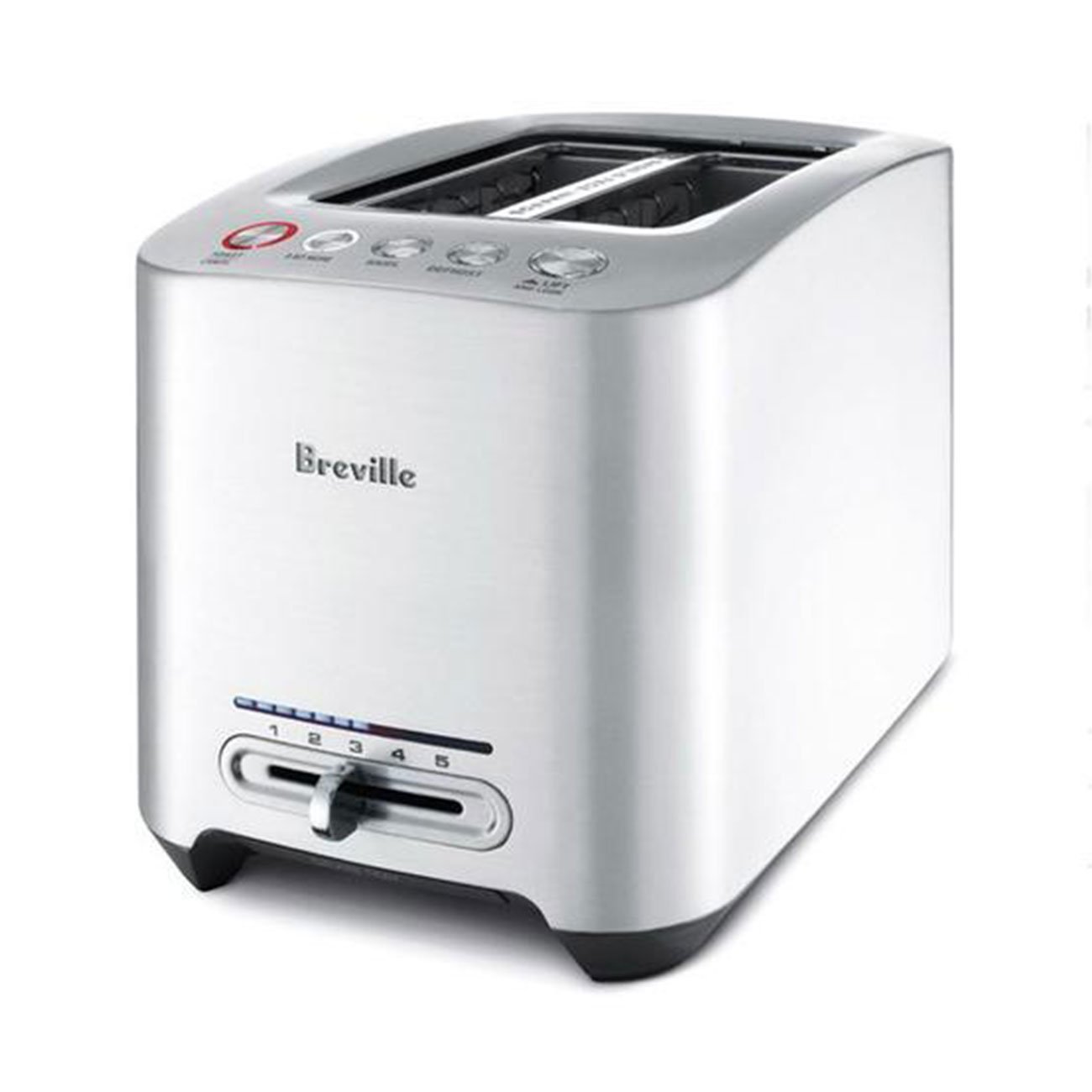 Product Highlights
With innovative one-touch automation technology, Breville BTA820XL Die-Cast 2-Slice Smart Toaster is impeccable in delivering a perfect toasted slice every time you switch it on.
Features
Offering a great value for money, Breville Die-Cast 2-Slice Smart Toaster is a champion in evenly toasting your bread, batch after batch. With just a push of a button, your bread slices automatically go down and it doesn't have any lever pressing functionality. Moreover, its extra-wide slots can fit in bagels, waffles, and even hand-made bread slices.
Besides, it comes with a 'Lift and Look' function, which allows you to check the browning of your toast. In case, the toast isn't brown enough, you can try the option 'A Bit More' to add more time. Lastly, the sleek die-cast metal design makes it the most attractive piece for your kitchen counter top.
        Pros
        Cons
One-touch automation technology
Auto-lowering
'A Bit More' and 'Lift and Look' features
Sleek die-cast metal design
Slow Functioning
4. Oster 2 Slice, Bread, Bagel Toaster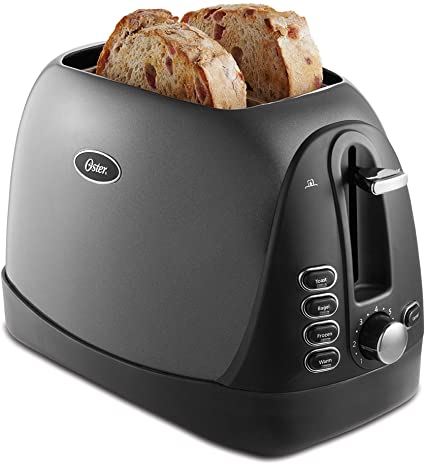 Product Highlights
Designed with Advanced Toast Technology and auto-adjusting bread, Oster 2 Slice Toaster is known to deliver consistent and even toasting.
 Features
Start your day with a platter full of your favorite breakfast using Oster's 2-slice toaster. With extra-wide slots, bread, bagels, pancakes, can easily fit in, even if these are of different sizes and thickness. Plus, using this toaster isn't a rocket-science, because its user-friendly control panel and intuitive dial, enable you to regulate the toast shade. You can even cancel the function whenever you want.
This toaster also has a high-rise lever for easy toast retrieval and doesn't make any mess with bread crumbs, as it has a separate, removable crumb tray. Plus, with its jamming mechanism, it can prevent jams when taking out the slices. Not to mention, the Oster toaster also has a classic look, which can match with any type of kitchen décor.
        Pros
        Cons
Advanced Toast Technology
7 adjustable settings
Anti-jamming mechanism
Dual auto-adjusting bread guide
Non-retractable power cord
5. KRUPS KH732D50 2-Slice Toaster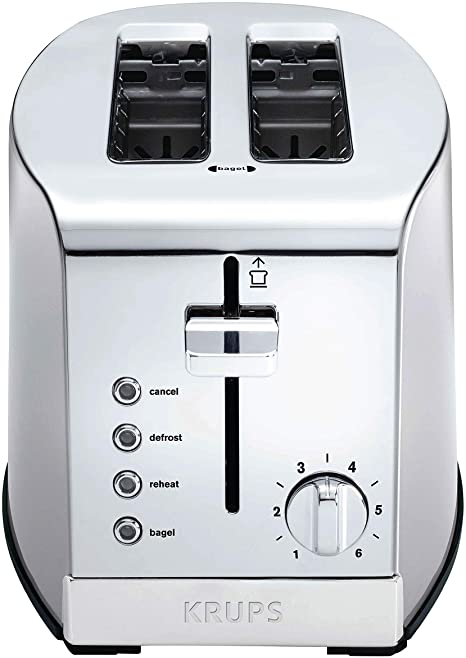 Product Highlights
If you need a toaster that's best for bagels, then Krups 2-slice toaster is the right option. This toaster is equipped with extra-large, self-centering slots to fit in any type of bread and bagels.
Features
Crafted with excellent features, Krups 2-slice toaster is your ultimate aid to making a yummy breakfast. It comes with a high-lift lever so that you can easily remove your bread or bagel. Moreover, its rotating knob is integrated with 6 browning options that ensure you get your desirable toast shade.
Besides, this toaster also has additional features like Defrost and Reheat functions. So, you can not only thaw your bread or bagel but also reheat them without burning or making them browner.
Also, since we mentioned that this toaster is perfectly suited for bagels, it has a special function Bagel Mode, which warms it from the outside and toasts the inside well. So in every way, the Krupa 2-Slice toaster is a perfect combination of great design and the best toasting technology.
        Pros
        Cons
Extra-wide slots
Rotating knob with 6 browning options
Defrost and Reheat functions
Integrated Bagel Mode
Turn too hot during use