Since the pandemic and lockdown, many of you must have found peace in comfortable sweatshirts, pajamas, and joggers. In a true sense, these clothes aren't just comfortable but also quite trending now. While pajamas and night suits aren't quite ideal for working out or running errands, joggers, on the other side, turns out to be perfect for all kind of activities. Whether it's your workout routine, some random outdoor work, or just work from home, jogger pants are undoubtedly perfect for all of these. 
Well, ladies, who doesn't love joggers? After all, the soft, cozy feeling has become fashion statements too. The new trend of athleisure brings out the combination of coziness and style and that's how joggers came into the fashion limelight. So, whether it's your work-from-home meeting or you have to take your dog out for a walk, nothing better to wear than comfortable joggers. Besides, you can lounge around in joggers too. 
If you want to pick a pair of joggers for yourself, then you must check through this selection here. We've listed the best women's joggers that are super comfortable and chic for you. So read on.
1. KOJOOIN Women's Joggers Capri Sweatpants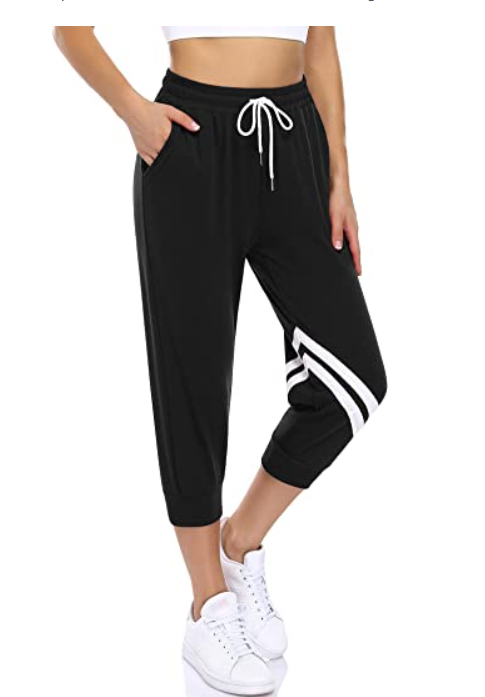 Wondering what to wear for your morning run that's comfortable and even makes you look cool? Well, you will agree that nothing more comfortable than jogger sweatpants. And, KOJOOIN Women's Joggers Capri Black turns out as one of the trendiest joggers available on the market currently. 
Made of comfy fabric, this pair of joggers can live up to your expectations in terms of quality and price. What's truly impressive is its fabric. It's made using polyester, rayon, and spandex. Even after using these materials, the joggers are soft, lightweight, absorbent, and cool. So, it's totally worth being your comfortable athleisure pants!
Have a video conference and changing into work clothes seems like an arduous task? Be it a pair of jeans or an A-line skirt, it's often too tight and uncomfortable. Why not switch it with a pair of cozy joggers from KOJOOIN. Its pair of Capri Grey joggers give you total comfort alongside allows you to adjust the pair of joggers whenever you want. 
Capri Grey joggers come with adjustable drawstring and have a high waist elastic. This helps you to keep the jogger pants from slipping down. Plus, you don't feel too tight, as you can always loosen the drawstrings and even the elastic high waist isn't too close-fitted either. So, just put on this pair of joggers and keep up with your online conference at total ease.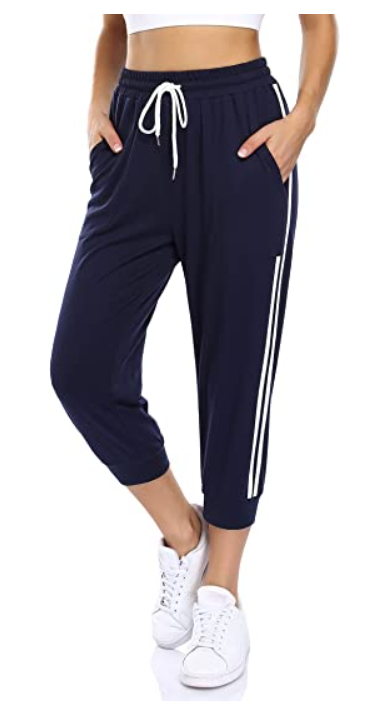 Need something comfortable for a casual outing? Why not try KOJOOIN Women's Joggers in Capri Navy Blue. Extremely stylish with the trendiest crop-workout pant design and two side pockets, this pair of joggers offer fashion and comfort altogether. Plus, with the pockets, you have space for storing your keys, phones, and so on. 
Tapered at the ankles, this jogger has ribbed ankle cuffs, which look tailor-fit down near the feet. Moreover, this design makes your legs look longer. Even the classic stripes going down the length of the pants make it look quite up-to-the-minute. To make it look even more uber-cool is to just pair it with a solid color tank top or a cropped sweatshirt and you're good to go. 
2. KOJOOIN Women's Joggers Capri Harem Pants
Do you also enjoy your off days lazing around in the house? Lounging all day on the couch, munching on your favorite pizza, and watching Netflix? If this is what your lazy day looks like then there's one thing that you're missing — your comfy wear. And, what's better than a pair of joggers cum harem pants! Make your lazy work-off days more comfortable with KOJOOIN Women's Joggers Capri Harem Pants in Black. 
Made from polyester and spandex, this pair of joggers is just like loose workout and leisure pants. It's lightweight, expandable, soft, and breathable too. Just put on these and laze around in total comfort.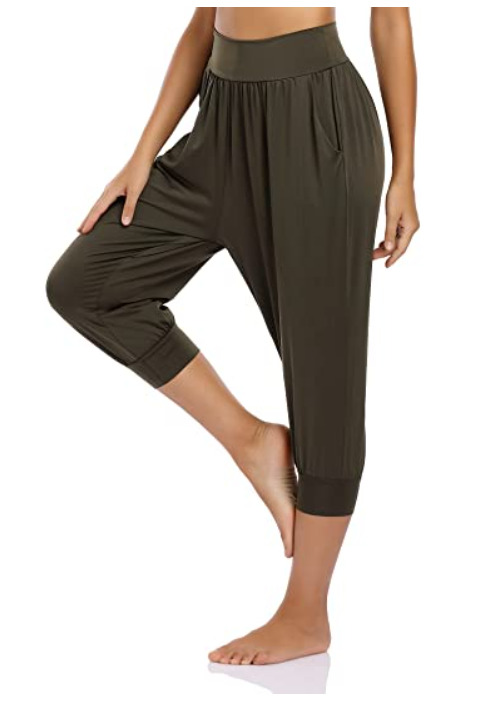 Workout and yoga often leave you all sweaty. While sweatpants and other athleisure might absorb your sweat well but sometimes the fabric isn't breathable, which makes it really uncomfortable to wear. But with the loose-fit KOJOOIN Women's Joggers Capri Harem Pants in Capri Army Green, you will love athleisure fit and comfort at the same time. 
Tapered ankle with two side pockets and the stunning harem style turns this pair of joggers into a complete fashion statement. Besides, you can do whatever you like wearing this pair — yoga, jogging, running, dancing and whatnot. Wear it all the time because this pant is never going out of style. Just pair it with the right crop top and trust us, you'll look amazing!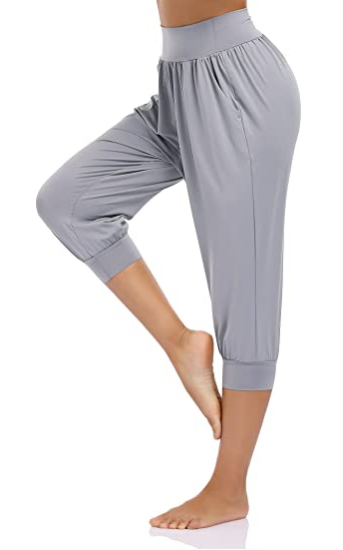 Ladies, we understand what keeps you busy all day long — office, family, kids, etc. Honestly, all these keep you on toes all the time. Well, for this reason, you all must try the KOJOOIN Women's Joggers Capri Harem Pants in Dary Grey, a pair of joggers for your strenuous activities. 
Its high waist elastic band gives you a better fit. Meanwhile, it also supports your waist during heavy tasks or workouts. Plus, this elastic waistband makes your body look slimmer. So, pair it with a crop top or crop sweatshirt to ace an uber-cool look, perfect for any casual outing too. 
So, what are you ladies waiting for? Pick out your favorite pair from this list of the best women's joggers and try it out today. Not to mention, these cozy pair of joggers are a must-have in the closet of every woman. Lounging, running, yoga, or whatever it is, these pair of joggers are perfect for all of it and most of all keeps you stylish keeping in mind your comfort too.
More to read: