Beach holidays are the most favorite kind of holiday for many people. The view of the beach, sunset, the evening swim, the sea breeze, varieties of seafood, the reasons for going on a beach holiday are many. And, if you are going to hang out with your girls you need the right outfit — women's one-piece swimsuits. 
Shorts without a drawstring can easily loosen with the contact of a lot of water and keep riding down your legs. Baggy t-shirts and tracksuits can make your swim difficult as there is more waterlogging for these clothing items. Even straps of your bikinis can fall off if you are engaging in high-intensity water sports.  So a one-piece swimsuit is the best when it comes to going for a swim. It is even a great option for those who go for a relaxing swim in a public pool. 
Here are some of the best women's one-piece swimsuits that you can wear for all your swimming activities or even just if you are just sitting on the beach, enjoying the sea breeze. 
1. HiMiss Women's V Neck One Piece Swimsuit

This swimsuit is the best to rock at a pool party. Available in three different types of leopard prints and a cow print, the swimsuit is made of soft fabric to make you feel comfortable while swimming. It has a tie at the side of the waist to make it more appealing. 
Made of polyester and spandex, the swimsuit features a V neck. The bust area features two sturdy cups made of soft padding to ensure more support and lift. Available in all sizes, this long enough to cover your torso and also gives you extra coverage for minimal visibility of your private parts while swimming.  This leopard print swimsuit is perfect for all poolside and beachside occasions. 
2. HiMiss Women's Ruffle Cut Out One Piece Swimsuit

The ruffle cut-out one-piece swimsuit for women is perfect to go for a beach party in style. The ruffle cut will bring out a sense of elegance by giving a great look to your bust. Made of polyester and spandex you can swim easily with this one-piece swimsuit. Available in three different colors, this monokini is a must-have if you have a luxury pool party or a beach party coming up.
The backless swimsuit is stylish with a lace tie and adjustable shoulder strap. It is high-waisted at the back, making it comfortable as well as stylish. Available in all sizes, this monokini gives your body shape a distinctive look. 
3. HiMiss Tie Shoulder Color Block Women's One Piece Swimsuit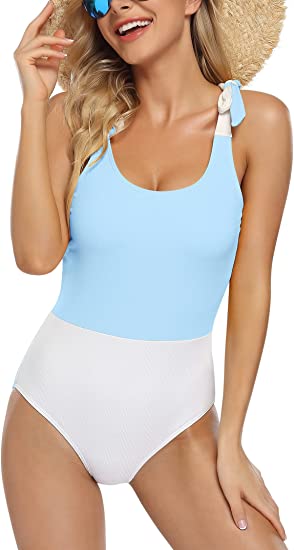 This is yet another fashionable monokini you would want to wear, to spend a relaxing day at the beach or swim in a pool. With tie shoulders, this has a color block pattern for those who like casual monokini without flair. This swimwear is for those who prefer comfort over style.
Crafted with polyester and spandex, the swimsuit gives a soft feel and is smooth, stretchy, and durable. Available in all sizes, it is perfect for summer, a beach party, or a pool party.  It has an adjustable shoulder strap that contributes to an easy fit for all sizes. 
Monokinis are great one-piece swimsuits for women, as they can be worn during summer and is even a comfortable option for a party. A one-piece swimsuit can give more protection to your body and guard the skin against chlorinated water. It is comfortable to wear as makes your belly look flat, therefore, for some women, it is sexier than a bikini. Unlike bikinis that are hard to wear for women with large breast sizes, a one-piece swimsuit successfully combats this problem as most of these have cups with soft padding to give more support to your breasts. 
 If you are a mother who has stretch marks as an aftereffect of your pregnancy, these best one-piece swimsuits can easily cover all your marks. It can also accent your curves to give you a captivating look. You can find various designs for one-piece swimsuits including low fronts or backs, strapless, etc. 
Since 2017, the one-piece has rivaled the bikini as the most popular swimwear style. They have been in fashion for ages. After classic style icons like Marilyn Monroe, Elizabeth Taylor, Sophia Loren, and Bo Derek started wearing one-piece swimsuits; the monokinis were associated with style and sophistication. Shows like Baywatch further cemented its status as a classic but a sexy and chic option.
More to read:
Top 5 Best Women's Tank Tops That Are Currently Trending