Promo code:

AMS47WQ5
Start Time:  2021-11-27 05:00/

Expiration Date: 2021-12-20 23:59PDT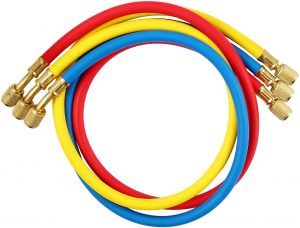 The outer layer of CHEINAUTO AC manifold instrument hose is made of weather-resistant and aging-resistant synthetic rubber, and the reinforcement layer is made of polyester fiber equiangularly interwoven, which has good compression and bending resistance. The inner rubber is made of chlorinated butyl rubber, which has low permeability and is resistant to refrigerants. The inner lining is made of durable RMA-B grade nylon alloy resin, which is resistant to ethane corrosion and the penetration of various refrigerants. The refrigerant charging hose with compact ball valve is suitable for most refrigerants. The durable neoprene coating provides flexibility and abrasion resistance, ensuring long life and reliability.
About this item
Refrigerant charging hoses with compact ball valves are common in most refrigerants.
CHEINAUTO 3-piece AC manifold meter hose kit has strong sealing and durability.
Standard 1/4 inch female threaded horn connector, with spool pressure plate, one end bends 45° for easy access to the system.
Refrigeration filling hose valve discharge adjustment, refrigerant filling, refrigerant discharge, filling yellow sleeve interactive adjustment.