Christmas Ornaments Decoration Adeeing Christmas Wreath with Lights, 30 Inch Battery Operated Large Christmas Wreath with Ball Ornaments and 40 LED Lights Xmas Wreath for Front Door Holiday Party Decoration (Red and Golden)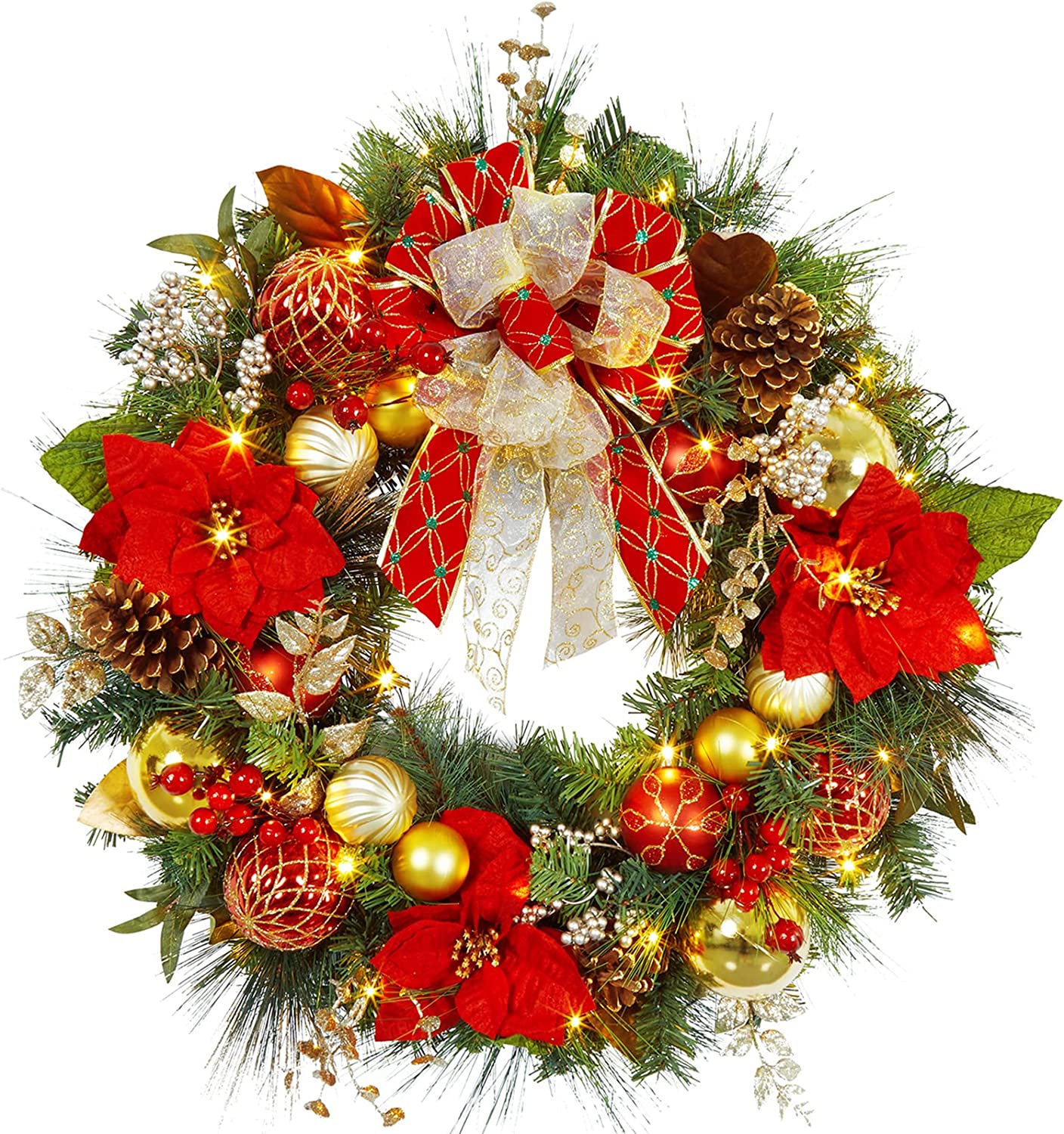 Adeeing 30 Inch Pre-lit Christmas Spruce Wreath for Front Door
Natural Appearance: Made from high quality artificial pine and long needle branches, realistic and will not fade.
Rich Decorations: Embelished with ornaments strongly associated with Christmas, including Christmas balls, pine cones, poinsettias, red and champange gold berries, red bowknot and gold leaves branches.
40 Waterproof LED Lights: Pre-strung with 40 warm white LED lights, making the wreath more beautiful and attractive at night.
8 Lighting Modes: Combination, In wave, Sequential, Slo glo, Chasing/Flash, Slow fade, Twinkle/Flash, Steady on-8 different lighting modes for you to choose as you will.
Built-in Timer Function: When you turn the lights on, it will automatically stay on for 6 hours, then turn off for 18 hours and back on 6 hours, etc.
Double Layer Base: Our Christmas wreath base is two-layers metal ring, making the wreath thicker and more stable.
Item Features:
Adeeing Christmas Wreath with Lights
Combination of Rich Christmas Elements: Our artificial Christmas wreath is embelished with assorted size red and gold shatterproof ball ornaments, red berries, pinecones, poinsettias and a large red bowknot. Classic red and gold scheme gives the traditional Christmas feeling.
30 Inch Large Christmas Wreath: The finished Christmas wreath measures approximately 30 inches in diameter, full and lush. Big enough to hang on the front door, double front gate, outdoor trellis. This gorgeous large wreath will impress your guests and loved ones throughout the Christmas season.
40 Battery Operated LED Lights: This Xmas wreath is pre-strung with 40 battery operated warm white LED lights with 6 hours On/18 hours Off timer and 8 lighting modes. (Need 3 AA batteries, not included). Warm light makes the wreath more beautiful and attractive and bring festive glow to your home.
Multiple Occasions Christmas Decoration: This holiday wreath can be used indoors and outdoors. It will look fantastic to hang the wreath on the front entrence, on the lobby wall, on the window, over the fireplace mantel, in the living room, porch or in store, hotel, office, classroom, party, adding more festive atmosphere.
Durable & Long Lasting: Our lighted Christmas wreath is made of high quality artificial pine and long needle branches, realistic and will not fade. Packed in carton box to protect from damage. You can store the wreath in this box for the next Christmas.
More to read:
Christmas Decoration National Tree Company Pre-Lit Artificial Christmas Hanging Basket Save 53% Now At $42.64