Wouldn't it be great to spend only a couple of hours in the kitchen and get your meals ready for the week? All you need to do is cook one/two base ingredients and use that to make quick dinners over the week. Not to mention, saving you a lot of time on other days, especially when you have other household chores and office work to get done, right moms?
If your choice of meat is chicken, then you can make distinct dishes by cooking several chicken breasts and thighs at once. The opportunities are endless for quick and easy dinners. However, if you cook the same thing on different days, then just imagine the amount of time it takes to cook. You bake chicken parmesan on the first night. Later in the week, you sauté the chicken breasts for Chicken Piccata. Then you make a Chicken Pot Pie over the weekend. You just had chicken breasts prepared three separate times. How about cooking the chicken at once and using it later in the week for those meals? 
Another way that the once-cooking idea saves you time is that you have a built-in meal schedule for the entire week. Now, that's a real time-saver, right?
The first thing you need to do is set aside one day to prepare. Let's take a Sunday to do that since all the other days you're juggling work. A weekend would be the best day. 
So let's get started:
Sunday: Preparation Time
We are going to use the 2 most basic ingredients that can help you create amazing, lip-smacking dishes throughout the week. If you wondering what these 2 magic ingredients are? Well, it's none other than the most easily available ones – Chicken and potatoes. This is a low on effort and low on expenditure way to feed an entire family. 
On a Sunday, boil some chicken and potatoes and keep them aside in separate airtight boxes. That's it! Most of the hard work is done. Now all you have to do is whip up some quick dishes. 
Check out some recipes that are low on effort and high on deliciousness:
Monday – Recipe 1: Chicken Chile Verde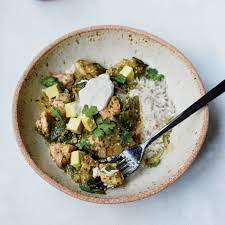 This Chicken Chile Verde is one of the best dishes to cook once and eat again.  Make it early in the week and, later that week, you can use the chicken to make other meals, such as Chicken Enchiladas or Chicken Cobb.
Make the recipe the way it is, for two people. However, you can conveniently use 3 pounds of chicken in the same jar or sauce. And, double the recipe for four, and so forth. In the Instant Pot or Crock-Pot, Chicken Chile Verde is set. With cilantro rice and salad, serve this simple dinner recipe. For later, save 2/3 of the chicken.
 Ingredients
 

1 jar (12 ounces) Salsa Verde 

1 tsp ground cumin

1 tsp dried oregano

salt and pepper

 

1 pound boneless chicken breasts

1 pound boneless chicken thighs
Method:
To make this dish on a slow cooker, add chicken and add the other ingredients on top. Cook for 5-6 hours in a slow cooker on a low level. Shred and serve chicken over rice or with tortillas.
To make the dish on an Instant Pot, add all of the ingredients into the Pot. Cook for 12 minutes on high pressure, then allow the pressure to escape naturally for at least 10 more minutes before releasing quickly. Shred and serve chicken over rice or tortilla. 
Your Monday meal is done!
Tuesday – Recipe 2: Skillet Chicken Pie
Ingredients:
1 pound shredded chicken

1 cup chopped onion

2 cups frozen corn, thawed

2 cups frozen peas, thawed

2 tablespoons ketchup

1 tablespoon Worcestershire sauce

2 teaspoons minced garlic

1 tablespoon cornstarch

1 teaspoon chicken broth

1/2 cup cold water

1/2 cup sour cream

3-1/2 cups mashed potatoes (prepared with milk and butter)

3/4 cup shredded cheddar cheese
In this way, an electric hand blender is necessary for smashing  chicken and potatoes.
Method:
Cook the chicken and onion over medium heat in a large skillet until the meat is cooked to your preference; rinse. Add the corn, peas, ketchup, Worcestershire sauce, garlic, and stir. Reduce heat to medium-low; cover for 5 minutes and cook.
Stir in the chicken mixture and combine the cornstarch, broth, and water until well blended. Over medium heat, bring to a boil; cook and stir for 2 minutes, until thickened. Incorporate sour cream and heat through it (do not boil).
Spread over the top of the mashed potatoes ; sprinkle with cheese. Cover and cook until you heat the potatoes and melt the cheese.
Wednesday – Recipe 3: Creamy Chicken Enchiladas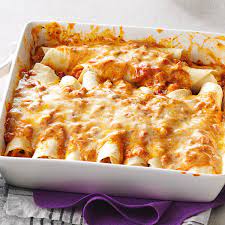 Tasty chicken and melted cheese, wrapped in a tasty tortilla of flour, covered in a sauce of cream, and topped with more melted cheese? This dish is a winner and a time-saver. 
 Ingredients
 

8 flour tortillas (can use gluten-free or low-carb tortillas)

 

1/2 cup heavy cream

1 cup sour cream

2 4 oz cans diced green chiles

2 cups shredded Monterey Jack cheese

3 Tbsp butter

 

3 Tbsp all-purpose flour

 

2 cups chicken broth or stock

3 cups cooked shredded chicken (4 thin chicken breasts)
Method:
Using a Stovetop: Use a tight-fitting lid skillet, add chicken breasts. Cover with water and salt or chicken broth with many generous pinches. Put on the cover, turn down the heat to simmer, and cook for 30 minutes. Bring it to a boil. Let the meat cool down and dice or shred it.
Using an Instant Pot: To the Instant Pot, add your chicken breasts. Over them, pour 1 cup of broth or soup. Seal the pressure by closing your sealing lever. Cook for 8-10 minutes at high pressure, allowing 10 minutes to release the pressure naturally. Turn the lever after that (protect your hands from the heat!) to release the pressure quickly.
 (However, you may not have to cook the chicken for that long, because remember, you have already done so on your preparation day.) 
When you've shredded your chicken, combine it with half the cheese and the chiles. Heat the tortillas so that they can roll up more quickly. Spread the chicken filling and roll the tortillas up. In a casserole dish, put them seam side down. Make the sauce by melting the butter in a saucepan. Incorporate the flour, stirring for a minute. Pour the chicken broth and whisk until smooth. 
Once the sauce is thickened, pour it over the enchiladas until you add the sour cream. Top it off with the remaining cheese and chiles. Bake until the top is golden and bubbly, for 20-25 minutes. Wednesday done right!!
Thursday – Recipe 4: Pierogi Quesadillas
Who doesn't love potatoes, and if it's creamy and mashed, it's all the more delicious, right? Then this is the right dish for you, plus, it hardly takes up much of your time. 
Ingredients:
1 package (24 ounces) refrigerated sour cream 

Chive mashed potatoes

Butter-flavored cooking spray

8 flour tortillas (8 inches)

1 cup chopped fully cooked ham

1/2 cup shredded cheddar cheese
Method:
Heat mashed potatoes that you have previously boiled. 
Use a tiny amount of cooking spray over one side of each tortilla. Place half of the tortillas, greased side down, on a griddle. Spread with mashed potatoes; top with ham, cheese, greased side up, and remaining tortillas. Cook over medium heat, 2-3 minutes on each side, until the cheese is melted and golden brown.
Your Thursday's dinner is all done!
Friday – Recipe 5: Chicken Pot Pie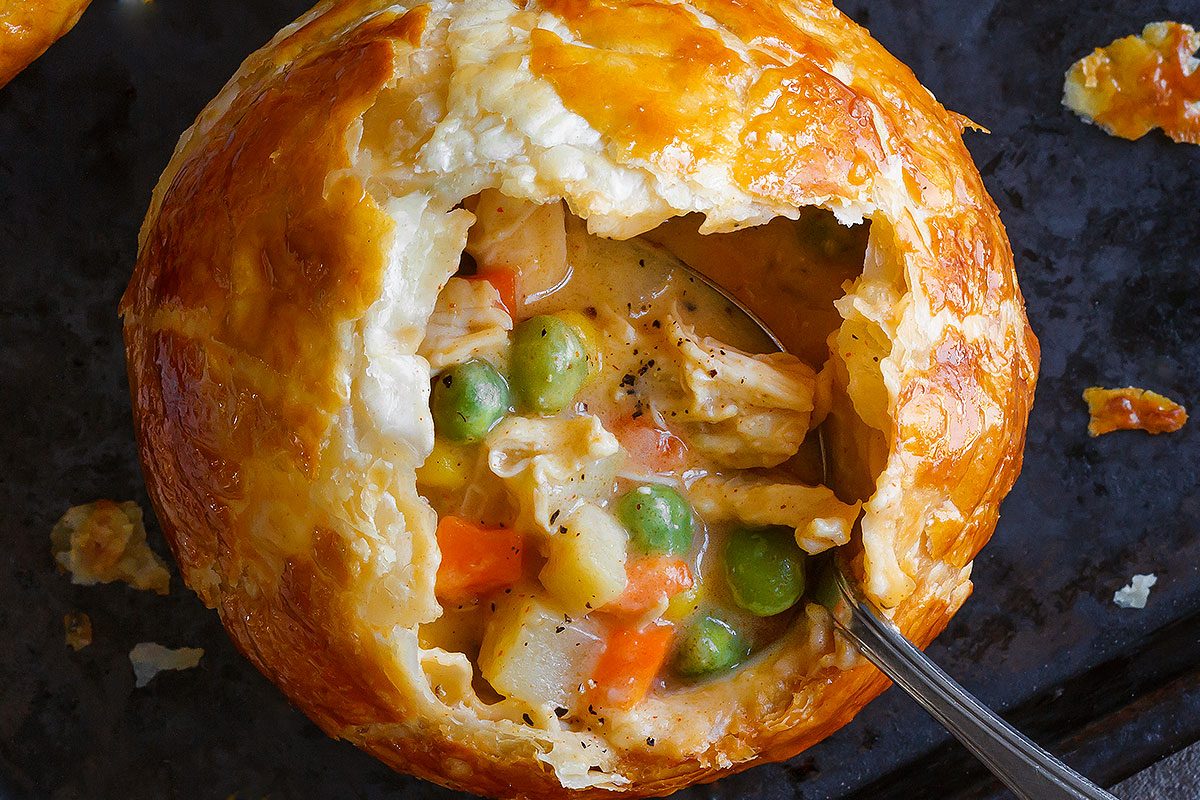 Friday's are always about getting into the weekend mode. This is when you feel relaxed a bit. There's no better day to treat yourself to something delicious. So a chicken pot pie it is. Well, you have earned it after a tiring week. 
Ingredients:
2 cups diced peeled potatoes

1-3/4 cups sliced carrots

1 cup butter, cubed

2/3 cup chopped onion

1 cup all-purpose flour

1-3/4 teaspoons salt

1 teaspoon dried thyme

3/4 teaspoon pepper

3 cups chicken broth

1-1/2 cups whole milk

4 cups cubed cooked chicken

1 cup frozen peas

1 cup frozen corn

4 sheets refrigerated pie crust
Preheat the oven to 425 degrees. Place the potatoes and carrots in a large saucepan; add water to cover. Just bring it to a boil. Decrease heat; cook 8-10 minutes or until crisp-tender, cover, and then rinse.
Heat the butter in a large skillet over medium to high heat. Add the onion; cook until tender and stir. Incorporate flour and seasonings until combined. Stir the broth and milk in gradually. Bring to a boil, continuously stirring; cook and stir for 2 minutes or until it is thickened. Stir in the mixture of chicken, peas, corn, and potato; remove from the heat.
Unroll a pie crust into two 9-inch sections each. Trim the rims. Add the mixture of chicken. Place the remaining crusts over the filling. Seal the edges. Make slits on the top.
Bake for 35-40 minutes or until you see the crust becoming golden brown. Let it sit before you cut it. And there you have a delicious Friday night dinner. Don't forget to pour yourself a glass of wine too.
Saturday – Recipe 6:  Spinach Quiche with Potato Crust
After your Friday's lip-smacking meal, it's time to make Saturday equally exciting. So try out this Spinach Quiche with Potato Crust recipe. 
Ingredients
1 package (24 ounces) refrigerated mashed potatoes

2 tablespoons olive oil, divided

8 ounces sliced fresh mushrooms

2 garlic cloves, minced

5 ounces frozen chopped spinach (thawed and squeezed dry) (about 1/2 cup)

6 bacon strips, cooked and crumbled 

Or 1/3 cup bacon bits

2 teaspoons minced fresh rosemary 

Or 1/2 teaspoon dried rosemary, crushed

4 large eggs

1 cup 2% milk

1/4 teaspoon pepper

1 cup shredded cheddar cheese
Preheat the oven to 350 degrees. Press mashed potatoes on the bottom and sides of a 9-in greased pie plate. With 1 tablespoon of oil, brush the pie base. Bake for 30 minutes or until golden brown on the outside.
Meanwhile, heat the remaining oil over medium-high heat in a large skillet. Add the mushrooms; cook and stir until tender or 3-4 minutes. Stir in garlic; cook for 1 minute longer. Withdraw from the heat. Stir in the spinach, rosemary, and bacon; spoon over the crust. Whisk the eggs, milk, and pepper in a small bowl until blended; mix in the cheese. Pour over the mixture of mushrooms.
Bake for 25-30 minutes longer, or until the knife inserted in the middle comes out clean and golden brown. Let it stand before you cut into it. 
If you didn't know, preparing meals saves you money, too. The right way is to go into the grocery store with a list. It helps to avoid push shopping because you already know what you need. Another savings tip is to pick up your groceries online. This helps avoid purchasing impulses entirely and also saves you time. You can also check out coupons to help you save up more.
We hope our article will make you a smart cook and a smart shopper too!