Cumbor Baby Gate Doorways, Mom's Choice Awards Winner-Cumbor 29.5-46″ Extra Wide Safety Baby Gate for Stairs, Easy Install Pressure/Hardware Mounted Dog Gates for The House, Auto Close Pet Gate for Dogs, Easy Walk Thru, White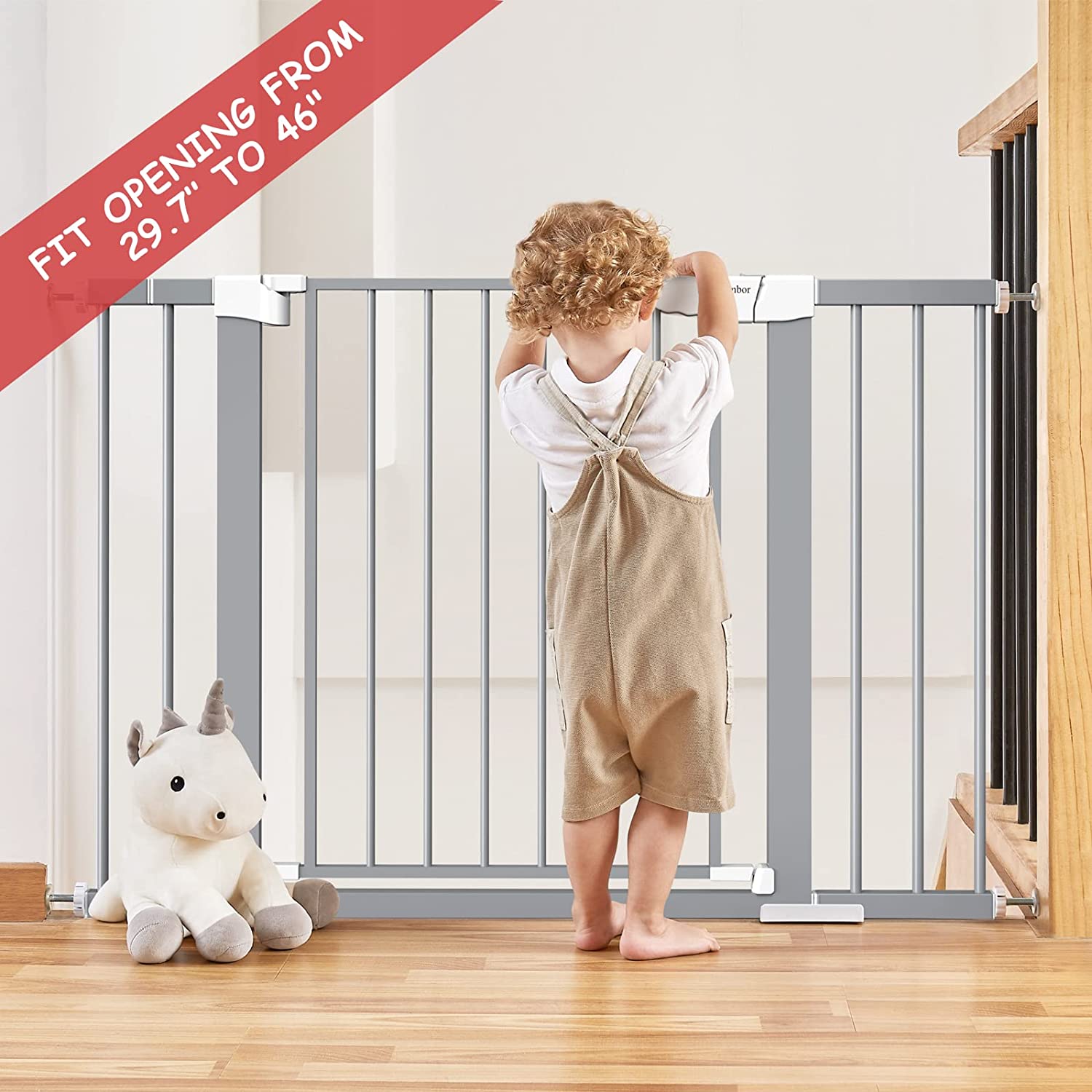 Superior Safety for Your Child – Fitting openings from 29.5" to 46", this gate is perfect for stairs, doorways and large openings. Your thoughtful care is the best gift for your baby.
Top of Industry in Quality – It's time to give your baby a place where he or she can explore his or her own playground without the risk of getting hurt, during which, your baby can explore freely without always crying for mommy.
Durable for Pet – With Cumbor Baby Gate, you can keep your pet away from areas that you don't want them to enter, as well as things you don't want them to touch. Enjoy your time without a pet's disturbance.
When you receive the gate, you may notice that there is a gap between the lock and the door frame, which is normal because this gate is installed through reaction force. That's why we remind you not to cut the zip tie on the bars, for easier installation. Rest assured, the gap will disappear after the installation is completed.
We designed our product for your convenience. You can simply pressure install the gate within 20mins, which is quick and convenient, causing no damage to the wall. You can remove it anytime without difficulty when you move to a new place or no longer need it.
1.If you twist the bolt too tight, you will find that the door is difficult to open, you need to use the key to relax the bolt a little bit.
2.If you twist the bolt too loose, the door lock will not lock and judge it was broken, you need to continue to adjust the bolt to tighten the door frame by reaction force
We have applied a Auto-Close double lock design, which means the gate will close itself. If you want to open the gate, you need to pull the button and meanwhile, lift the swing door. This is easy for adults to operate, while hard for a little baby to open which will keep your child safe .
Item Features:
Cumbor Baby Gate Doorways, Mom's Choice Awards Winner-Cumbor
【Large & wide】30.5 Inch height & 29.5-46 Inch width, This white gate is suitable for most doors! Our large walk thru gate makes it easier to walk when holding the baby. Great choice for mommies!
【Safe for baby】Your curious crawlers will be blocked by the baby gate at the top of stairs because we design the double-lock safety release which makes it difficult for toddlers to open the gate (aged 6-36 months). Babysitting your babies!
【Durable design】steel design baby gate can defend up to 150 pound impacts by Husky, Alaska etc. without budging at all! You do not need to worry about the baby gate being pushed down and hurting your children, great for a family with child and pet!
【Easy installation】 simple pressure mounting is easy enough for a nanny to install for grandkids in 10 minutes without any help. Free to go through from both sides. Perfect for stairs, hallway, doorways and open spaces(be ensure to measure the installation distance of the upper and lower walls is within 29.7-46Inch, If your wall isn't flush or have baseboards)
【Proud Recipient of the Mom's Choice Award 2022】Cumbor draw on decades of customer experience that's why parents and experts chose us. We're proud that our safety gates have become much loved fixtures in thousands of happy homes for protecting babies and pets.
More to read:
Bedsure Orthopedic Dog Bed for Medium Dogs
Lefant Robot Vacuum Cleaner Save 61% Now At $88.88