Promo code:

55RC3RK4
Until 12/8 while supplies last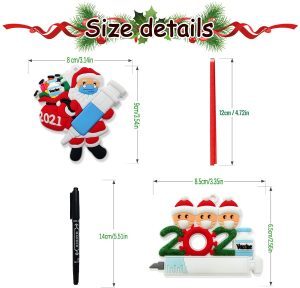 We provide family Christmas ornaments for 3-5 people, the set includes Santa Claus + signature pen + Christmas ornaments. It can not only decorate your home and enhance the Christmas atmosphere, but also write our wishes on it. It symbolizes the best wishes for family happiness and health. The Jzlld Christmas ornament kit is made of high-quality materials, strong and durable, very suitable for doors, Christmas trees, walls, toilets, etc. The Jzlld Christmas Ornament Kit is the most distinctive family commemorative decoration in 2021.
About this item
The set includes the 2021 "Santa Claus" and "DIY Famaliy" Christmas ornament sets with pens.
The 2021 home improvement is composed of beautiful and cute little characters and unique elements. The Christmas pendant is equipped with a red rope and can be easily hung anywhere.
This Christmas ornament has a blank Santa hat. You can write your own last name on the decorations with a beautiful marker to make a special Christmas gift for your friends and family.
This 2021 Christmas decoration is made of high-quality lightweight PVC, durable, tasteless and harmless. It is designed with a ribbon loop, which is small and light, and can be easily hung on a Christmas tree or a window.