Promo code:

50E953AQ
Until 12/5 while supplies last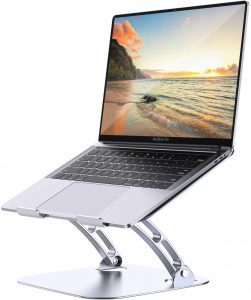 The OlYone laptop stand has flexible height and angle adjustment functions, allowing you to place the laptop in the most suitable position for your sitting height. The ergonomic laptop stand makes you more comfortable, reduces the pressure on your eyes and neck, reduces neck fatigue, and says goodbye to neck pain. The laptop stand can free up desktop space and prevent the device from overheating. Its compact size can be folded for convenient storage of your backpack.
About this item
The MacBook Air Pro stand can be used as a lifter to raise the laptop screen to your sight level. It allows you to stabilize your posture and relieve pain in your neck, shoulders and spine.
This ultra-stable all-portable laptop stand is very suitable for home, office and outdoor work, making typing easier.
Thanks to high-quality aluminum alloy and a larger and heavier base, the OlYone adjustable laptop stand provides solid support.
The laptop stand is compatible with all laptops from 10 inches to 17 inches.
Multiple vents provide better ventilation and more airflow to cool your laptop and prevent overheating and crashing. The non-slip silicone and smooth edges protect your laptop from sliding and scratching.