PETLIBRO Automatic Cat Feeders, Pet Dry Food Dispenser Triple Preservation with Stainless Steel Bowl & Twist Lock Lid, Timed Cat Feeder Up to 50 Portions 6 Meals Per Day, Granary for Cats/Dogs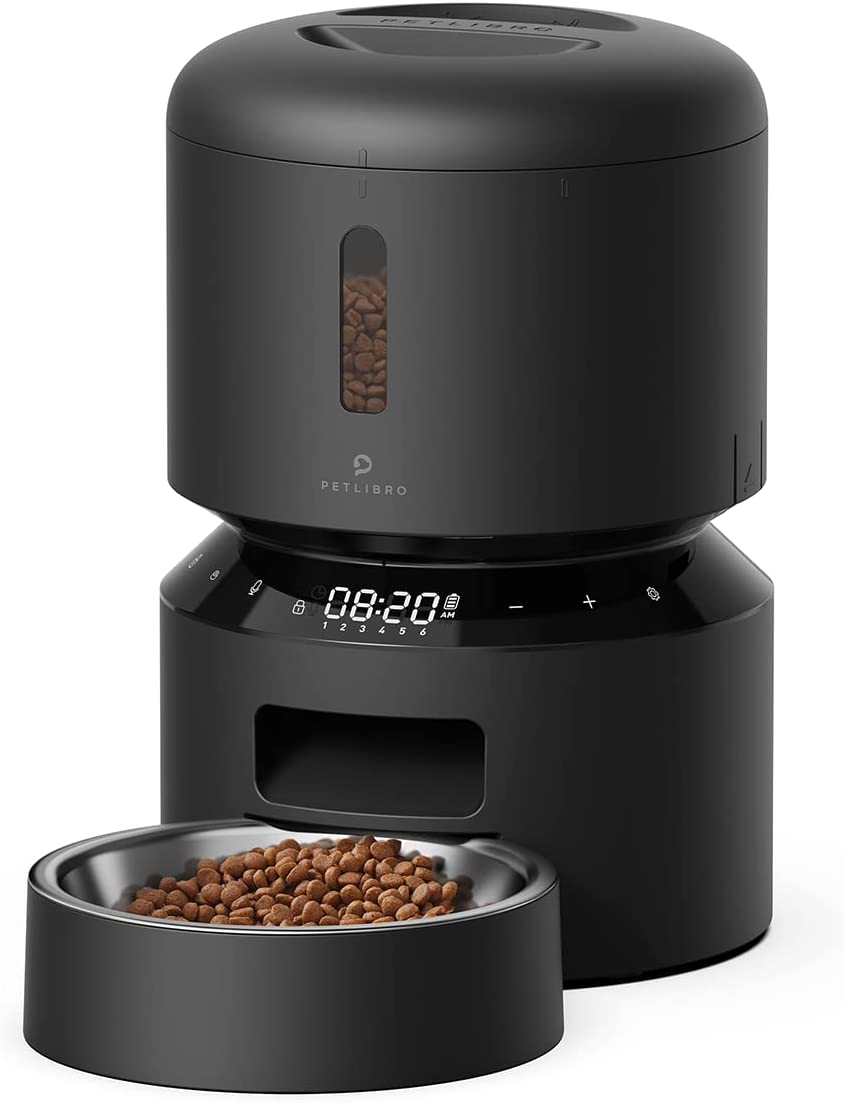 PETLIBRO was founded in 2019 in C.A., USA, in the belief that pet owners should be able to easily connect with their pets via trustable products.
Since established, with our affection for pets and obsession with detail, we have designed products that pet owners would desire and shipped to homes in the US, UK, Germany, French, CA and Japan.
Pet Food Desiccant Bag
Used to keep pet food fresh and keep it dry to prevent it from getting wet. It is recommended to change every half month to ensure the pet food is dry and hygienic.
Pet Food Splitter with Stainless Steel Bowls
This 2 Pet Dinner Set is optimal for feeding two pets at the same time, and the serving size can be adjusted to accommodate different cats and dogs. You can be sure your pets won't fight.
Item Features:
Easy to Set Up and Program: Easily schedule up to six meals daily and up to 50 portions per meal. View the timed cat feeder's status clearly on the LED display. Also, a manual feeding button makes it easy to give your pet a snack (up to 5 portions).

Freshness in Every Bite: Featuring a patent rotor, secure twist-lock lid, desiccant bag, and sealing strip, this Granary auto cat food dispenser helps lock in the freshness for a crunchy bite and keeps pets from getting extra food.

Personalized Meal Call: The PETLIBRO automatic pet feeder allows you to record a 10-second message and play it (up to five times) to get your pet to eat while you're away or sleeping in the middle of the night.

Smart Infrared Detection: The built-in infrared detection automatically suspend the cat feeder when an obstruction is detected. Keep your feeder in good condition and your pets safe.

Dual Power Mode: Use the USB-C adapter to power the automatic dog feeder. Alternatively, install three backup alkaline D batteries (not included) for peace of mind during a power outage. 

BPA-free and Easy to Clean: For your pet's health, PETLIBRO cat automatic feeders and accessories are BPA-free. And the tank lid, food tank, tank base, and bowl are easy to remove and clean.

Safe 304 Stainless Steel Food Tray: PETLIBRO cat feeders using food-grade stainless steel bowls help maintain healthy hygienic conditions while feeding, keeping your pet safe from the risk of chin acne and skin inflammation.

Easy to Monitor: The transparent window clearly shows the remaining food level so you know when to refill.
More to read:
lanpard Faraday Bag for Key Fob(2 Pack 3.15 x 4.5 inches) 15% Off Now At $8.45
AstroAI Windshield Cleaner Microfiber Car Window Cleaner gray 43% Off Now At $12.99
AUTOONE Upgraded H11 H8 H9 LED Headlight Bulbs 36% Off Now At $31.99