Promo code:

TOUCENGKEY 
Until 12/10 while supplies last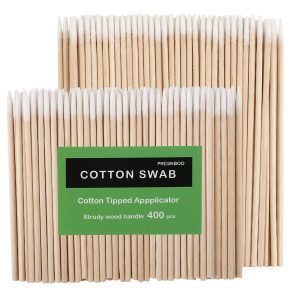 PRESKBOO cotton swabs have a wide range of applications. Cotton swabs are great for removing excess eyeliner, eyebrows, eyeshadow and makeup. It is also a multifunctional tool for cleaning, diluting and applying paint, glue, epoxy, lubrication, etc. It is your eye makeup assistant, can remove your excess eyeliner, and can also be used as a cleaning brush to clean the eye area and remove makeup. 400 large-capacity bags are enough for daily use to meet your various needs and needs. PRESKBOO cotton swabs are made of high-quality materials, which are thick and durable.
About this item
This cotton swab is available in two sizes, 3 inches/7.5 cm and 4 inches/10 cm.
The tip of the cotton swab is relatively dense and has less fluff than ordinary cotton swabs, which is conducive to cleaning and smearing.
These cotton swabs are made of cotton tips and strong wooden handles. The cotton tip is gentle on your skin and surface. The wooden handle is not easy to break, and it is comfortable and safe to use.
Cotton swabs are always used to remove excess eyeliner, eyebrows, eyeshadow and makeup as an eye makeup remover.