ProsourceFit Multi-Grip Lite Pull Up/Chin Up Bar, Heavy Duty Doorway Upper Body Workout Bar for Home Gyms 24"-32" (ps-1240-cu-basic), Black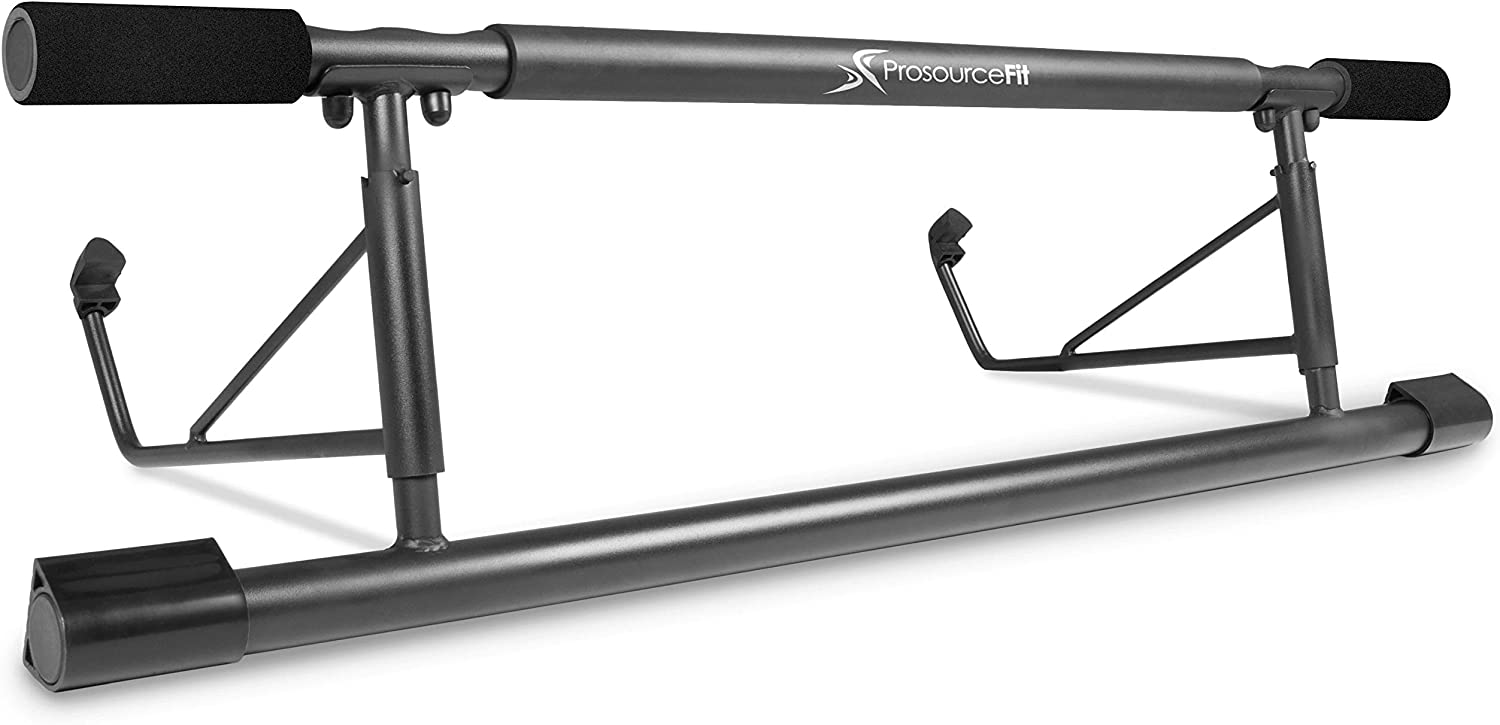 Getting your home gym set up just got easier with the foldable doorway pull-up bar! Requiring zero assembly and installing with just hooking to your doorframe, you can now work multiple upper body muscle groups and core without affecting the look of your home. Designed to fold completely for easy storage and is higher than standard chin-up bars so users of all heights feel comfortable. It also has smart hook technology that minimizes the downward force during push-ups for doorframe protection.
Holds up to 440 lb
Use for core exercises, leg raises, pull-ups or chin-ups
Works with wider door frames (27″ – 36.5″ wide; up to 8.25" thick)
Extra doorframe protection with foam pads
Made of durable steel and carbon tube
Compact and Assembly-Free Design
The Foldable Doorway Pull-Up Bar requires no screws and can be used straight from the box. Simply open the folded hooks and place on your door frame for a safe way to build upper body strength. Break down and storage is just as easy as assembly! Simply dismount and fold into compact size for storage under your bed or in the closet!
Higher Bar Design
Standard pull-up bars are uncomfortable for taller fitness enthusiasts and can make working out challenging. This chin up bar is designed with an upper handle bar that's 6 inches higher so home athletes of all heights can use the doorframe bar with ease. The sturdy steel pull-up bar can hold up to 440 lb.
Get Fit from Home
Work your abs, biceps, back, shoulders and everything in between. Pull-up bars provide intense upper body and core workouts right in your home. Bring your bar to the floor for a diverse workout with push-ups and dips to target your chest, core and arms. Get fit right from home with this versatile pull-up bar.
Item Features:
MULTIFUNCTIONAL – Switch between different variations of the classic pull-up, chin-ups, sit-ups and leg raises

100% FOLDABLE – Designed to fold completely for easy storage in the closet or under the bed

ZERO ASSEMBLY & INSTALLATION – Simply pull out the box, flip the hooks out and place on your doorframe!

HOME WORKOUTS MADE EASY – Slim & portable design makes it easy to use or remove at your convenience for workouts anytime

DURABLE CONSTRUCTION – Made of sturdy steel, this chin-up bar can withstand up to 440 lb and comes with a lifetime limited warranty
More to read:
Klymit Static V Inflatable Sleeping Pad Green-2020 28% Off Now At $43.00
Leader Accessories Inflatable Stand Up Paddle Board Blue 30% Off Now At $139.99