Promo code:

70NWRTGA
Until 12/7 while supplies last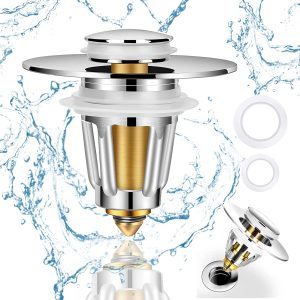 The upgraded bathroom sink plug is more convenient and practical than ordinary sink plugs. The pop-up design overturns the traditional inconvenient sink plug. This bathroom sink drain pipe has an anti-clogging basket inside, which can catch any hair in the bathroom and prevent the drain pipe from being blocked by small objects such as rings. The drain plug is mainly made of stainless steel and brass. It is durable enough to prevent rust, cracking and explosion. Either the bathroom sink drain pipe or the bathtub drain pipe in the shower room can be used.
About this item
The bathroom drain plug is mainly made of high-quality stainless steel and brass, which is anti-rust, anti-crack and integrally formed. Bounce and resilience are good, and the leak can be quickly sealed with one touch
This bathroom sink plug has a built-in filter anti-clogging basket, which can effectively prevent the drain pipe from being hair and prevent jewelry from falling.
The bathroom sink plug requires no tools, just take out the old one and insert the filter element to complete the installation.
Stainless steel bouncing core push-in converter, used for 1.1″~1.5″ diameter drain holes in the United States. Our sink drain filter can be used for 99% of sink drain holes.