Are you eagerly waiting for the next Black Friday sales to go on a shopping spree?  Well then have a look at the Spring Black Friday offers. Spring Black Friday is an attempt by retailers to promote Black Friday that happens after Thanksgiving in late November. This day marks discounted items on sale by retail giants including Lowe's, eBay,  and Ace's Hardware among others.   
On this day retailers hope to cash in on the winter wreck in your garden and around your house. So, some of the leading home and garden retailers launched Spring Black Friday to sell goods like patio furniture and home repair items at discounted prices. 
Spring Black Friday is usually hosted in April. This year it will start on April 2 and will run for 14 days.  Numerous major retailers open extremely early, often at midnight on this day. Some of the retail giants are hosting Spring Black Friday now and there are many home goods and outdoor items available.  
Check out these retailers who are hosting Spring Black Friday Sales.
1. Lowe's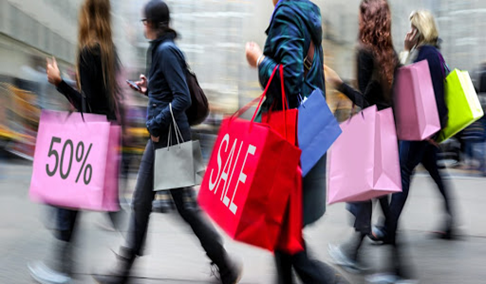 Lowe's is hosting a Spring Black Friday sale called Spring Project Savings. Lowe's Spring Black Friday is offering a variety of items including patio furniture, outdoor tools and equipment, grills, tools, and appliances. Appliances are selling at a discount of 40%, patio, and furniture at a discount of up to 25% and you can grab sheds for 20% off. 
2. eBay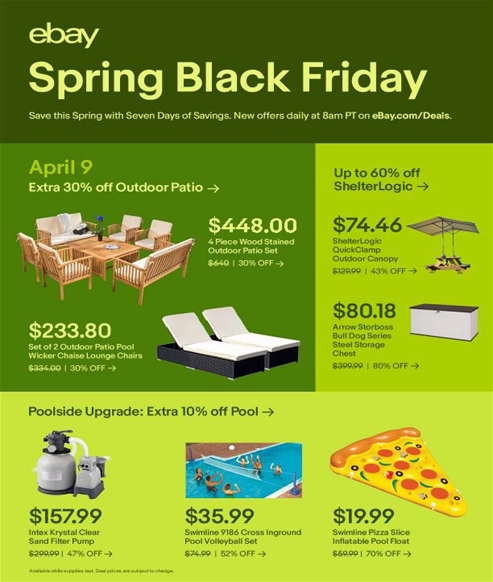 eBay is one of those retailers that conduct a Spring Black Friday sale. Last year eBay had offers and discounts running on yard gear and cleaning supplies. A masterbuilt electric grill was selling for 47% off. They were offering up to 67% off on hardware including WORX semi-automatic screwdriver and up to 51% of on robotic vacuum cleaners.  Have a look at the eBay Spring Black Friday ad from 2019 above. Let's see what this year brings.
3. Ace Hardware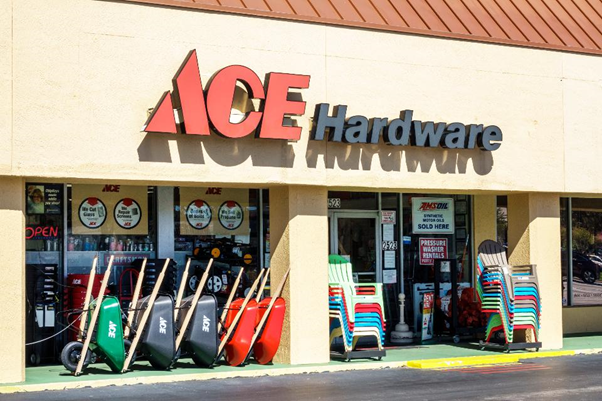 Ace Hardware always has Spring Black Friday deals. 2019 saw them offering a variety of discounts for products including manure and seeds for flowers vegetables. If you are looking to tidy up your garden they have several products running on major discounts this year. Some of the garden essential deals include offers on handheld blowers, garden trimmers, mowers and chainsaws.
4. Home Depot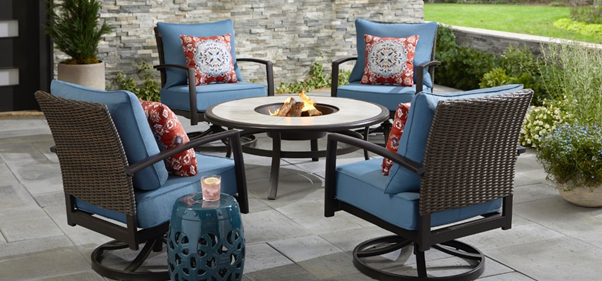 Home depot is going to announce their Spring Black Friday sale for this year. Stay tuned for a wide range of household products for attractive discounts. Home Depot Spring Black Friday 2019 was selling home essentials including patio furniture, grills, gas pressure washer and mulch. 
So, let's wait and see what does Home Depot Spring Black Friday sale has instore for us.
5. Tractor Supply Co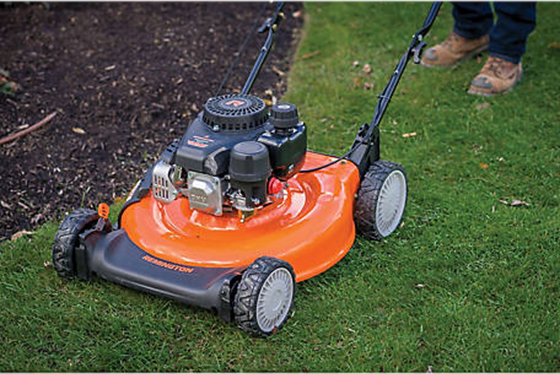 Tractor Supply Co is selling lawn tractors and zero-turn mowers for a $100 discount this Spring Black Friday. Other agricultural equipment include a 25 ton countyline log splitter for a $50 discount. Deals are also running on agricultural products like grass seed, ornamental and fruit trees and bonnie plants
6. Overstock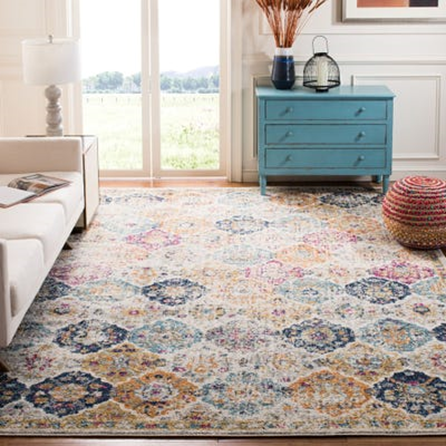 Overstock is running a clearance sale this spring. They are offering 60% off on rugs, 10% of on furniture, 10% off on home decor, 20% off on garden equipment and patio furniture and 20% off on jewelry and watches. Also, don't forget to check out clothing, sports, toys and art. 
Keep checking online for Spring Black Friday sales as many more retailers may announce their home and garden supply sales in the days to come. Grab these discounts and add on coupons that you find online for great buys and greater savings this Spring Black Friday. 
Stay Safe! Shop! Keep Spreading Positive Vibes!