The Children's Place has been the go-to, one-stop shop for all mommies seeking apparel and accessories for their toddlers. There are hardly any stores worldwide that offer a product range that this popular brand's outlets do. However, most of you mommies are in pursuit of ways your visits to the store can prove to be less costly for the wallet right? The best bet for all of you who love shopping at The Children's Place is the store's exclusive credit card.
In fact, it is well-known that customers who have signed up for this privilege have an edge over several others who haven't. Apart from availing the option of paying at leisure, there are several other perks that have been largely unspoken. Let's take a look at the many benefits of owning The Children's Place Credit Card and also understand a few aspects every mom considering the idea should know.
How to Own One
If your child is still a toddler, visits to this store could turn out to be an inevitable practice, be it virtually or a physical visit to one of its retail outlets. Considering the frequency of relying on The Children's Place for your child's needs, owning the store's exclusive credit card could be a wise idea.
You could be the owner of The Children's Place credit card virtually, from even the comfort of your smartphone in a matter of minutes.
All you need to do is click on the 'Apply Now' option mentioned below My Place Rewards Credit Card on The Children's Place website. This action would lead you to a form that needs to be filled, just like how you sign up with e-commerce platforms or even to create a new email Id – it's that simple.
However, it is important to meet these prerequisites before you go ahead and fill the online form.
Own a valid ID issued by the government or authorities of your state
A Tax Identification Number, such as an SSN
An APO/FPO-compliant mailing address
Quite soon, The Children's Place would dispatch a credit card to your address, which could be a great addition to your wallet. It can prove to be really handy each time you visit the store to buy stuff for your toddler.
From the confines of your home, you can even make use of this privilege virtually, and redeem points. The Children's Place would also send you the latest updates of exciting shopping deals over mails often.
The points accumulated through the purchases could be redeemed at the time of billing to save a lot of bucks.
All the Perks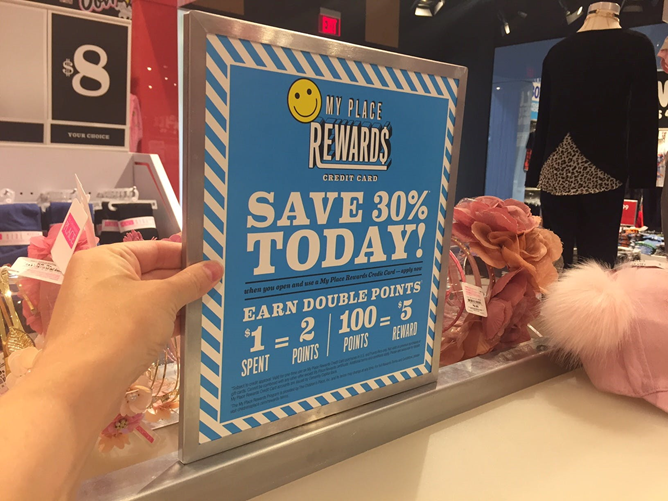 This is exactly what most mommies want to know. You must have heard of exclusive store credit cards proving to be money savers from friends and family, but have you delved into the details? Let's tell you what The Children's Place could offer you. Well, the advantages are many, and a comparison of the privileges a card holder gets as compared to many other customers who aren't, could take you by surprise.
Although the store offers Rewards to most of its customers, the Credit Card owners definitely get a lot more than they had probably expected.
Let's reveal a few differences for you that could help you understand why procuring this card could be advantageous.
The Sign-Up Benefit
On merely signing up with The Children's Place you make yourself eligible for a great discount that would help you save a considerable amount of money.
Birthday Club Benefits
The Children's Place believes in celebrating the special occasions of its customers such as kids' birthdays by offering discounts. These rebates help slash the prices of the apparel you buy for your young one by almost half the price.
Although other members eligible for The Children's Place Birthday Club offers are eligible for discounts too, the credit card owners definitely get a higher rebate.
Other Advantages
The Children's Place frequently introduces shopping offers to allure customers, which could be often seen on their website. However, even with these deals, credit card owners are more at an advantage as compared to the non-members. For instance, an offer that could help any Children's Place shopper save 25%, would make a credit card holder eligible for a 30% discount. If at all you own one of these cards and buy just about anything from The Children's Place, you earn a lot more points than a non-member.
The Agreement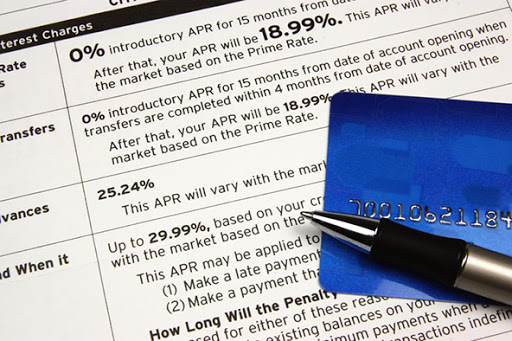 The perks of this card must have got you excited or probably a lot relieved that your next outing at The Children's Place is going to be a cheaper affair. However, here's an aspect with every such shopping credit card which you shouldn't overlook. Almost every credit card service today is aimed at making shopping a tad more convenient for its customers. The Children's Place Credit Card too offers several perks, but all you mommies should probably inspect the agreement you may have to sign up for while choosing this privilege.
Well, several mommies end up signing up for credit cards offered by leading fashion brands without delving deep into their details, which isn't really a wise approach.
The current Annual Percentage Rate (APR) for a My Place Rewards Credit Card account is roughly 27.49% and the late payment fee could be even as high as $40. The rate and the late fee amount are subject to fluctuations, so we suggest you visit The Children's Place website often to learn more about the latest updates.
However, the agreement for this card also has several points mentioned that could be a sigh of relief for many. Most importantly, a suggestion on how to avoid paying more than the bill amount. High interests is a stigma attached to most credit cards till date.
How to Avoid Paying Interest
Many mommies dread the idea of owning a credit card to avoid paying interests that could cost them a significant chunk of their monthly budgets. However, if you pay the whole amount incurred from your purchases well within 25 days since your visit to the store, The Children's Place wouldn't charge any interest at all. Try your best to pay within the mentioned due date to avoid spending an additional amount.
You could read the My Place Rewards Credit Card 'Financial Terms of Your Account' document right here to learn every minute detail.
We hope this piece about The Children's Place credit card and its many benefits proved to be really useful for all you mommies. Now you know exactly how your frequent visits to this popular store can be less expensive for the pocket.
For any queries or assistance regarding the utilization of this unique shopping privilege, you could probably get in touch with Children's Place's customer support team as well, apart from visiting the store's website.