Promo code:

UKM8AM9U 
Start Time: 2021-11-30

 

23

:0

0

P

S

T / Expiration Date: 2021-12-

31

 

23:59PDT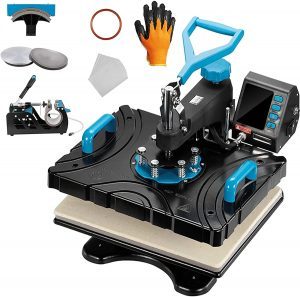 The five-in-one hot press has a digital controller and a large LCD display. You can set the time and temperature, allowing you to preset the correct temperature and time for different materials. The insulation layer adopts double-layer insulation cotton, which is more resistant to high temperature and pressure. The oscillating design of the hot press can realize 360-degree rotation in all directions, so that the heated product is heated evenly.
About this item
Swing arm type guide rail design allows the heat press to rotate 360 degrees in all directions
The large-screen display of the electric control box is simple and intuitive, and the instrument is easy to operate.
The circuit board is designed in accordance with the UL standard, dual-channel control, using thyristors to accurately control the temperature, the temperature difference can be controlled at plus or minus 5 degrees, and a 10A relay is used as the second channel to ensure control.