Promo code:

50199AOF 
Until 12/5 while supplies last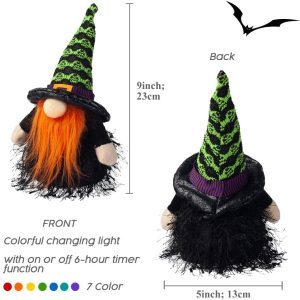 In different countries in the world, family dwarfs have different names. In folklore, dwarves guard their homes and protect people from misfortune. Elf gnome will bring us good luck, happiness, warmth, and will also add a little magic to our home. These Halloween gnomes will be perfect choices for home decoration, office decoration or other occasions. You can put it on the table, fireplace, mantelpiece, window, shelf, dessert table to get the perfect decoration. These Halloween gnomes are so soft, kind and cute, they are sure to make your Halloween party full of charm.
About this item
Gorgeous Halloween decoration. These fall gnomes are bright, not scary at all, but very cute.
Tomte has a color flash mode. Every Halloween stuffed dwarf is handmade with high-quality materials.
Our cute Halloween gnome will be the perfect complement to your Halloween decoration series! The witch gnome placed on the fireplace, kitchen or multi-tier tray will definitely add a whimsical feel to your holiday.
These wonderful gnomes can be autumn decorations for your home or gifts for friends. This is the best gift for friends and family on Halloween.