AMKE 3 in 1 Baby Bassinets,Bedside Sleeper for Baby,Baby Cradle with Storage Basket, Easy to Assemble Bassinet for Newborn/Infant, Adjustable Bedside Crib,Safe Portable Baby Bed,Travel Bag Included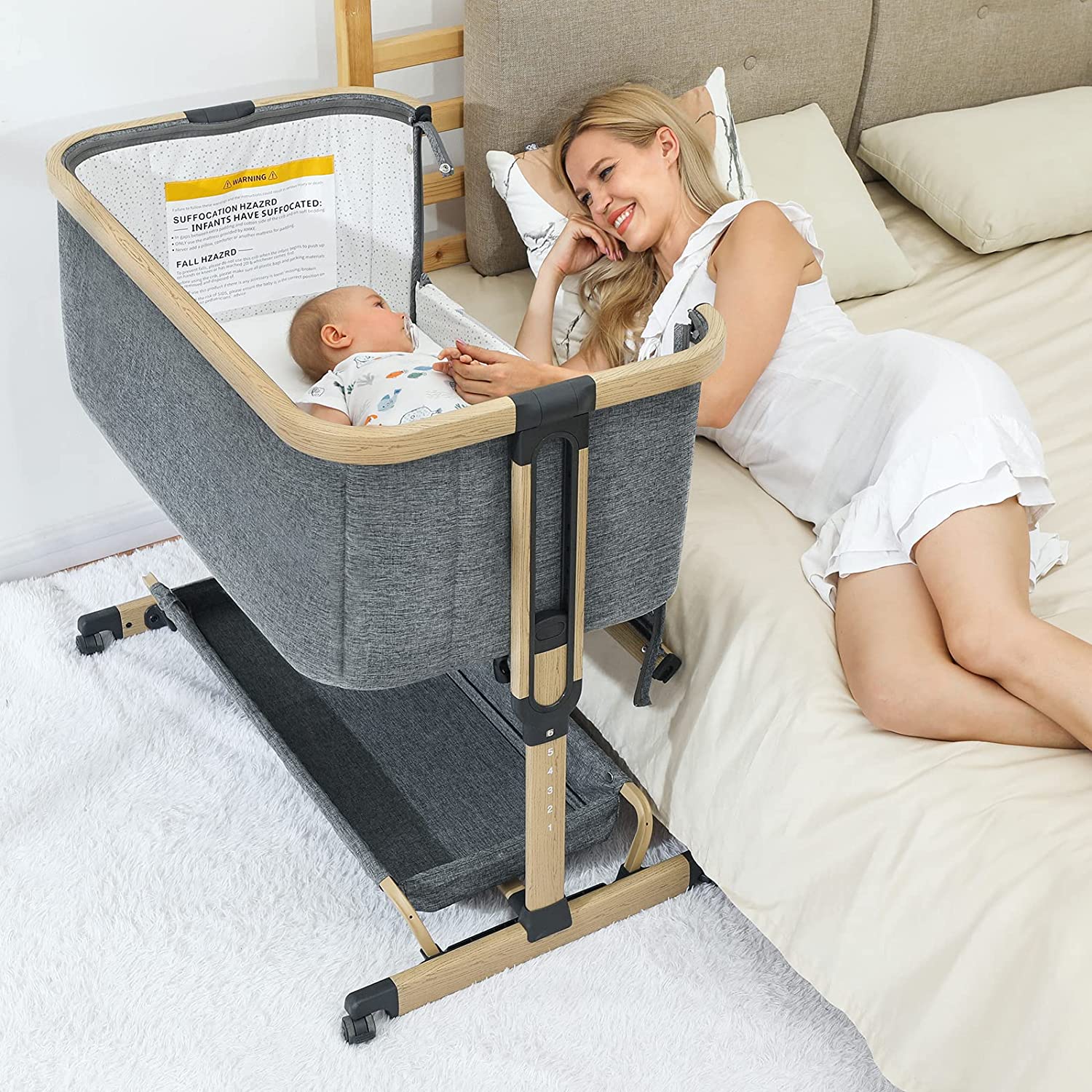 Large & Sturdy Storage Basket
Easy to access and holds all of baby's essentials making sure all is within arms-reach.
Portable & Easy Folding Design
AMKE bedside sleeper can be storaged conveniently.
6-Level Height Adjustment
Suitable for sofa in the living room, adult's bed in the bedroom.
Easy To Move
Built-in wheels with brakes enables moving around safely and easily without hurting your floor.
Adjustable single-sided angle
After feeding the baby, you can adjust the angle to prevent the baby from spitting milk.
Designed for American Newborns and Family Members
As parents, we want to do the best for our kids, especially in the first few months of their lives. Showing them optimal care and love by keeping them close creates a bond that can't be severed.
The AMKE Baby Bassinet BedsideSleeper makes it so easy for mums to have their babies right next to them all through the night.
Ideal for Night Feeds
Ideal for Night Feeds: AMKE baby bedside crib has a zipper design on the side, which can be easily opened to help moms take better care of babies. Moms can reach in to soothe the baby or take up the baby for feeding when needed. At the same time, the mesh structure, while ensuring ventilation, more convenient for the mother to observe the state of the baby at any time. Especially for any mom who is nursing or having a c-section, it is truly a sleep saver and improves the quality of life.
Item Features:
3 in 1 Convertible Mode: This baby bassinet is equipped with 3 convertible modes, it can be used as a standalone baby bassinet, bedside sleeper attached to the adult bed, or baby cradle. The rails on the bottom can be turned conveniently and you can change the mode freely to meet your different needs.

Ideal for Night Feeds: AMKE baby bedside crib has a zipper design on the side, which can be easily opened to help moms take better care of babies. Moms can reach in to soothe baby or take up baby for a feeding when needed. At the same time, the mesh structure, while ensuring ventilation, more convenient for the mother to observe the state of the baby at any time. Especially for any mom who is nursing or having a c section, it is truly a sleep saver and improves quality of life.

Adjustable Height & Angle:With 6 heights adjustment(12.7-19.5 inches), our baby bedside sleeper is ideal for accommodate more use scenarios. Not only limited to the bedside, but also suitable for all kinds of sofa, beds or other places. Give your baby ever-present care and protection, even in the middle of the night. The newborn bedside crib also has a practical design, after feeding the baby, you can adjust the angle to prevent the baby from spitting milk.

Premium Aluminum Material for Durability: Constructed of thick aviation aluminum alloy frame, this baby bedside crib is light weight and stand firmly when ready to nurse, breastfeeding or feed. Meet the regulations of US about baby bassinet! More trustworthy, We put your baby's safety first.

Easy and Tool-free Assembly:Disassemble and fold in under a few minutes,you only need to do is to press the marbles on the side of the tubes;A large storage basket under the bassinet part is easy for mom to store and pick up for your baby's toys, snacks, blankets, etc. ;Portable design folds for easy transport and storage,matress cover can be easily removed and cleaned. From newborn to 6 months (3 -9kg/ 6-19.8 lb)
More to read:
Baby Carrier BABYMUST Hip Carrier khaki 51% Off Now At $44.19
FANCIME Sterling Silver White Opal Necklace 32% Off Now At $33.99
Kate Lynn "Rise From the Ashes Phoenix Bracelet Astral Orange 60% Off Now At $27.99