Celestron – AstroMaster 130EQ Newtonian Telescope – Reflector Telescope for Beginners – Fully-Coated Glass Optics – Adjustable-Height Tripod – Bonus Astronomy Software Package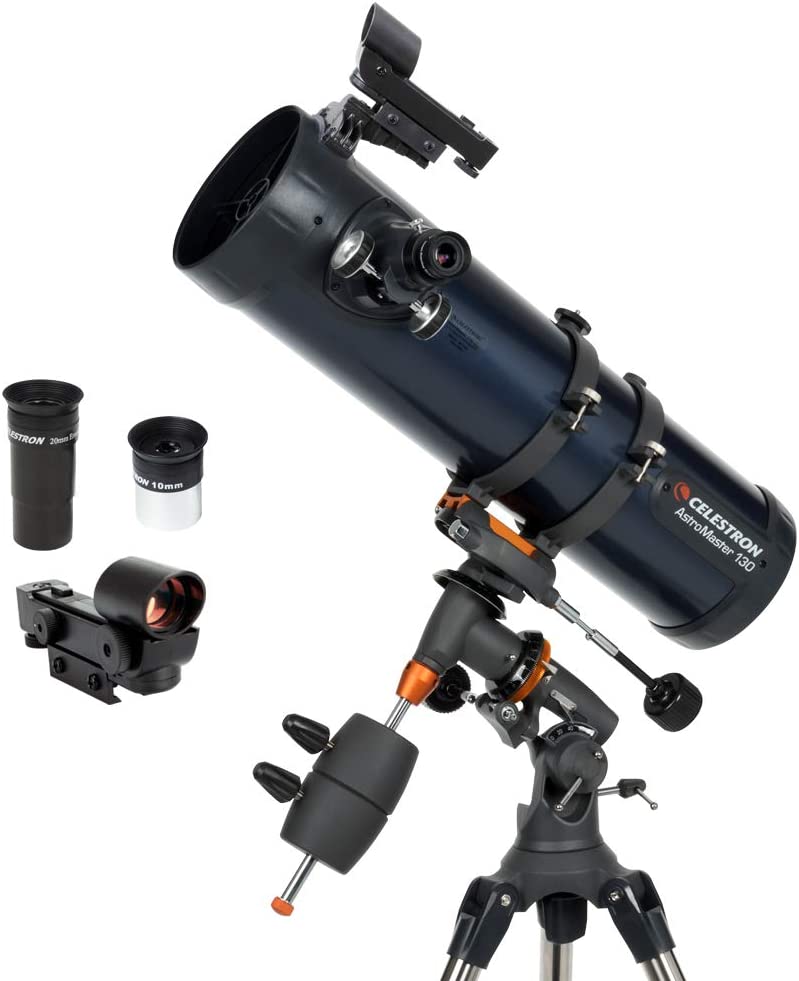 AstroMaster 130EQ Newtonian Telescope
A favorite first telescope for beginners, the AstroMaster 130EQ Newtonian reflector offers sharp, detailed views of Saturn's rings, Jupiter's moons, and more. It's the easiest way to discover the night sky.
Manual Equatorial Mount
As Earth rotates, celestial objects appear to drift across the night sky. The EQ mount helps you track objects smoothly by turning the knobs. It's easy to keep your target centered in the eyepiece.
Portability
Grab and go! This compact, lightweight telescope is your perfect companion for star parties, camping trips, and impromptu backyard observing sessions.
Objects to Observe
The Universe is yours to explore! Discover the Moon and planets plus all the best deep sky objects like the Orion Nebula, the Andromeda Galaxy, the Pleiades Open Star Cluster, and more.
Celestron is Here for You
Astronomy can be intimidating, but Celestron is here to help. As the premier telescope brand since 1960, we offer free US-based tech support & how-to videos, so you can enjoy stargazing hassle-free.
Better Viewing
Includes everything you need to get started with astronomy: two 1.25" eyepieces (20mm and 10mm), StarPointer red dot finderscope, and free Starry Night astronomy software.
Item Features:
POWERFUL TELESCOPE FOR ASTRONOMY BEGINNERS: The Celestron AstroMaster 130EQ Newtonian reflector is ideal the telescope for beginners. It features fully-coated glass optics, a full-height tripod, 2 eyepieces, and a StarPointer red dot finderscope.

NEWTONIAN REFLECTOR OPTICAL DESIGN: With a large, 130mm aperture, the AstroMaster 130EQ can gather enough light to see our Solar System and beyond. View Saturn's rings, Jupiter's Galilean moons, the Moon's craters, and more.

EASY TO SET UP AND USE: This is a great telescope for kids and adults to use together. It features a manual German Equatorial mount for smooth and accurate pointing. Setup is quick and easy, with no tools required.

INCLUDED ACCESSORIES: We've included 2 eyepieces (20mm and 10mm), a full-height tripod, and a StarPointer red dot finderscope. You'll also receive a FREE download of one of the top-rated astronomy software programs.

UNBEATABLE WARRANTY & SUPPORT: Buy with confidence from Celestron, a leading telescope brand in California since 1960. Purchasing from an Authorized Dealer on Amazon gives you a 2-Year US Warranty and unlimited support from our team of US-based experts.