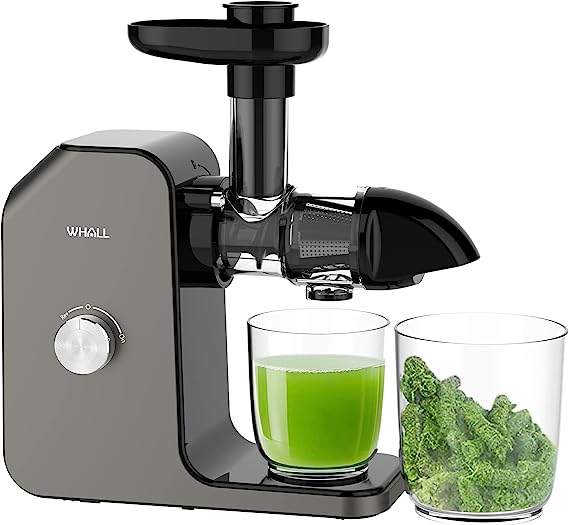 Save 75% Now at $99.99 – WHALL Slow Juicer, Masticating Juicer, Celery Juicer Machines
Cold Press Juicer Machines Vegetable and Fruit, Juicers with Quiet Motor & Reverse Function, Easy to Clean with Brush, BPA Free, Grey
Features:
[High Yield]: Masticating juicer can efficiently extract juice from a variety of fruits and vegetables with a powerful 150W motor, producing a high juice yield. Slow juicer can handle celery, apple, carrot, ginger, wheatgrass, leafy greens, and so on.
[Safe & Quiet Operation]: The motor of this cold press juicer operates at less than 60 db, making less noise when working,which is suitable for those who prefer a peaceful and calm kitchen environment. Equipped with intelligent chips, our juicier machine stops automatically every 20 minutes, preventing overheat efficiently. Mastiating juicer is made of high-quality materials and durable components, making it durable for use.
[Powerful Auger & Reverse Function]: With cold press technology, this masticating juicier operates at a speed of 90-110 RPM, maximize the juice yield without preventing juice from being heated,providing tasty and fresh juice. Slow jucier has a reverse function to prevent clogging during juicing.
[Easy to Disassemble and Clean]: WHALL Masticating Juicer is easy to assemble, allowing you to set it up quickly and save your time. By pushing the button on the juicer body, you can disassemble it in minutes. All removable parts are dishwasher safe and made of Food Grade Material. With the provided cleaning brush, it is easy to clean this juicer machine.
[12-month Warranty]: WHALL Masticating Slow Juicer has one-year warranty and aftersale service guarantee for the masticating slow juicer and normal accessories exchange. Please feel free to contact us if you have any questions. We will try our best to provide satisfactory customer service.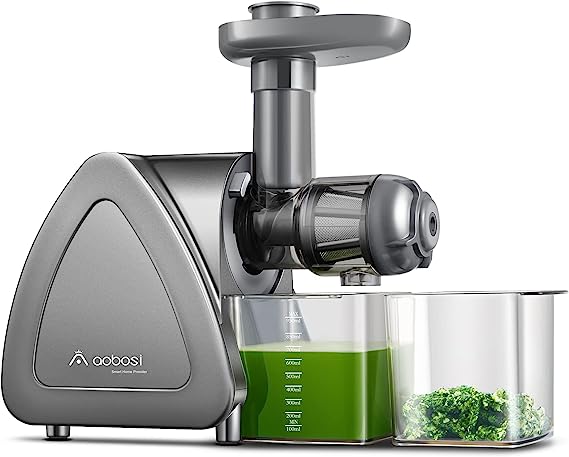 Save 55% Now at $99.98 – Cold Press Juicer, Aobosi Slow Masticating Juicer Machines
with Reverse Function, Quiet Motor, High Juice Yield with Juice Jug & Brush for Cleaning, Gray
Features:
【Multi-purpose for Fruits &Veggies】: This juicer that can extract various of fruits and vegetables in a few minutes, especially works great for veggies, which allows the juice to maintain its pure color, natural taste, vitamins and nutrients. No dirty hands and no splashing. Only a few seconds, you can drink a cup of juice with little pulp and foam. Rich vitamins can help maintain a good figure and enhance immunity. Suitable for weight loss people, children, the elder.
【High Juice Yield & Richer Nutrition】: Slow masticating juicer can perfectly separate juice and pulp,extracting higher-purity juice and preserving higher nutritional value. Our auger spins at 80 RPM , extracts up to 20% more juice and 30% more vitamins and minerals. 80 rpm lower speed means no heat build-up and less oxidation. Juice cup baffle included can also help to separate juice and pulp further.
【Safe & Quiet Operation】: Our cold press juicer equipped with intelligent protection chips, making it stop automatically for every 20 minutes' operation. 150W motor- less than 60 decibels, small mouth design to put ingredients that prevent your hands getting injured and ensure the ingredients are stoned and peeled for healthier juice. Just enjoying a quiet and safe environment and healthy life when making juice.
【Quick & Easy to Clean】: This juicer machine features a safety lock design, helps you easy to assemble and disassemble in minutes. Has REVERSE FUNCTION to avoid stuck and helps you to clean. All detachable parts are made of high quality Food Grade anti-oxidation materials, easy cleaning with a bonus brush or can be safely cleaned in your dishwasher.
【PREMIUM SERVICE】: For Amazon customers, this product comes with Lifelong Technical Support & 24 Hours PREMIUM SERVICE. If you have any issues about the slow juicer, please contact us first, we will give you the satisfied solution as soon as possible.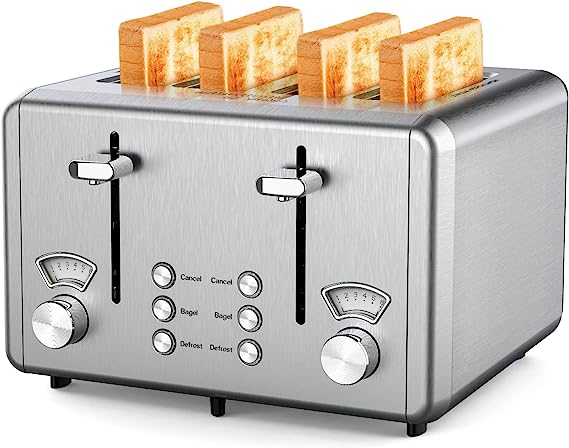 Save 72% Now at $55.99 – WHALL Toaster, 4 Slice Stainless SteelToaster
6 Bread Shade Settings, Bagel/Defrost/Cancel Function with Dual Control Panels,
Extra Wide Slots,Removable Crumb Tray,for Various Bread Types 1500W
Features:
THREE BASIC FUNCTIONS:①DEFROST:Each gear time is 8%-12% longer than the corresponding normal gear time.②BAGEL : Bagel setting toasts the inside and other side keeps warm.③CANCEL:You can cancel the baking process at any time, just press the CANCEL button;no matter which functions you have chosen,and solid high lift lever can lift the food by 1 cm higher than usual, which makes it easier for you to remove smaller bread.
6 TOAST SHADE SETTINGS: Choosing from lightly golden to deep dark toasted slice from 1(light) to 6(dark) gear accommodated by individual preferences.For the first use, it is recommended to select a medium browning level (example: 3 or 4),if you would like to add butter or cheese,please add it after baking.
BAKE EVENLY AND SAFETY :The 4 Slice Toaster,external use of high-end durable stainless steel material, can ensure a long time high temperature baking,wear resistance,high temperature heating does not deform. Internal use of bidirectional surround heating technology, heat pipe two-way wound in the body,without turning over,2 minutes to bake the same burnt color(be sure to have bread in every slots),and can make bread up and down heating uniform, avoid unevenness of baking effectively.
4 EXTRA-WIDE SLOTS & DUAL INDEPENDENT CONTROL PANELS:The Toaster featured with 1.5-inch wide slot,which can be used to bake different types of bread,such as waffle,or thick artisanal bread.4 slots with 2 independent control panels,one handle controls two slots and four slots can be controlled independently or together, which allows you to provide the perfect breakfast for the whole family at one toast, saving time for your busy morning.
EASY TO CLEAN & STORAGE:Always switch off the toaster(using the CANCEL button),unplug the power cord and allow the toaster to cool down,before removing the crumb tray or cleaning or moving the toaster.Do not immerse or place the toaster or power cord in any liquids or drip any liquids on the toaster to avoid risk of electric shock and damage;Bread crumbs are collected in a removable tray at the bottom of the toaster,so just pull it out and clean the crumbs immediately!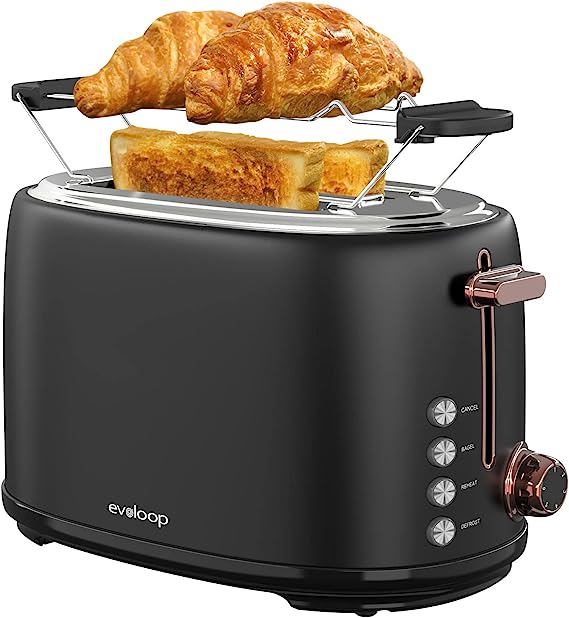 Save 55% Now at $26.99 – Evoloop Toaster 2 Slice, Stainless Steel Bread Toasters
6 Bread Shade Settings, Reheat, Bagel, Defrost, Cancel Function, 1.5″ Extra Wide Slots,with Removable Crumb Tray and Warming Rack (Black)
Features:
【ELEGANT DESIGN MATCH YOUR KITCHEN DECOR】This 2 slice toaster has a rose gold look design (11.57" x 7" x 7.12" ) and Showcased in glossy black color with bright rose color accents, you will be fascinated and impressed while viewing this toaster as you wait for your bread to toast to perfection, evoloop design sits pretty on any countertop too!
【6 BROWNING SETTINGS AND 4 FUNCTIONS】Select from 6 levels of browning to get the perfect toast every time. Press DEFROST to warm frozen slices, Reheat option for only heating cooled and finished bread, BAGEL to toast just the cut side and CANCEL to stop the toasting process.
【1.5 INCHES EXTRA WIDE SLOTS】 The black toaster featured with 1.5"wide slot, perfectly fitting variously wide bread, such as bagels, muffins, waffles, Texas toast and etc; To provide you with a safe and practical bread toasting experience, it also has an anti-jam function and a high-lift design.
【EASY TO USE/CLEAN/STORAGE】4 basic functions, a sturdy high lift lever, slide-out crumb trays, convenient cord storage, and a simple toasters only made to accommodate your toast needs.
【TRUSTWORTHY QUALITY】1-Year Quality Assurance. Replacement for any product defect and customer dissatisfaction via seller. Compared to regular plastic bread toaster, our 2 slot toaster is safer and bakes more evenly. It is also a perfect gift for housewarming, Thanksgiving, Christmas, birthday, wedding, etc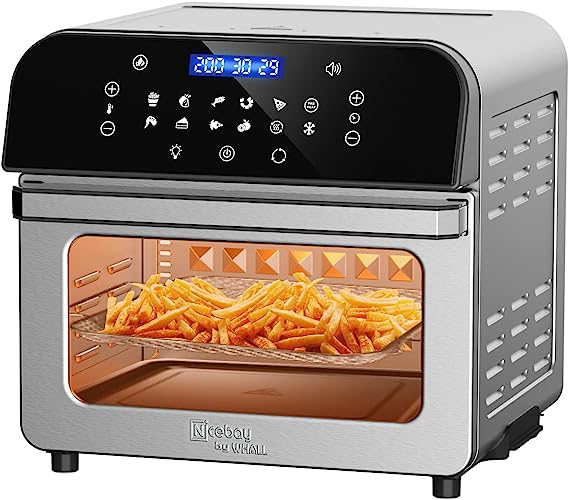 Save 68% Now at $119.99 – WHALL Air Fryer Oven,12QT 12-in-1 Air Fryer Convection Oven
Rotisserie,Roast,Bake,Dehydrate,12 Cooking Presets,Digital Touchscreen,Stainless Steel,with Accessories&Recipes
Features:
Product Dimensions 15.3″D x 14.8″W x 14.8″H
Capacity 12 Quarts
Output Wattage 1700 Watts
Item Weight 15.6 Pounds
Brand whall