Now $0.50 Crayola Classic Crayons, Assorted Colors, Back to School, 24 Count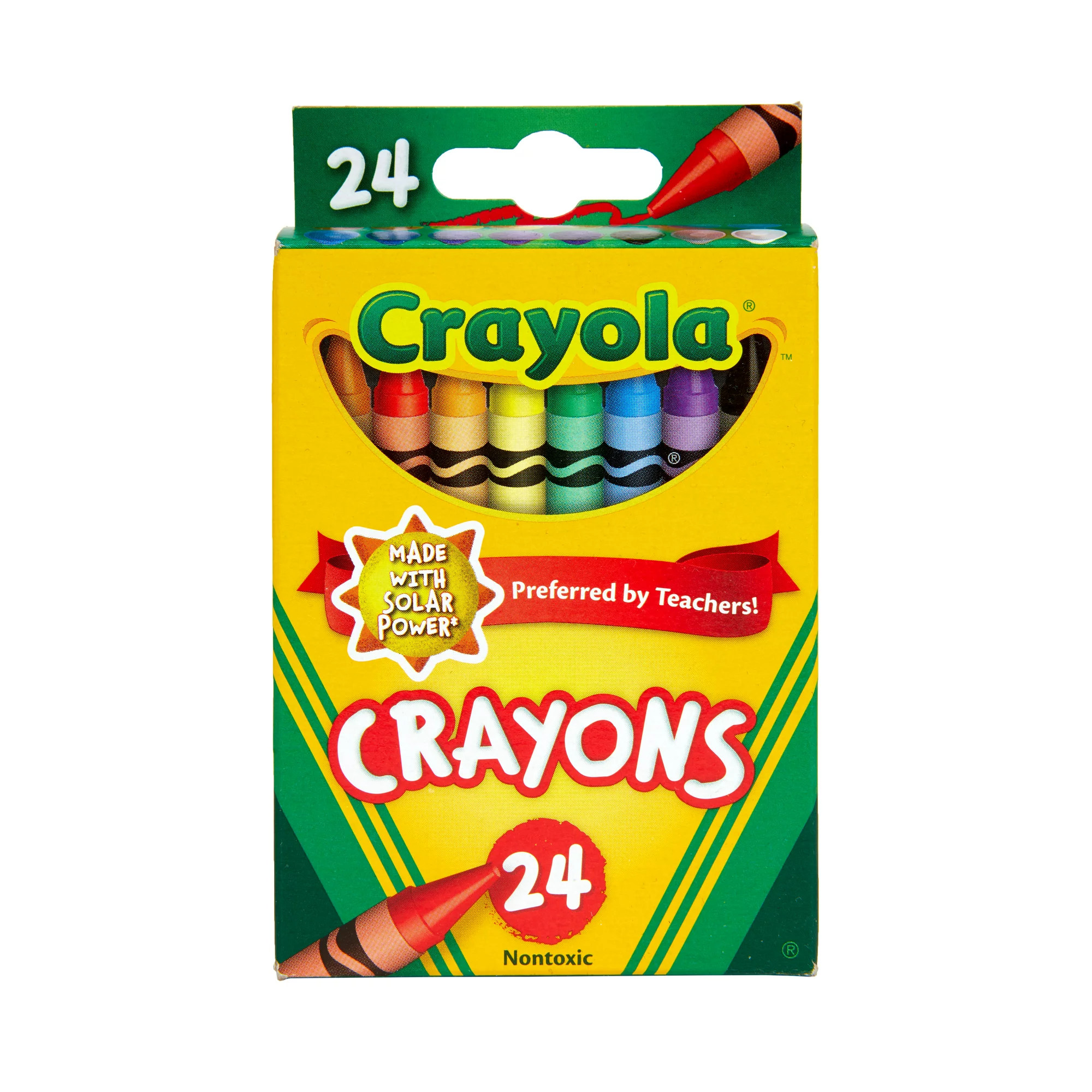 Product details
Create beautiful finished projects with Crayola Classic Crayons in a 24-Count box. This non-toxic crayon set contains classic colors as well as bright, fun shades to inspire creativity and imaginative play. These non-toxic crayons come double wrapped and are made of high-quality materials to produce vibrant long-lasting color. You can use them to complete pages in your child's favorite coloring book, paper crafting projects and much more. Beginner unisex child.
Crayola Classic Crayons Back to School, 24 Count:
Crayola crayons: 24 crayons in classic assorted colors, with a reusable storage box
School supplies: check off your back to school list with colors you can count on for school projects, crafts and coloring books
Safe and non-toxic: time-tested quality, suitable for boys and girls ages 3 and up
Vibrant, high-quality results, long-lasting color
Contents and colors may vary
Ideal for home or school
==================================================
Now $0.50 Elmer's Disappearing Purple Washable School Glue Sticks, 6 gram, 2 Count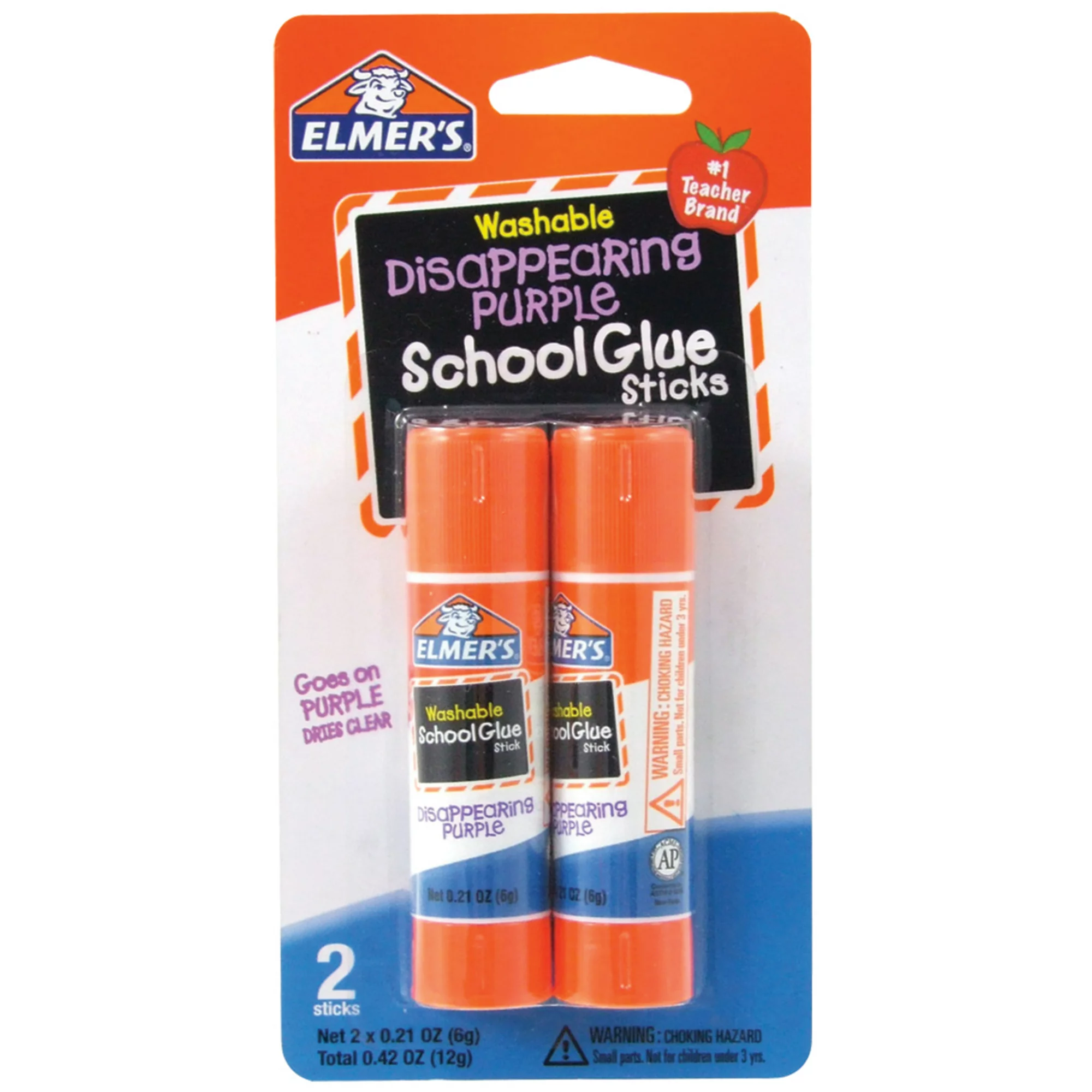 Product details
Purple on contact yet drying clear, Elmer's Disappearing Purple School Glue Sticks help you see exactly where you're sticking your charts, pictures, and more The glue stick applies smoothly with a disappearing purple formula, making it perfect for kids just learning how to glue. Add on its non-toxic, acid-free formula and you can see why it's the ideal adhesive for classrooms, homes, and youngsters.
Disappearing purple formula helps kids see where the glue is
Dries clear and applies smoothly for a mess-free appearance
The #1 teacher brand, it's ideal for younger learners, making poster presentations, crafting, and more
Washable, non-toxic, acid-free formula is ideal for classrooms and homes
Includes: 2, 0.21-ounce (6-gram) Elmer's craft glue sticks. Totaling a package weight of 0.42 oz. (0.42 ounces)
Elmer's is #1 Teacher's Choice for Glue Sticks
==================================================
Now $0.50 Elmer's Washable Liquid School Glue, White, 4 oz.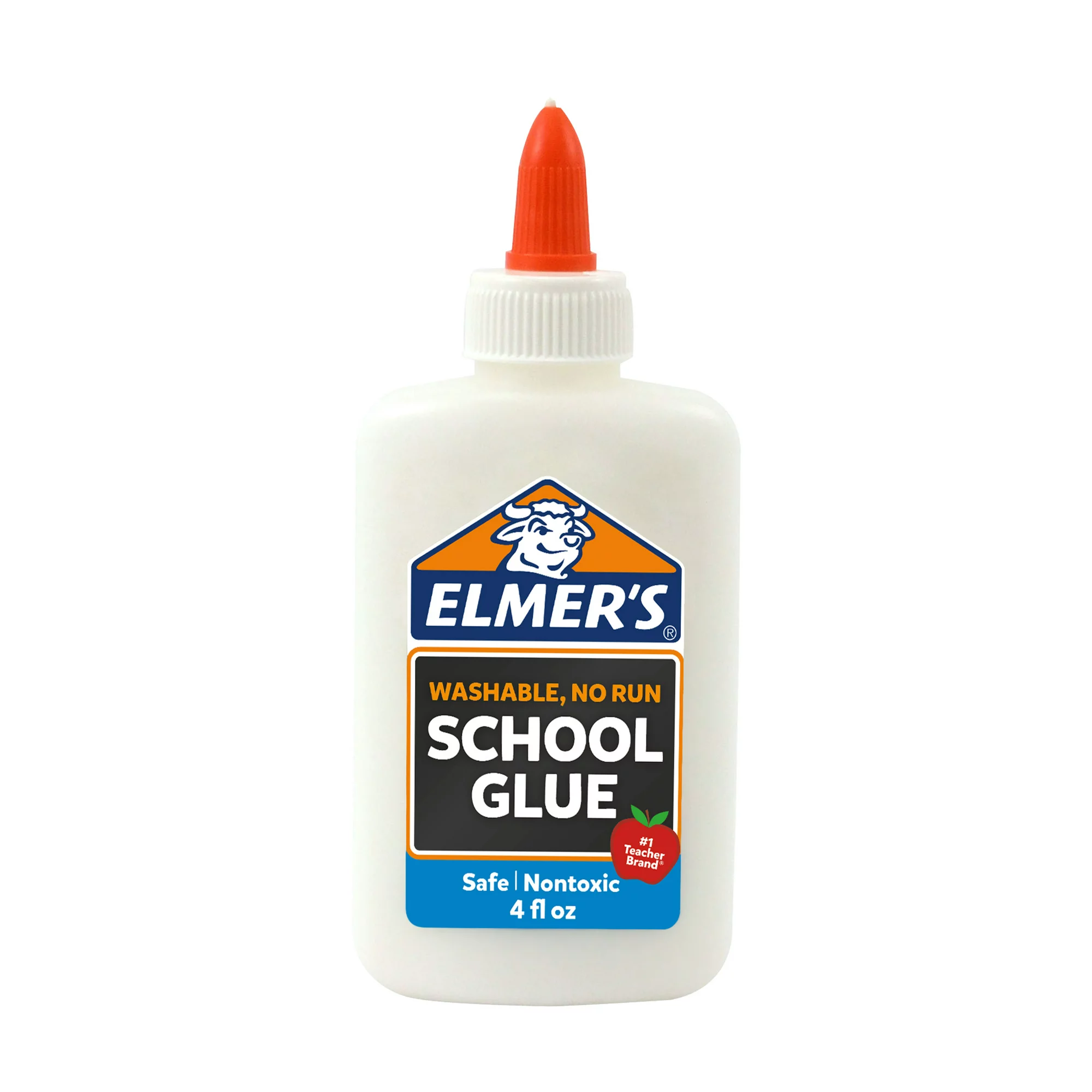 Product details
Generations of school children have grown up with this #1 brand of school glue. Elmer's School glue is a washable, no-run glue that is easy to use and stays where you put it. It is safe, non-toxic and washable, so accidental messes mean easy clean-up! Each bottle includes 4 oz. This liquid glue is perfect for making slime or as an adhesive for all your desires!
Brand: Elmer's
Ideal for arts and crafts projects at school or at home
One 4 Ounce Bottle of Liquid Glue | 4 oz.
Washes out of clothes with soap and water
Accidental messes clean up easily
Elmer's Washable No Run School Glue, 4 Ounces, White and Dries Clear
==================================================
Now $0.50 Pen + Gear Composition Book, Wide Ruled, 100 Pages, 9.75″ x 7.5″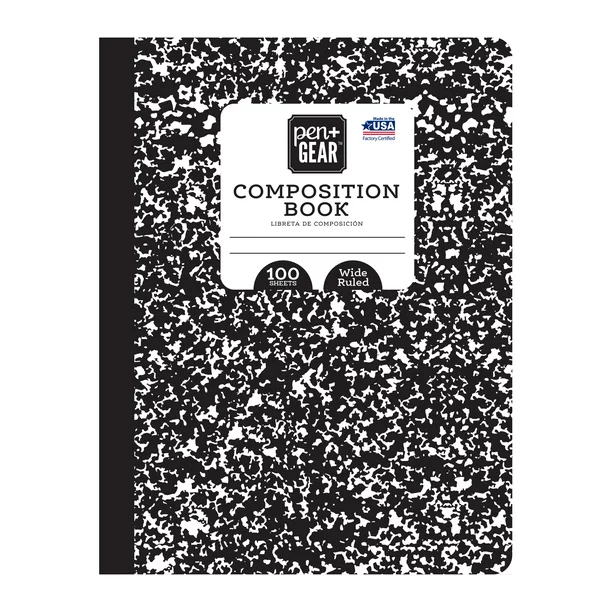 Product details
Pen + Gear Composition Books are a fun place to jot down lists, notes or homework. Each composition book features durable front and back covers that are flexible enough to lie flat when writing. These composition notebooks are a compact 7.5 inches by 9.75 inches, so you can easily carry one in your backpack, laptop bag or tote bag. The permanently bound pages keep your writings secure while the sturdy covers help protect the pages from tears and spills. The composition book has 100 wide ruled pages to fill with secrets, meeting notes or even shopping lists. This composition book is manufactured with sustainable materials. The high-quality paper used in this notebook has a high brightness, and it originates from certified, sustainably managed forests. It is made in factories that operate only under the highest standards of compliance with social and sustainable practices. Pen + Gear Composition Books are perfect all-purpose notebooks.
Pen + Gear Composition Book, Wide Ruled, 100 Pages:
Durable cover to protect from spills and wear
Covers are flexible enough to lie flat when writing
100 pages
Wide rule
7.5″ x 9.75″
Marble Black and White cover design
==================================================
Now $0.50 Pen + Gear Composition Book, Wide Ruled, 100 Pages, 9.75″ x 0.25″ x 7.5″, Yellow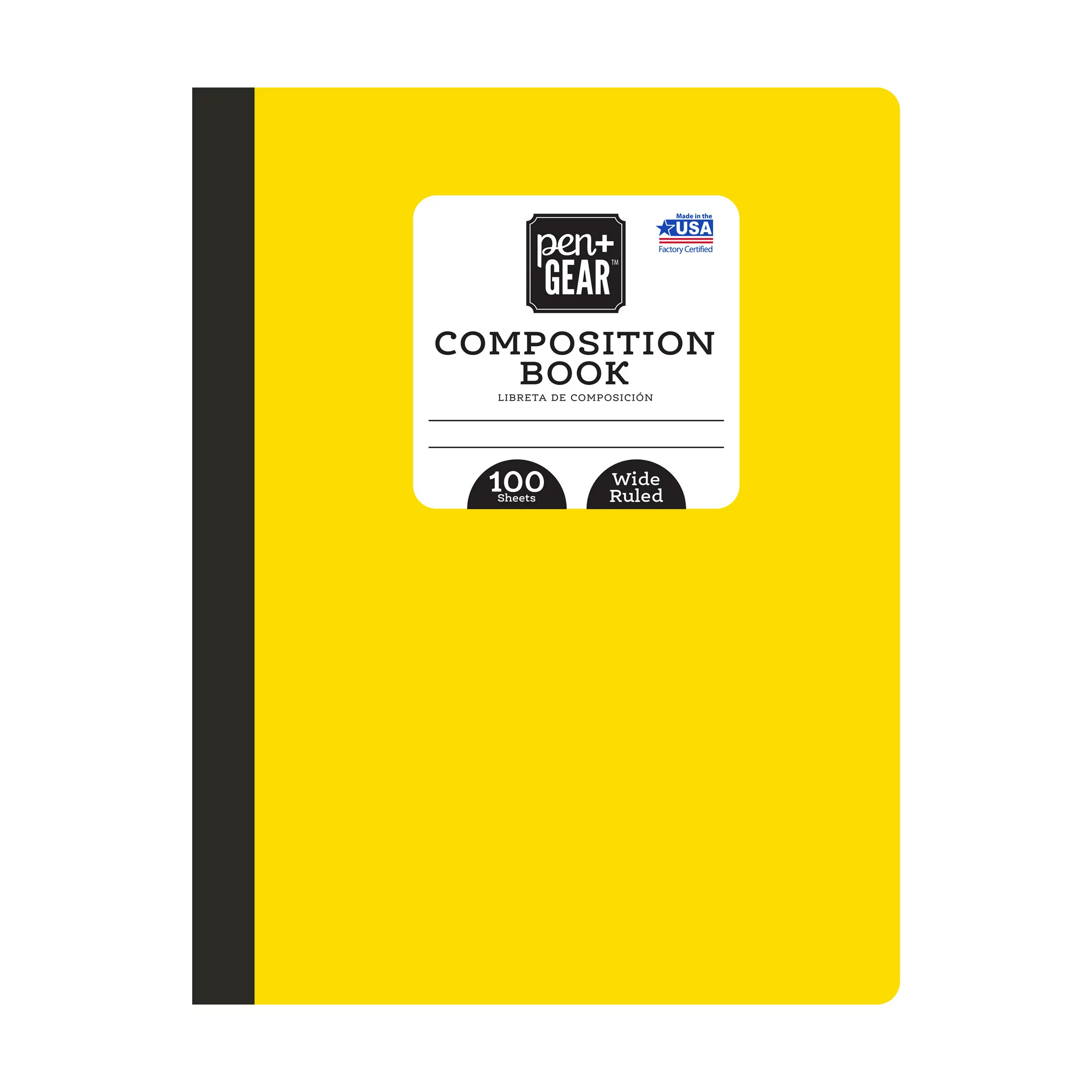 Product details
Keep all your notes, ideas, doodles and records in one place with Pen + Gear Composition Notebook. Measures at 9.75″ x 0.25″ x 7.5″, its is a favorite among teachers and students alike, this sturdy and reliable composition book helps keep everyone neat and organized. It contains 100 wide-ruled pages with margins that help keep your writing neat and organized, and the sewn binding will helps ensure that your notes will not be lost. The hard front and back cover helps prevent crumbling or tearing of pages when you put your composition book into your bag after class. Pen + Gear Composition Notebooks come in a variety of bright colors so you can have a different colored notebook for each subject. The Pen + Gear Composition Notebook is a perfect notebook for students, writers, and is great for school, home and office use. Get creative and jot down your thoughts with Pen + Gear Composition Notebook.
Pen + Gear Composition Book, Wide Ruled, 100 Pages, Yellow:
Keep all your notes, ideas, doodles and records in one place
Great for school, home and office use
Contains 100 wide-ruled pages
Hard protective front and back covers
Sewn binding to prevent lost pages
Cover color: yellow
Product size: 9.75″ x 0.25″ x 7.5″
Pair with other Pen + Gear school essentials like binders, composition notebooks, highlighters, and more