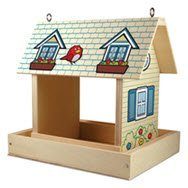 Lowes Build & Grow – Free Birdfeeder House
Free Birdfeeder House
Register Now To Attend On April-9. This freebie is from Lowe's build and grow program, its a cool freebie and I already attended with my child to two workshop events, it was a great experience both for my child and I. Highly recommend it.. Enter your zip code and register at your nearest lowes store to build and get a free birdfeeder house. Build and Grow Clinics are free to the public and occur select Saturdays at 10am at participating Lowe's stores.