Are you a mom who loves all things sweet? Does every anniversary or birthday leave you wondering what you should gift to your loved ones?
If you're nodding to the above questions, then we've got the perfect solution for you. Edible Arrangements crafts the most beautifully assorted bouquets of fresh fruits and chocolates. You can even customize one according to your preferences.
No matter the occasion, you can count on Edible Arrangements to always deliver unforgettable delights made with only the most delicious fruit and gourmet chocolate. Whether it's a birthday, a work milestone, a get-together, or just because their assortment of freshly crafted gifts will help you make extra-sweet memories. Expertly crafted by Fruit Experts at one of their many independent franchises. Edible Arrangements is founded by Tariq Farid and is proud of its creativity and enterprising spirit.
At Edible, their passion, heritage, and future are rooted in helping people around the world to celebrate the most special moments of life with a gift or treats that are bound to leave you impressed.
So moms, if you want to surprise your kids or just anyone you love and care about with something different, stop by Edible Arrangements. They have something sweet and nice for everyone.
Top 5 Products at Edible Arrangements:
1. Bundle of Cheer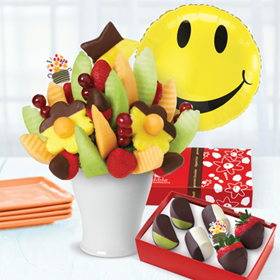 Whether you're a working mom who wants to give a sweet surprise to her colleagues or just to bring a smile on your husband's face, this Bundle of Cheer will not disappoint you.
Chocolate dipped strawberries, chocolate dipped pineapple, and a selection of fresh fruit are all beautifully presented in a keepsake jar, all combined with a delicious blended box of Dipped Fruit that has can be savoured by every taste bud!
It comes with a happy balloon, which is bound to bring a smile to your loved one's face.
Enter code FREEDEL at checkout to avail free delivery on this product.
2. Chocolate-Dipped Indulgence Platter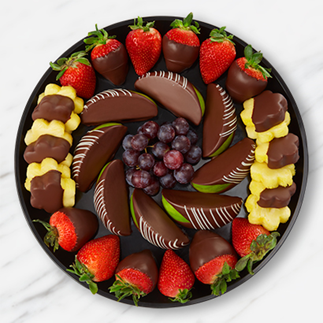 Are you looking for a decadent platter of indulgence that you can savour with your friends and family?
This Chocolate Dipped Indulgence Platter is full of strawberries, daisies and Granny Smith apple wedges which are hand-dipped in genuine, fresh and delicious semisweet chocolate! In fact, chocolate covered apple wedges are adorned with white chocolate Swizzle ribbons for extra indulgence. You can either spoil your guests with this platter or pamper yourself on the days you have those sugar cravings.
3. Orange Citrus Blossom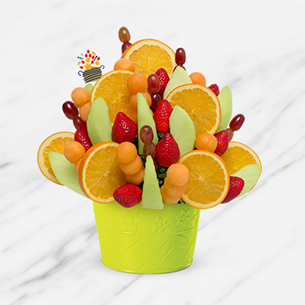 We all know the benefits of Vitamin C in boosting immunity. For moms who take care of the entire household, it's really important to stay healthy. What better way to get an indulgent kick of Vitamin C than this beautifully decorated Orange Citrus Blossom? We believe it's the perfect mother's day gift as its flavour and good health packed in a bundle.
Other than oranges, this bundle also has cantaloupe sticks, grapes, honeydew wedges and strawberries for that extra tangy kick to your taste buds.
4. Mother's Day Rose Vanilla Bouquet and Music Collection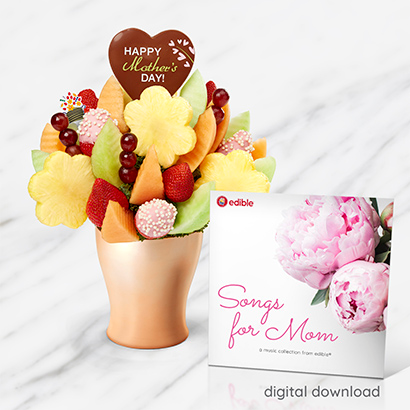 Do you know what's better than gifting sweet treats this mother's day? Adding a dash of music to it! With this Rose Vanilla Bouquet and Music Collection, you can make this mother's day memorable. Or rather make any day memorable for yourself too moms. You can always gift yourself these sweet treats too.
Featuring rose vanilla chocolate berries, fresh fruits along with a number of the most popular songs, this gift is crafted with sheer love and thoughtfulness. Light, flavorful and delicate, these berries are topped with vanilla white crispies and sit alongside perfectly ripe melon, pineapple daisies and more.
5. The Berry Best Mom Bouquet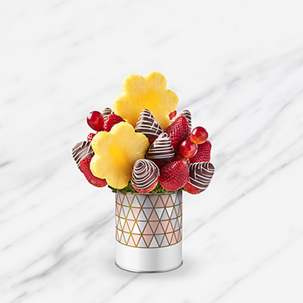 This gift looks as cute as its name sounds- it is indeed the berry best!
Minimalistic in design, the Berry Best Mom bouquet is the perfect balance of both freshness and indulgence. It has pineapple daisies, chocolate-dipped strawberries and plump grapes. All these come compiled together in a stylish, modern container which can also be used later.  If you like to keep it subtle, this is the perfect gift for not just moms but anyone you love.
Saving Tips:
Edible Rewards
At Edible Arrangements, it's all about celebrating what's good in life, and they like to show that by showering their Guests with VIP access to specials, gifts, and other sweet treats through Edible Rewards — the official Edible Arrangements loyalty program.
Everyone who signs up for Edible Rewards is eligible to receive exclusive coupons and specials, including a FREE birthday box of Chocolate Dipped Fruit! You'll also get a free chocolate Dipped Fruit box with every 3rd purchase, VIP gift reminders, and surprise offers. Now that you know all about the sweetest VIP treatment there is, go ahead and sign up!
Here are some frequently asked questions about Edible Arrangements:
1. Why doesn't my arrangement have exactly the same amount of fruit as the photo on the website?
Their arrangements may vary in the exact fruit counts due to produce size variations throughout the year.  Each fruit has a peak season, which may result in larger than average produce during that time; similarly, there are seasons when the fruit may be smaller than average. To ensure that the arrangement's design remains uniform, their Fruit Experts work within specified fruit count ranges for each fruit type when building each arrangement. This gives their highly trained staff just enough flexibility to ensure that the arrangement is perfectly designed, no matter what size the fruit is at that point in the year.
2. Is there a brochure of your products?
Certainly! You can view an online brochure, or request that a brochure be mailed to you here, or by calling your local store. You can also always view our full product line online any time, of course.
3. Can gifts be picked up from the store?
Yes, of course! They offer both pickup and delivery from all of their store locations. If you are placing your order(s) online, you will be given the option to pick up your order once you've entered the ZIP code and the date required. Then, you will be able to select a store location for pickup.
You can also contact your Local Store directly by clicking on this link.
We're sure we helped you get a glimpse of the indulgent goodness Edible Arrangements has in store for you.
So the next time you think of foolproof gift ideas for your friends and family, you can most certainly turn to Edible Arrangements gourmet bouquets to save the day!
Visit their website today to find out more about them.