Mommies, the driving forces of most families deserve some pampering too. And what could be more endearing than a sumptuous meal at one of the country's best restaurants. There's no dearth of good eating joints across the United States, but then there are a few that offer lip-smacking meals foodies can die for, and not mind frequenting. Ryan's is such a restaurant that doesn't disappoint, and many who have visited the place want to visit it time and again. However, a common question lurking in the minds of many foodies and moms planning visits to the joint is how to save money at Ryan's and yet relish pampering, mouth-watering meals.
Many mommies even end up compromising on that much-needed visit to Ryan's owing to the notions of exorbitant prices and how an outing could affect the monthly budget.
Here are a few suggestions on how to save money on meals for every mommy putting aside her Ryan's visit plans. After learning these tricks revolving around how to save your money at the restaurant, you might visit the joint even twice a month. Probably you could go on a date with your husband or an outing to pamper the kids. Scroll down to know what you could do to prevent those bills from being exorbitant.
Gift Cards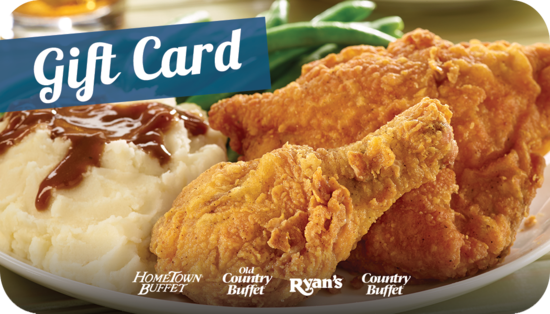 A Ryan's gift card could be one of the best presents to give, especially if your child is a foodie and just can't stop praising the joint for its great food. You could in fact surprise him/her on a birthday or Christmas with a Ryan's gift card as a present. Well, this is one of the advantages.
Are you wondering how these cards are money savers or beneficial otherwise? Ranging from $10 to $100, you get gift cards for every increment of $5, and can be utilized later just like any credit/debit card at not just Ryan's, but other joints as well.
These gift cards have no expiry dates, are simple and safe to use, and most importantly, they can be used for any occasion or any of the outlets of these three popular restaurants. What are you waiting for? Get one of these for your husband, kids, or even yourself – these could prove to be really handy. Since these cards don't expire, you could even save them up for those priceless family dinners on either Christmas, Thanksgiving or an Easter Sunday.
Promos and Fun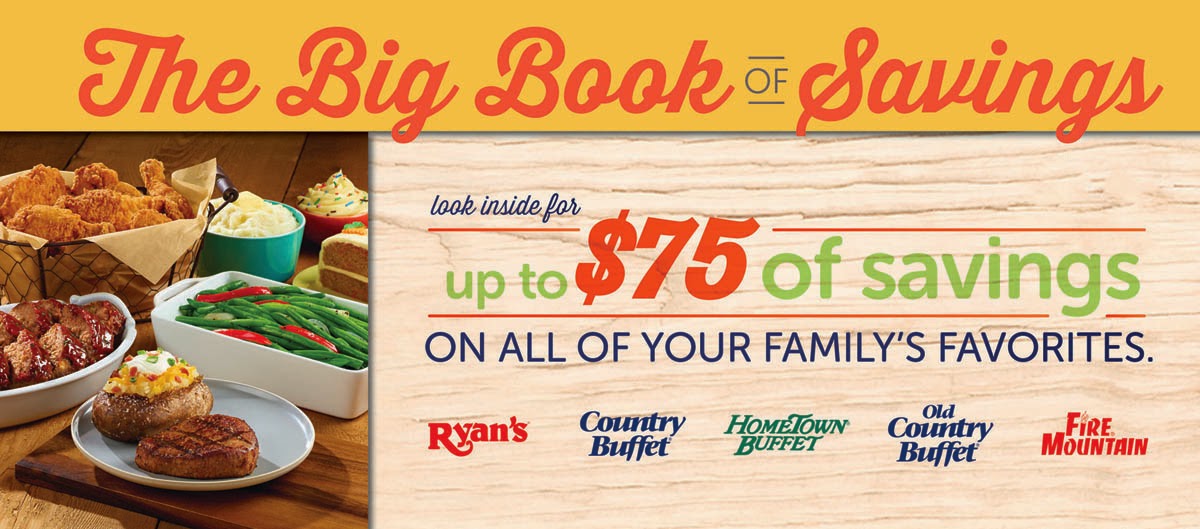 Ryan's often introduces several interesting promos and exciting deals frequently to allure customers and help them save considerably on their purchases. Mommies who usually look for vouchers for clothing and accessories should keep a tab on what Ryan's has to offer to make the best of the joint's offers.
The easiest way to bag exciting meal deals at Ryan's is to check out what's latest on the Promos and Fun section on the restaurant's website. A delicacy that may seem really exorbitant today might be the subject of a fun promo a week later and could be available for almost half the price. If you skipped the dish owing to its expensive price during your last visit to the joint, you could probably visit Ryan's again before the promo ends and relish the delicacy by paying little.
Now, this is a one-of-its-kind-offer you don't find at many joints. Keep your eyes on the online portal frequently to discover new surprises from one of America's most loved food joints.
Senior Discounts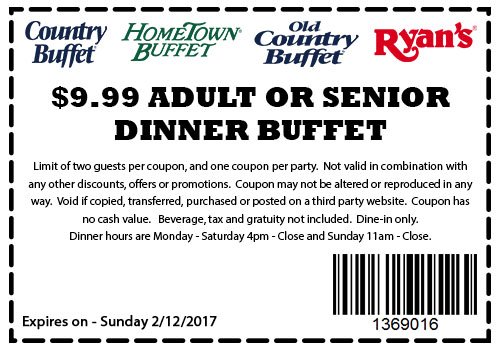 Want to surprise mom and dad for their anniversary, or just want to make them feel great by taking them out for a great meal? It's not just the kids or the husband right, the well-being and happiness of the elders of the family matters a lot to mommies too.
Well, Ryan's could just be the apt place for that weekend dinner. The joint offers discounts for seniors every day, which is another convincingly sound reason why you should accompany the elders of the house for a delicious meal at the restaurant. Not many restaurants across the United States offer such discounts, which is another reason why many foodies prefer Ryan's over several other options. Even your parents deserve a great day out, so the least you can do is make use of this offer and take them out for a great meal.
However, details regarding the validity are either mentioned on the coupon or can be learned from the cashier at your nearest Ryan's restaurant.
Crave Connection Programs
This is the best way to get access to exclusive Ryan's coupons. All you need to do is just sign up with the brand for email notifications and you would eventually receive coupons that can be availed at one of the restaurant chain's outlets near you. If you aren't quite adept at fishing out coupons after extensive searches, these could be your best bet. Even if you aren't really tech-savvy, it doesn't matter, checking your emails frequently is all it takes.
Check out the Crave Connection tab on Ryan's website to sign up for these incredible deals. Soon after registration, you'll receive email and text alerts.  If you are quite bored with the meals at home and want to try something lip-smacking at a reasonable budget, these could be your best bet. A recent instance of an interesting Crave Connection offer that got many foodies raving was the BOGO free adult dinner and free birthday buffet offers Ryan's was willing to give on merely signing up. The Crave program often throws such surprises at people and visiting the website too leads you to several irresistible deals. 
How Costly is A Meal at Ryan's?
Although we have included tips that help you save money on your visit to Ryan's, it is important for you to know how much meals at the joint usually cost. Breakfast, between 8 AM to 11 AM, during the weekends roughly costs around $ 7.95, whereas lunch costs $8.50 between 10:45 to 3:30 PM from Monday to Saturday. A dinner at Ryan's could incur you a price of at $11.99 on almost any day of the week.
We hope these suggestions on how to save money at Ryan's proved to be really useful for each of you in love with the joint and the mouth-watering delicacies it has to offer. This piece was an attempt to prove how easy it is to bag waivers on your meals at one of your favorite joints, and bust the myths surrounding the pains in getting access to coupons and discounts on just any given day.
The next time you are thinking of taking your family or the kids out for a meal at Ryan's, you don't have to be worked up about burning a hole in your pocket. Even if you are walking on a budget tightrope, these tips should help you save considerably.