PetSafe Happy Ride Folding Dog Ramp for Cars, Trucks, & SUVs – 62 Inch Portable Pet Ramp for Large Dogs with Siderails, Non-Slip – Weighs Only 10 lb, Supports up to 150 lb, Easy Storage, Folds in Half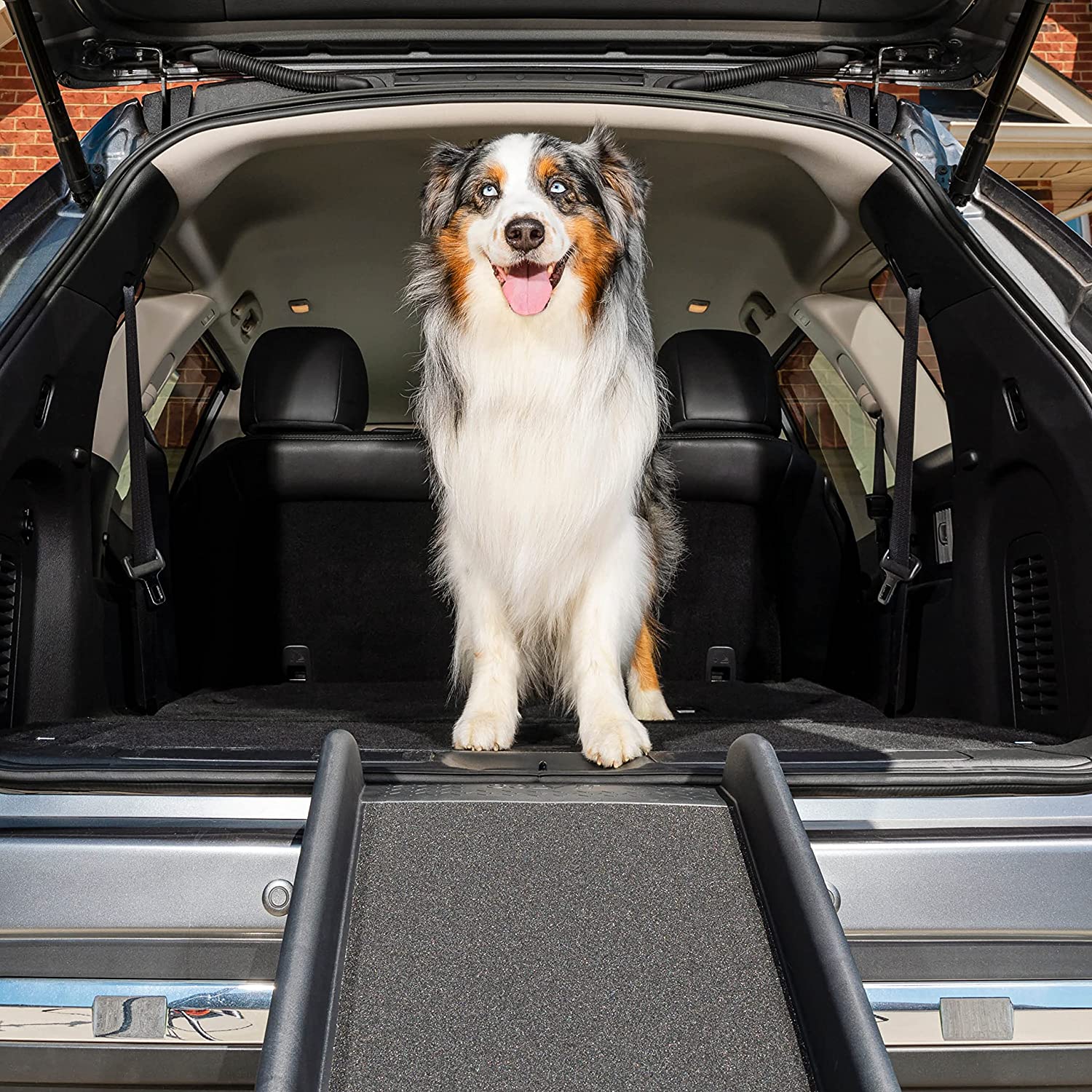 Less Stress on Your Pet's Joints
The PetSafe Happy Ride Folding Pet Ramp helps your pet comfortably get up and down from their favorite spots without stressing their joints. The durable, lightweight design weighs only 10 lb. but supports up to 150 lb. When you're done using the ramp, simply fold it in half and lock it in place using the built-in latch. PetSafe is here to help you and your pet live happy together.
The PetSafe Folding Ramp supports up to 150 lb. and is wide enough for most pets to confidently use! If your pet has never used a ramp before, some training may be required.
The Folding Ramp is versatile and a great solution to help pets conquer a variety of obstacles such as patio or porch stairs.
Weighing only 10 lb., the Folding Ramp is easy for people of all ages to carry.
Rubber feet prevent the ramp from sliding and provide your pet with a stable surface, while the textured tread helps your pet's paws grip the ramp.
Training Your Pet to Use a Ramp
Step 1
Place the ramp flat on the ground to allow your pet to inspect the ramp. Lead your pet across using treats and praise. Give treats frequently to encourage your pet. Remember that this is a new experience for your pet, so patience is key!
Step 2
Once your pet is comfortable with the ramp, move your training session to the vehicle or location that will be used.
Step 3
Using treats and praise frequently, guide your pet up and down the ramp until they are happy and comfortable walking on their own.
Step 4
When your pet is walking up and down the ramp independently, treats are no longer needed unless desired. Pack up your ramp and hit the road!
Item Features:
CONTINUE ADVENTURES TOGETHER: Use the folding ramp to help your best friend get in and out of your car, minivan or SUV all by themselves

SAFETY TESTED & DURABLE: This strong ramp is independently tested and rated to support pets up to 150 lb

LIGHTWEIGHT: Weighs only 10 pounds so the ramp is easy to carry and lift in and out of the car between stops

NO SLIPPING: High traction surface and side rails keep your furry friend from slipping or falling when walking on the ramp

SIMPLE TO STORE: Ramp easily folds in half and locks with the safety latch to let you conveniently store it in your vehicle

SIZING: Folding ramp measures 62 in L X 16 in W X 4 in H

U.S.-BASED CUSTOMER CARE: Our pet product experts are here to help you and your pet and are available by phone, email or chat if you have any questions
More to read:
PETLIBRO Automatic Cat Feeders 3L Black 40% Off Now At $54.18
lanpard Faraday Bag for Key Fob(2 Pack 3.15 x 4.5 inches) 15% Off Now At $8.45
AstroAI Windshield Cleaner Microfiber Car Window Cleaner gray 43% Off Now At $12.99