We moms are constantly juggling with our responsibilities; be the first one to wake up in the morning, plan the meals for the day, get the kids ready for school or run to the grocery store. There are numerous chores that need to be done. And, if you are a working mom, there are additional duties. What actually adds to the stress is saving up every penny. You have got to have a well-planned budget to get through the month without difficulties. 
As moms we are always digging for discount coupons or looking for offers while shopping, just to cut down on our expenses. Finding a coupon or a promo code while shopping can really help save up a lot of money. To those who are looking to save some moolah, take a look at the Rakuten Cash Back Button.  If you are hearing it for the first time let's give you a brief overview of how it works and how it helps you save up effortlessly while you shop. All you need to do is install the Rakuten Cash Back Button as a Chrome extension.
Here's how you can get the Chrome extension that can help you save quite a chunk.
To start, all you need to do is follow 3 simple steps:
One, go to Rakuten's extension page on the Chrome web store:
Two, download the extension to your browser. 
Three, after installing the Rakuten Button, restart your computer for the Button to pop up on your search engine.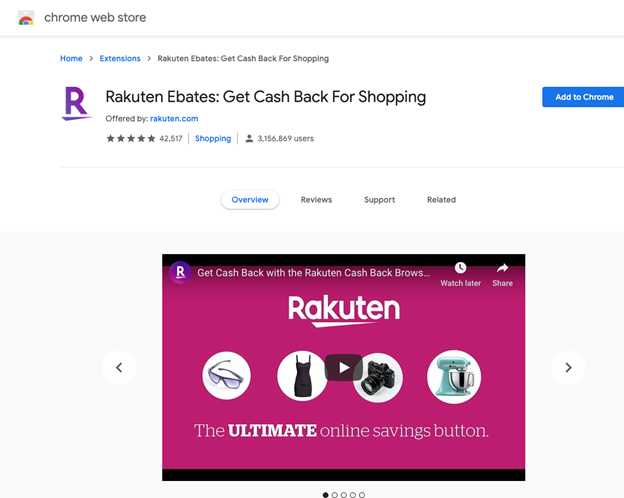 This is pretty simple and if at all you face an issue, you can always ask your kids to help you out. We all are aware of how tech-savvy kids are these days.
Moving on, let's get into the details on how to save with the Rakuten Cash Back Button.
1. Cash Back drop-down notifications
Once you have installed the Rakuten Cash Back Button, it will automatically alert you on Cash Back offers and deals while you are browsing a website. Isn't this interesting?
The Button will show a pop-up notification on the percentage of cash back available for the purchase. You can apply the Cash Back deal by simply clicking on the "Apply Cash Back" option. After you have clicked the Rakuten Button, you begin a Rakuten shopping trip. Your shopping trip will be assigned a unique number, which is used to verify your purchase with the store. This is super simple, you don't actually have to do any hard work here of researching too much, the pop-up notifications just help that process.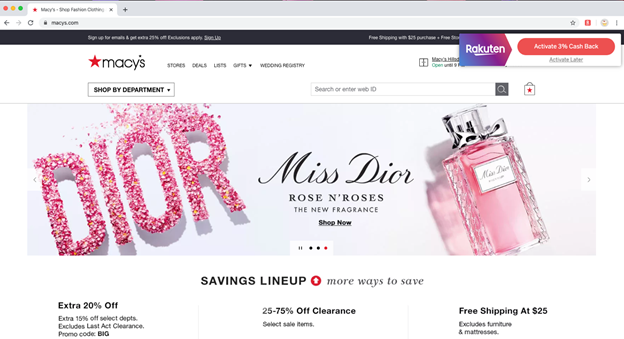 2. Cash Back percentages directly on the search results
You sure search a lot of websites for price comparisons before you settle on choosing a product, right? As a mom, this is really an essential part of saving. Comparisons are important before settling on something.  The Rakuten cash back button makes price comparisons easier by displaying cash back percentages. All you just need to do is search the product that you desire on your search engine and you will find the cash back percentage above each search result. Easy right?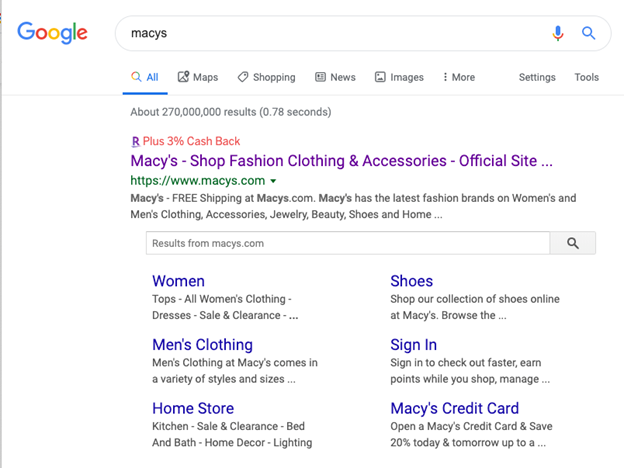 3. Price Magic
We moms have one thing in common for sure; whether it is grocery shopping, or shopping for some essentials for home, we always look for anything with the lowest price. And, the Price Magic feature of the cash back button makes these searches quite easy for us moms.
This button notifies you if it finds products at a lower price when you are browsing. Also, if the store you're shopping doesn't offer cash back, it will let you know if there's another store that does.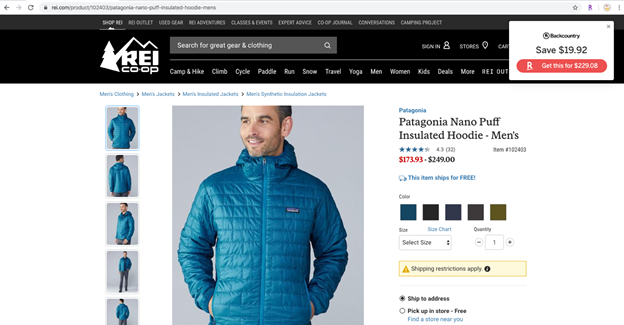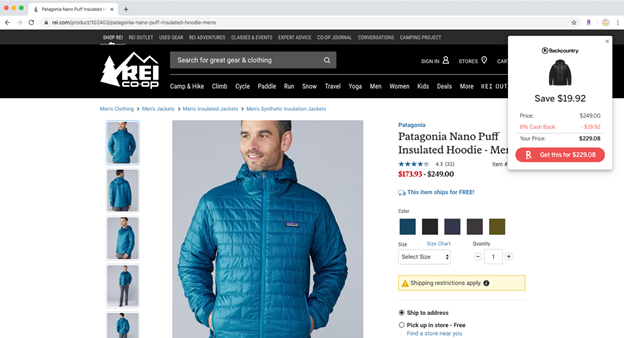 4. Coupon Magic 
Moms and coupons go hand-in-hand these days, don't they? For us moms, finding coupons for everything possible has just become a habit apart from a necessity. 
So when you add the Rakuten Cash Back Button, it becomes much easier for you to find relevant coupons and promo codes available at particular stores.
All you need to do after shopping is click on checkout and an "Apply Coupon" alert pops up on your shopping cart page. Click on it, and the Rakuten Button will automatically apply the best discounts.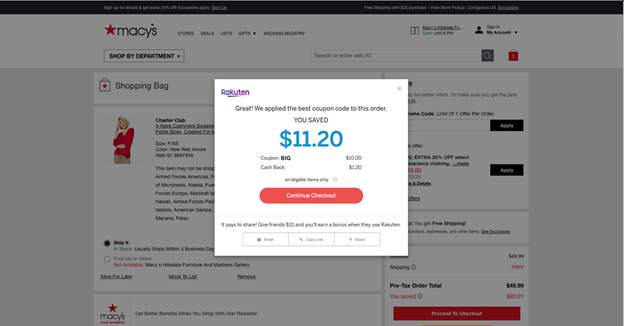 5. Groupon
We moms love to grab deals before time runs out, so we constantly tend to check coupons sites. Right? And most of us are Groupon enthusiasts. To ensure we go ahead in the Groupon competition, the Rakuten Cash Back button comes to the rescue.  Simply look up your favorite food joints and entertainment center on Yelp or Google Maps, and the Rakuten Button will alert you if there is a Groupon available at that business.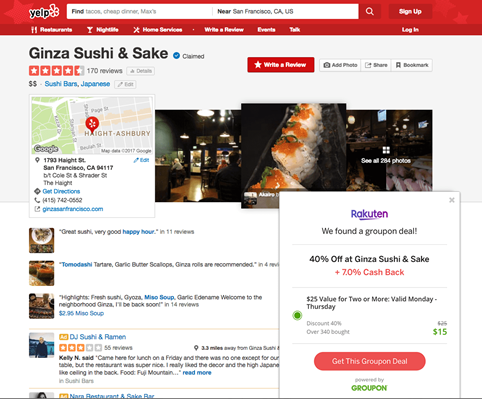 6. Click on the Rakuten Cash Back Button for more deals 
Another simple and easy feature of the Rakuten Cash Back Button is it automatically searches for deals on the sites you are visiting.
When you click on the "R" icon button, a window opens up and shows different deals and coupons available for products on the site. The Cash Back Button will automatically apply all live and active deals and coupons at checkout which eliminates hunting for discounts and offers online.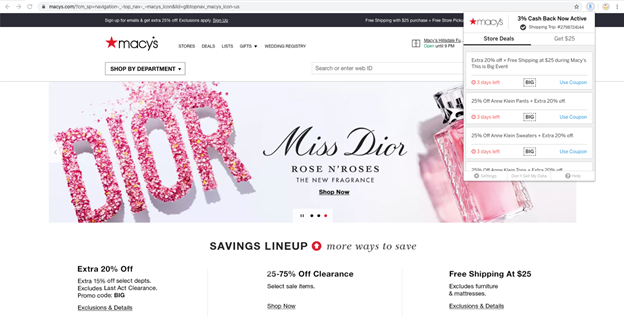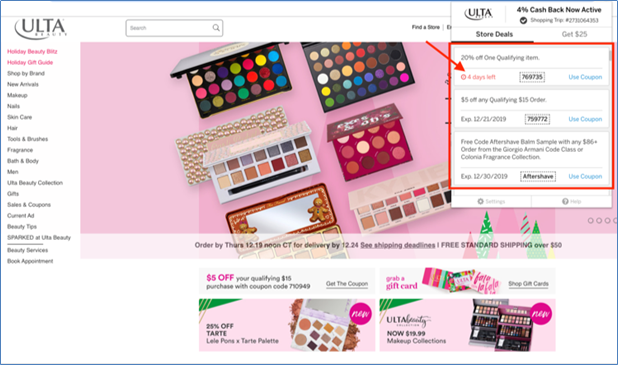 7. Keep your extension updated
One thing that you have to remember is to upgrade the Cash Back Button to its latest version as and when needed. This ensures that you get notified with all the new coupons and deals offered by your favorite participating stores. 
The Cash Back earned will be sent to you at the end of every three months in the form of a check or through PayPal. If Cash Back for an order is still pending approval, it will carry over to your next payment. 
We think these features make saving quite easy.
The Rakuten Cash Back Button makes lives convenient by automatically showing you the deals and offers available at your favorite stores. It also automatically applies these coupons and promo codes to get you maximum discounts.
Clearly, the Rakuten Cash Back Button saves you time, effort and money. We suggest you add the Rakuten Button to start earning Cash Back and discounts. All this with the click of a single button. One thing to note is that this browser extension is also available for Firefox, Safari, and Edge browsers as well. So, let's get rid of our worries of saving up and start making our lives a bit easier. What do you think?  It's time to be the supermoms we are meant to be, isn't it?