Finding the right car insurance policies for you could be difficult and confusing, considering the plethora of options available in the market. Nobody wants to spend hours sorting through insurance options and pricing that are not suitable for them. Besides, just because you're required to have auto insurance doesn't mean you have to pay a lot to get it. If researched well, you can find cheap car insurance that could suit your budget. There are many ways to find the cheapest car insurance available to you so you can protect your vehicle and your wallet at the same time.
If you are wondering how, we've listed some of the best car insurance options that you can choose from. Read on.
Top 5 Cheap Car Insurance Policies
Here's our list of top 5 car insurance policies.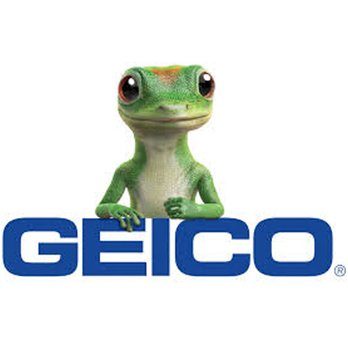 Geico is one of the most well-known brands in vehicle insurance, and consumers adore it because of its affordable rates and stellar customer support. Geico is infamous for the motto that switching to the carrier may save them 15% or more through the company's extensive discounts. If you have a Geico policy, you may be eligible for discounts based on your vehicle's safety features (anti-lock brakes, airbags, and anti-theft systems), your driving record, your employer, and any driving courses you have taken.
Geico offers rates that are significantly lower than the industry standard, which is a major advantage. Geico's typical yearly full coverage premium for drivers with a clean record is $1,297, or $108 per month, hundreds of dollars less than the national average.
USAA could be your best option to choose if you are a veteran, military person, or their family member. All 50 states and Washington, D.C. offer USAA, but only those who have been in the military or are currently serving are eligible, together with their spouses, children, and dependents. According to the National Association of Insurance Commissioners, USAA stands as  the fifth-largest auto insurance provider in the United States despite only being accessible to former and current service members and their families (NAIC). For military installations, safe driving, high grades, low mileage, multi-vehicle coverage, and other reasons, USAA offers reductions on auto insurance too.
The average cost of USAA automobile insurance for full coverage is about $74 per month or $885 annually. Average monthly premiums for USAA auto insurance for the minimal level of protection are just 34 dollars or $405 annually.
The General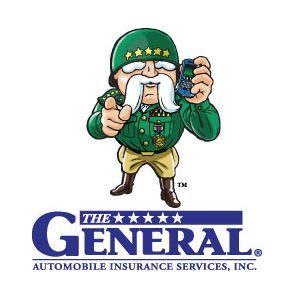 Like Geico, The General Automobile Insurance Services has been in business for nearly 50 years. The General also offers life insurance coverage through its parent business American Family Insurance, allowing you to combine your policies and maybe save even more money if you're also searching for life insurance. The General is aware that not every driver has a spotless driving record and that mistakes, including driving offenses and accidents, can be made when operating a vehicle. Hence, the firm makes an effort to offer competitive prices to drivers who would be classified as nonstandard. All consumers even receive additional perks from The General. For instance, the business provides savings based on your driving history, your car's safety features, and more, as well as a low down payment option for its plans.
The General charges $197 monthly on average for auto insurance. The type of car, the safety features of the car, the driver's credit score, age, and location are just a few of the variables that affect how much you pay.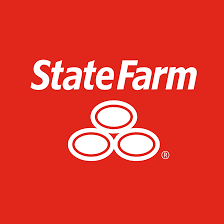 The Insurance Information Institute (Triple-I) lists State Farm as the largest property/casualty insurer in the United States by market share. Besides, one thing that we like most about the insurance is that if you use your vehicle to provide ridesharing services like Lyft or Uber, State Farm offers uninsured and underinsured motorist coverage, liability coverage, collision coverage, comprehensive coverage, and rideshare insurance. It also provides car rental reimbursement if your automobile is not drivable or is being repaired. More so, the State Farm offers savings for combining your home and auto insurance, like the majority of insurance providers do.
When it comes to rates, the company offers good drivers an annual rate of $1,481 or $123 per month, which is around 15% less than the $1,730 national average.
Erie Insurance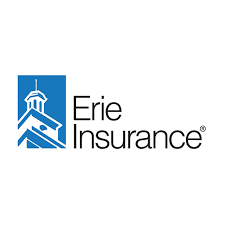 Another century-old insurer on our list is Erie Insurance, which offers its clients comprehensive coverage. Power customer satisfaction ratings, the National Association of Insurance Commissioners receives few complaints, and Crash Network gives the company top marks for collision repair too. You may combine your house and auto insurance policies under one policy, and depending on the coverage options you choose, Erie auto insurance may also cover your ride-sharing (such as Uber or Lyft), and your personal property.
More so, through the Erie Rate Lock program, qualified consumers can avoid the rate increases that take place over several years. Participants in the Rate Lock program won't have their rates increase even if they make a claim or receive a ticket. Erie offers many of the same policy discounts as larger, more well-known national providers provide, in addition to the Rate Lock program. These discounts include those for driving responsibly as a senior or young driver, having a vehicle with anti-theft or anti-lock brakes, and combining insurance policies.
The average minimum coverage cost in Erie is only $476 per year, which is roughly $70 less than the national average.
Comparison between Cheapest Car Insurance Companies
Here's a comparison table of the above-listed companies to help you decide which is the best one for you.
| | | |
| --- | --- | --- |
| Company | Average Cost | Monthly Cost |
| Geico | $ 1297 | $ 108 |
| USAA | $ 885 | $ 74 |
| The General | $ 2000 | $ 197 |
| State Farm | $ 1481 | $ 123 |
| Erie Insurance | $ 476 | $ 28 |
We hope this article on cheap car insurance helps. If we have to suggest one, we'd suggest going with Geico, as it has more features. However, you can always compare the other options and choose the best for you.
More to read:
Top 5 Pet Insurance Companies and Plans 2022