Baby Playpen, Dripex Upgrade Foldable Kids Activity Centre Safety Play Yard Home Indoor Outdoor Baby Fence Play Pen NO Gaps with Gate for Baby Boys Girls Toddlers (14 Panel – Grey + White)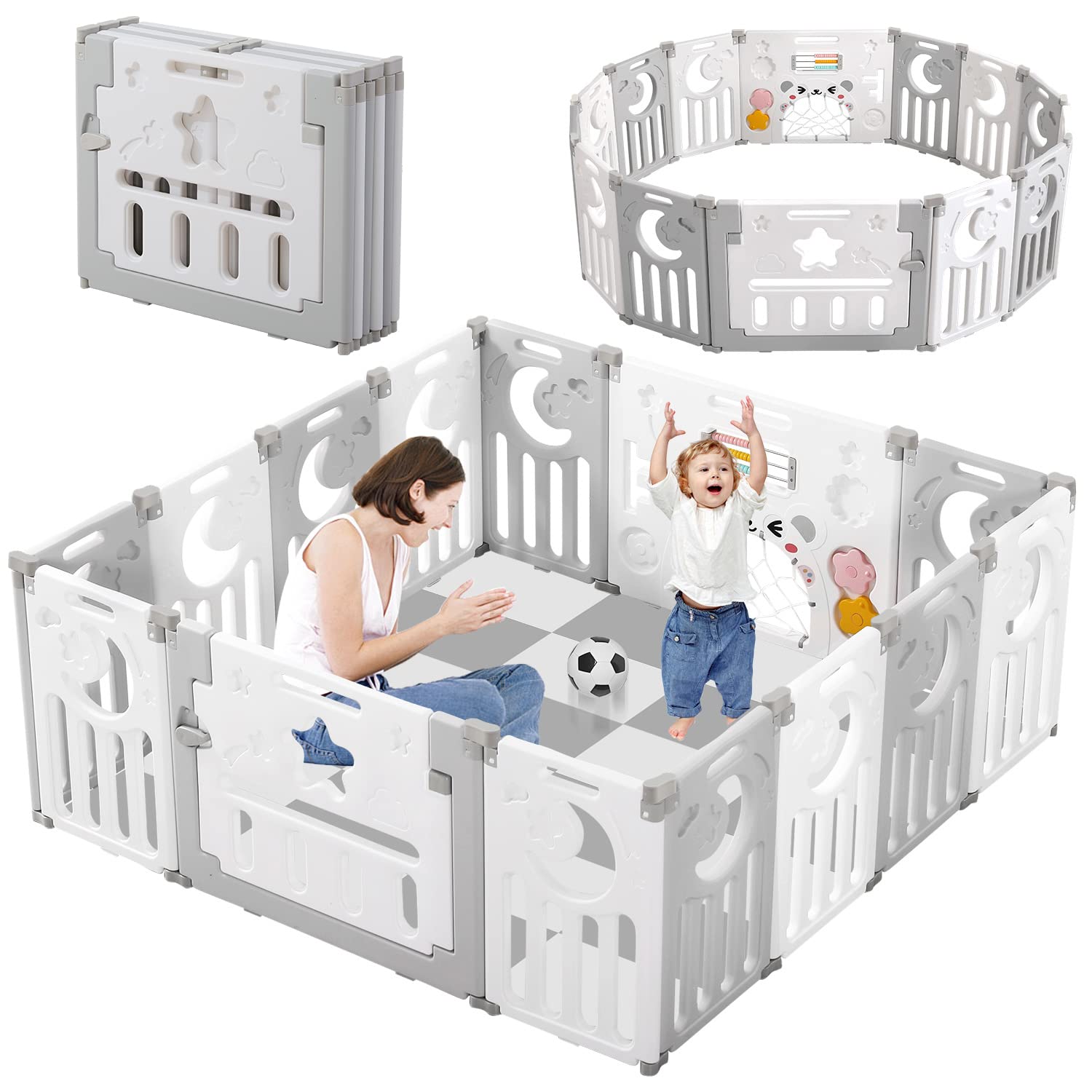 Dripex Upgraded Baby Playpen with New Connecting Structure
This New Version is NOT compatible with old model Dripex playpens purchased before August 02, 2022.
If you need to expand your old version playpen, please look for old model extensions.
Large Colorful Play Area for Babies and Toddlers Indoor Outdoor
Ideal Choice for Kids Who Start Crawling
With baby growth, they begin to crawl and stand, boys and girls weren't content enough on a playmat or in a bouncer. Next comes hitting his head or crawling into something dangerous.
Before you know it, they're toddling around on unsteady little legs. There are so many hazards around the home. That's why a baby playpen is so important.Dripex playpen, stable and safety, will be your best choice!
Features:
24" height reinforced panels prevent baby from stepping over
Science pitch allow for visibility
Support extra panels extension
Sturdy & Secure
The baby playpen promises complete safety and protection for the young kids. The upgraded joint structure retains the folding function and is safer than a separate nut, eliminating the chocking hazard, fitting well.
Tips: For the safety of your baby, please check if the clip is installed stablely when you use it!
Item Features:
【Safety Material & Non-slip Design】 Dripex baby playpen is made of HDPE plastic, durable, lightweight, waterproof, easy to clean. The non-slip rubber pads on the bottom make it difficult to tip over and move. The playpen also comes with extra suction cups that can be attached according to your needs

【No Gaps Playpen】 There are no spaces in between each panel so you just no need to worry about your toddler will get their arm stuck; includes a gate with safety lock on the outside that make sure your baby be safely kept inside of the pen and 24 inch height reinforced panels prevent baby from stepping over. Anti-slip pads work on any surface indoors/outdoors

【Functional and Neutral Eye-caring Color】 Our playpen came in more neutral colors, attracting the baby's attention. And the various toys on the game panel are not only interesting but also educational, which is very suitable for the baby to learn and explore. Lovely gear shape with swivel design enhances the coordination of your baby's hands

【Large Coverage for Baby to Play】 All 14 pieces of baby fences can be combined to provide enough spacious space for your baby. Your baby can climb or walk inside, which can help the baby learn to crawl or walk to a certain extent. And parents can also enter the fence to play or rest with baby. Floor area: 60 x 60 inches (adjustable)

【Foldable Design for Easy Movement】 Easily fold the baby fence by one adult and move it to any ideal place, such as a bedroom, living room or balcony. In addition, the folded fence saves room space and can be stored conveniently. This safe activity center allows you to do your housework or something else, while always keep the child within safe visibility
More to read:
Kasa Indoor Pan/Tilt Smart Security Camera New 1080P 14% Off Now At $29.99
AMKE 3 in 1 Baby Bassinets Grey Wood Grain 30% Off Now At $167.99
Baby Carrier BABYMUST Hip Carrier khaki 51% Off Now At $44.19