Dinnerware Storage Set Honey-Can-Do Container Sets SFT-01630 , 5-Piece,White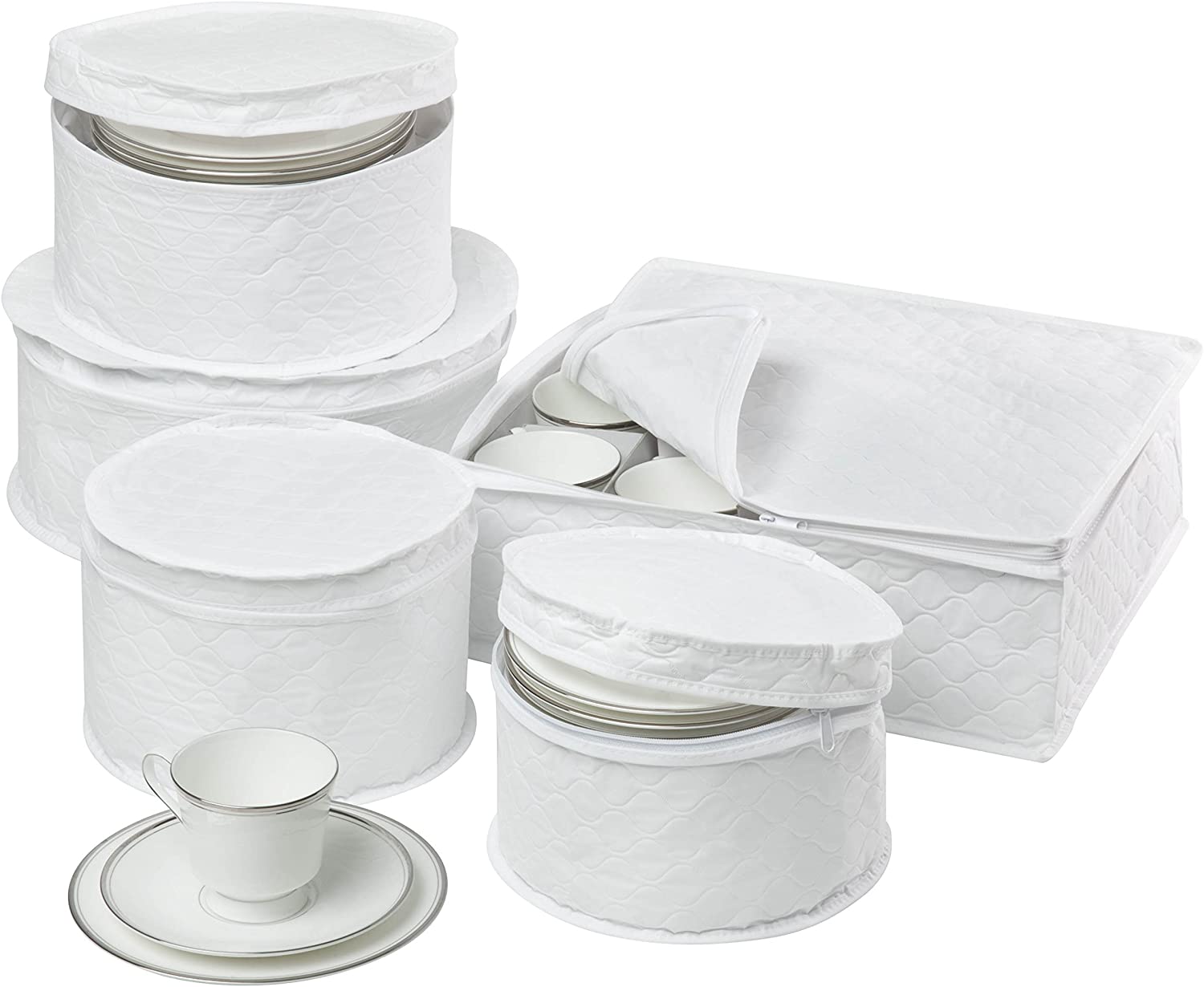 5-Piece Quilted Dinnerware Storage Set, White
You bring out that beautiful dinnerware just for occasions that feel a little fancy. But how you handle those dishes while you are using them is just as important as what you do when you're not.
Care for them during their between-holiday hibernation by tucking them into these quilted cases. The cushioned cloth cradles delicate dishware and protects it from dust.
This storage set has enough room for up to 12 standard place settings: saucers, cups, and dessert, salad, and dinner plates.
The Quilted Dinnerware Storage Set includes:
Saucer Plate Case: 7" Dia. x 7" H
Dessert Plate Case: 8.5" Dia. x 8.5" H
Salad Plate Case: 10" Dia. x 10" H
Dinner Plate Case: 12" Dia. x 12" H
Cup Chest: 14" L x 12" W x 4.5" H
Unlock Your Surroundings – At Honey-Can-Do, we believe an organized space unlocks your surroundings for living, bolstering the form and function of everything within a space's four walls.
Everyday Household Solutions – We like to find customers solutions for their entire home. We're about decluttering an entryway, breathing new life into closets and wardrobes, making it easy to set up after-school snacks, and filling a living space with charm and character unique to each homeowner.
Item Features:
Dinnerware Storage Set Honey-Can-Do Container Sets SFT-01630 , 5-Piece,White
Quilted cloth cushions delicate china.
Zippers glide smoothly.
Enough room for up to 12 place settings.
Includes 12" dinner plate case, 10"salad plate case, 8.5" dessert plate cases and 7" saucer plate case + cup chest with chipboard divider.
Stores up to a 12 place settings.
Smooth glide zippers.
Color: White.
Keeps most dust and animal dander away from your fine china or seasonal dishes.
More to read:
Cibeat Ceramic Cereal Bowls 6 Inch Porcelain Bowls Set for Cereal Now €29.99 on Amazon Germany
Airtight Food Storage Containers Save 34% Now At $29.69
48 PCS Larger Food Storage Containers Save 21% Now At $37.99