Fuzzymilky Cat Toilet Training System 2022 – Teach Cat to Use Toilet Cat Toilet Training Kit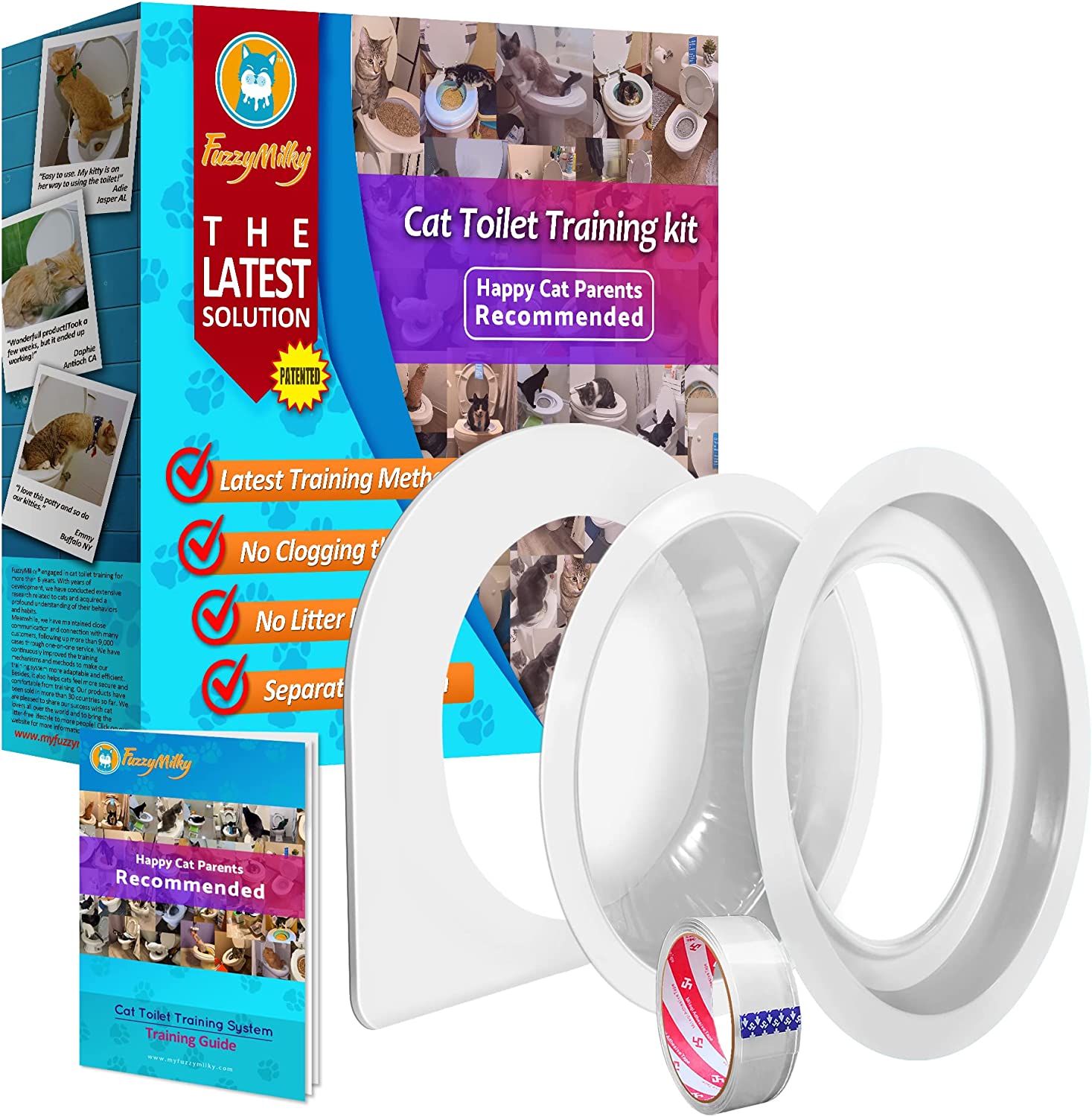 Keep the cat litter from clogging the toilet and getting scattered
The brand-new training system can prevent cat litter from falling into the toilet or getting scattered during the training process, making the bathroom cleaner.
The clean environment allows you to train your cat effortlessly for using a toilet bowl.
Simpler Training Method
The deepened training pan makes it easy for your cat to transition from using a litter box on the floor to the toilet bowl from the very beginning.
Covering the toilet sink makes your cat feel more secure during training. Through easy-to-follow instructions, the well-trained cat will adjust and begin to pee and poop in the toilet.
Separation Design
With our extensive exploration and research, the training seat is user-friendly, enabling you to open at will, like a toilet lid, and take off the training pan.
Easy 4 Steps
Step 1
Fill the Fuzzymilky Training Pan with kitty litter, train your kitty to get used to the Training System.
Step 2
Reduce the litter in Fuzzymilky Training Pan and add the litter to Fuzzymilky Training Ring.
Step 3
Replace the cat litter in Fuzzymilky Training Pan with water, remove litter from Fuzzymilky Training Ring gradually.
Step 4
Litter Free! Remove the Training Ring and Training Pan step by step. Your kitty can use the toilet like a human being!
Item Features:
Brand-new Design: The kit keeps litter from falling in the toilet or getting messy. It not only provides you with a cleaner environment, but also allows the cat to accept the training and transition from litter box to a regular household toilet.

Latest Training Method: You don't need to cut the training pan. The instructions are simple, making it easier for your cat to use the toilet. Say goodbye to litter box cleaning!

Separation Design: The special design will not interfere with the normal use of the toilet by adults. You can switch between them in a quick and easy way.

High-quality Training Toilet Seat and Training Pan: It can be used repeatedly and fits most sizes and shapes of toilets on the market.

Systematic Approach to Training and Specialized Guidance: The detailed tutorials and training tips are included. If you have any problems during training process, please feel free to contact our service team. We will provide professional solutions for you at any time
More to read:
PetSafe Happy Ride Folding Dog Ramp for Cars 40% Off Now At $62.95
PETLIBRO Automatic Cat Feeders 3L Black 40% Off Now At $54.18
lanpard Faraday Bag for Key Fob(2 Pack 3.15 x 4.5 inches) 15% Off Now At $8.45