NETANY 36 Pcs Spice Jars with Labels – 4 oz Glass Spice Jars with Bamboo Lids, Minimalist Farmhouse Spice Labels Stickers, Collapsible Funnel, Seasoning Storage Bottles for Spice Rack, Cabinet, Drawer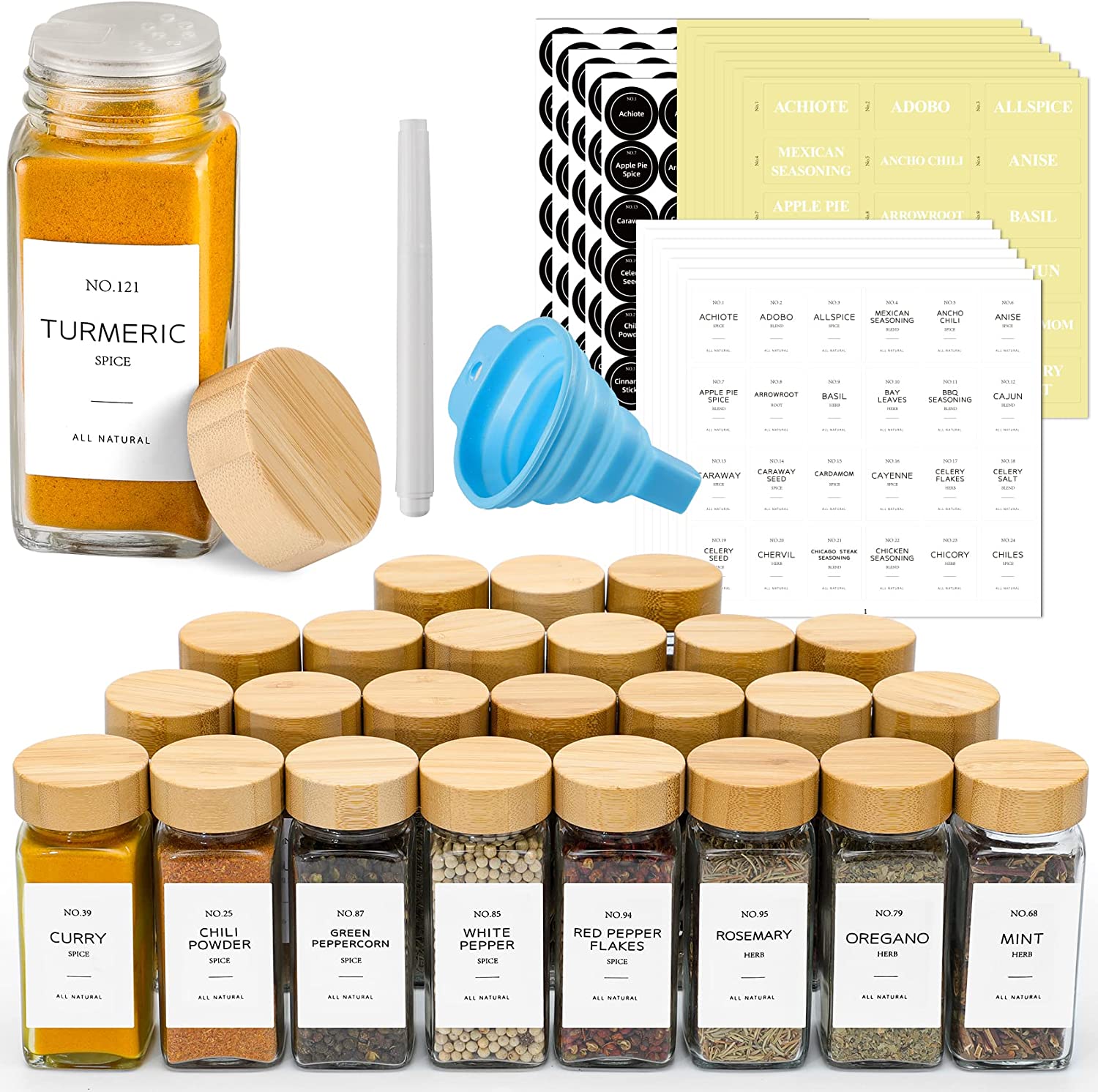 In this set, you will get all goods you need to set up an easy-finding organized spice classification. No longer live with messy kitchen stuff and turn yourself into a tidy, neat and clean lifestyle with NETANY, our items will help you get into how you like to live in and what you like to like with.
NETANY spice jars set have all you willing to get for an organized spice assembly. Not just have regular jars for you to line them in an uniform way with same glass jars but also contains three types of chic yet easy-reading labels. You can choose which styles you like to stick on or if you have some exclusive homemade spices, what's surprising, we have prepared blank labels and a white marker for you to write on beside the common spice names in the package.
Item Features:
NETANY 36 Pcs Spice Jars with Labels
ALL YOU NEED ARE IN ONE PACK: Contains 36 glass square spice jars, 36 shaker lids, 492 labels of 3 different types for identifying, a marker and a collapsible silicone funnel for refilling. All accessories essential are provided in this pack, no need of other purchases.
PREMIUM THICK GLASS JARS: These spice jars is made of thickened glass with square shapes of high-transparency visibility, you can see the contents in the jars directly with what's inside and how much left. Food-grade glass is healthy for food ingredients, totally BPA free, lead free and shatter-resistance.
DUAL FUNCTIONAL SHAKR LIDS: For both powder and herbs, we have a special 2-in-1 shaker lid for jars with 2 kinds of sprinkle ports, one is porous for powder ground spices and one is flip for herbs and grains. It can be used according to the type of spice without changing the lid. In addition, the cute and airtight bamboo lids to keep the spice fresh and dry.
3 TYPES OF IDENTIFIABLE LABELS: Totally 492 pieces in all of 3 different styles of preprinted labels to help name ingredients on similar jars. The labels contain almost all the spices and food contents even leave some blank labels and a marker for you to write exclusive spices. Unified stick on the jar not only has a distinguishing role but also decorative role, and placed in a row looks more beautiful and coordinated.
CONVENIENT USES: This pack of spice jars is a must have for daily uses if you cook for yourself and family. Abandon the unnecessary and messy packaging of seasoning and let a variety of seasoning more orderly and beautiful while do not have to look for different seasonings or worry about pouring and shedding. Also, it is a good choice as a gift for housewarming and birthday present.
More to read:
Airtight Food Storage Containers Save 34% Now At $29.69
48 PCS Larger Food Storage Containers Save 21% Now At $37.99
Adoolla Hand Blender 5-in-1 Immersion Handheld With Multi-Functions Now Save 20% On The Item